Opinion / Columnist
Chamisa and Mnangagwa to share the platform on corona virus
20 Mar 2020 at 20:10hrs |
Views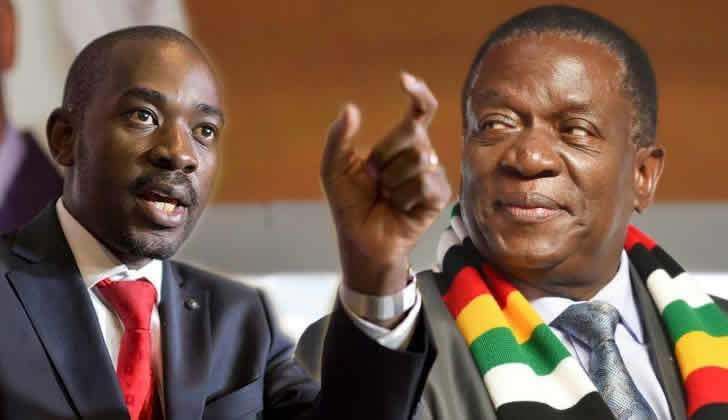 Zimbabwe must take action together to prevent the spread of Corona virus. We must know that our government could not fight the natural calamities, but it is the nation through its unity and courage that this calamity will be defeated even though the government must play its due role by extending all-out help to the nation. Our media whether it's pro government or pro opposition must give awareness about this disease to the nation. It is claimed that proper screening is not being held at the airport and other entries thereby exposing officers at those airports to great danger of being infected. Zimbabwe does not have thermal scanners and only use thermometers which is not an accurate diagnostic tool.
Political leaders must stand shoulder to shoulder for the safety of the nation.
The coronavirus has the world in its grip. Zimbabwe and the rest of the world are faced with a huge task. Corona virus is an invisible dangerous enemy. Zimbabweans wherever they are must recognise the feeling that we are on a rollercoaster in recent weeks that seems to be going faster and faster.
The situation sounds like a dip dream and we hope to wake up from it very soon "Is this really happening?" because the measures taken here and elsewhere are unprecedented for countries in peacetime. Factories have been closed, schools are closing and on top of all this funerals are banned. The freedoms bestowed on our people have been wiped out by the virus. The enemy which can not be seen but it's punch hits like a big blow from a dragon.
We should remember that Zimbabweans are all over the world and what befalls any country it indeed touches every family in Zimbabwe. We can not hide from the truth, we as Zimbabweans are suffering together with the dwellers of Mother Earth. Indeed the world is now a global village and we are all citizens. We need to come together as Zimbabweans. Above all wherever we are Zimbabwe is the only country on earth we can call ours.
Zimbabwe must remember the elderly and people with poor health they are the soft targets of this virus. It is not a joke but it is a real danger in our life time. Never before was the whole world troubled by one unseen enemy. As Zimbabweans we must be very concerned, and that is why we must make our absolute priority to minimize our country men's risks.
With all the news from home and abroad, with all the events that follow each other at breakneck speed, it makes perfect sense that there are very broad concerns in society. We all have questions.
"What can I do to protect myself ad those around me?"
"What about school and work?"
"Can a children's party continue? A family weekend? A wedding?"
"How long will all this take?"
"And why does one country take different measures to another?"
In today's world, news and information is faster than the speed of light and opinions are also quickly given. We must as a nation put our trust in God and then we must acquire the knowledge and experience of experts. We must trust our instincts. We must stand as victors and indeed we will succeed. Let us hold on to that. And it is important that we continue to sail according to that advise of scientific knowledgeable and reliable experts. That is the only sensible way to continue taking the necessary steps. Steps that are inevitably coming our way. The Corona virus sheds a gloom picture ,if we are not careful a whole generation will be wiped away.
There is no good news neither is there any hope in face of the virus. The reality is that the coronavirus is among us and will remain among us for the time being. There is no easy or quick way out of this very difficult situation. The reality is that in the near future a large part of the Zimbabwean population will be infected with the virus.
That is what the experts are telling us now. And what they also tell us is that, pending a vaccine or medicine, we can slow down the spread of the virus while at the same time building group immunity in a controlled way. We need our people to be hooked to such experts.
Zimbabwe must stand up and set aside a unique department to deal with such viruses so that we can be counted among those who are looking for cure of this virus.
This calls for a unity of purpose from the prophets, doctors, traditional healers all must unite to save our nation. We must not look down upon each other. We must be allowed to forge a united way forward and be proud to be Zimbabweans. We must stand up and be counted.
The larger the group that is immune, the less chance that the virus will jump to vulnerable elderly people and people with poor health. With group immunity you build, as it were, a protective wall around them. That is the principle. But we have to realize that it can take months or even longer to build up group immunity and during that time we need to shield people who are at greater risk as much as possible. Other countries have come up with scenarios. All in all, there are three possible scenarios. "The first scenario is: maximally controlling the virus. This leads to controlled distribution among groups that are least at risk.
That is a scenario of choice. Maximum control means that we try to use measures to level off and smooth the peak in the number of infections and spread it over a longer period.
With this approach in which most people will only get minor complaints, we build immunity and ensure that the healthcare system can handle it." We must create sufficient capacity to help the people who are most vulnerable. Goodwill must be put in a high drive.
The second scenario is what we doing, that is to let the virus run unchecked. This would completely overload our healthcare system at the peak of contamination, leaving insufficient capacity to help vulnerable elderly and other high-risk patients. We must of course prevent that at all costs. We must be transparent and declare and announce all infected. The more we become transparent the more we attract help from others. But above all the minister must set aside an account for those who can donate so that we can have monies for combating this virus. Those who brag with our money must put it to use now this is the time to show off.
The third scenario is that we completely lock down the country. Such a rigorous approach may seem attractive at first sight, but experts point out that it definitely would not be a matter of days or weeks before the virus dies off.
In that scenario, we would in fact have to shut down our country for a year or even longer, with all the consequences that entails. And even if it were practically possible - to only let people leave their homes with permission for such a long time - then the virus could immediately resurface if the measures were withdrawn.
Zimbabwe is an open country and as long as there is no vaccine, the coronavirus will continue to spread through the world like a wave, and not skip our country. We can not adopt the Dutch courage and pretend that we are in control. We are so scared we are Afraid and we must fight like we mean it.
From the relatively simple guidelines to not shake hands, wash hands more often and keep a meter and a half away, to far-reaching measures such as banning larger gatherings and closing the catering industry we must jump to a Corona tax. Which enables every Zimbabwean to contribute one percent of their income to fight this virus.
And of course we keep our finger on the pulse every day. Our hearts are in our mouths we are scared and this is normal. We must as a nation continue to search for the balance between taking the necessary measures and allowing ordinary life to continue as much as possible.Zimbabwe needs you and you need Zimbabwe.
Zimbabwe must make the consequences for public health to be ultimately the most manageable.
Zimbabwe must not and will not close its eyes to the economic consequences of this crisis. Our economy is as good as dead but who knows maybe we will emerge strong from all this mess. Many should be concerned about their jobs. Because for many companies, large and small, this is an extremely difficult period. This is why we have been asking for production but corona or no Corona we will experience the hardships such has been never seen before.
Many people will surely be affected. Flee markets and any and every small business entities will suffer and this Corona is the nail on our coffins. The lady of the tuck shop on the corner, the farmer the combie operator, the freelancer, the Guma Guma will all be wiped away. This will continue its ravage to the big companies and indeed the aftermath is gloom. Our message to the entrepreneurs of Zimbabwe and their employees is this: the government must do what it takes to support you.Zimbabwe must be committed to ensuring that businesses do not fall because of what is happening now and that people do not lose their jobs and more jobs must be created.
Either way, we are in a difficult time, but we must never surrender.
We urge one and all to follow the directions and measures which the government has laid down and for all the heartwarming examples of mutual aid and solidarity.
We must stand ready for each other when there is need. We must not take this plight as a political table. Zimbabweans must Stay alert and follow the directions, even if we are strong and healthy, for the benefit of people who are more vulnerable.
That is really important.
We must Continue to use common sense and listen to the experts. We must Continue to help each other where possible regardless of their political beliefs. This is a time when we need to find each other, over political disagreements and contradictions. A time to put the common interest above the personal interest.
A time to give space and trust to all those people who are busy day and night in hectic circumstances to help others, and keep the virus under control. With all the uncertainties out there, one thing is absolutely clear: the task we are facing is very big and we really have to do this with the whole nation. Together we will overcome this difficult period.
Until this pandemic is over we must unite as one. No MDC A to Z. No ZANU PF no POLAD. We must all be Zimbabweans. This is the only country we can call ours in the whole world. South Africa gave a united press conference where Malema shared the platform with the President and other political party leaders. We can do it too. We must not allow any one to take mileage from this world disaster.
Vazet2000@yahoo.co.uk
Source - Dr Masimba Mavaza
All articles and letters published on Bulawayo24 have been independently written by members of Bulawayo24's community. The views of users published on Bulawayo24 are therefore their own and do not necessarily represent the views of Bulawayo24. Bulawayo24 editors also reserve the right to edit or delete any and all comments received.