Search / Godknows hofisi
Importance of roads Recently I read an article by my former employer, the World Bank. The article explains that roads are the arteries through which the economy pulses. By linking producer...
Published: 11 Mar 2021 at 06:17hrs | 406 | by Staff reporter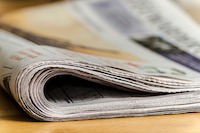 Three Fidelity Printers and Refiners bosses including the chief executive officer were today brought before the courts on allegations of defrauding the country's sole gold buyer of more than $2,6 mill...
Published: 09 Jul 2015 at 18:41hrs | 5071 | by Tendai Rupapa
Load More Stories