Search / Grand cross award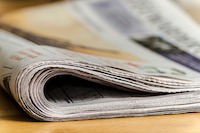 After taking over from former President Robert Mugabe in November last year, President Mnangagwa and his team needed to provide strong leadership and put the basic fundamentals in place for the countr...
Published: 28 Dec 2018 at 20:34hrs | 459 | by Staffg reporter
Exiled former G40 Kingpin Professor Jonathan Moyo has alleged that President Emmerson Mnangagwa is involved in black magic that might be the cause of the unexplained fires that are gutting various pla...
Published: 20 Nov 2018 at 17:42hrs | 20378 | by Mandla Ndlovu
Guinea President Alpha Conde has awarded President Emmerson Mnangagwa with the Grand Cross Award which symbolises everlasting friendship and solidarity between the peoples of the two countries....
Published: 07 Nov 2018 at 14:31hrs | 780 | by Staff Reporter
Load More Stories