Search / Rtgs$ currency
Zimbabwe's inflation rate almost doubled in June from the previous month.Annual inflation accelerated to 175.7% from 97.9% in May, the statistics office said in an emailed release on Monday....
Published: 15 Jul 2019 at 09:39hrs | 1119 | by Staff reporter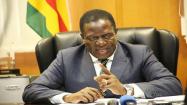 As Zimbabwe's economy sinks deeper and deeper into the morass the tension and panic in Zanu PF circles is palpable. The regime rigged last year's elections and was super confident that it will rig the...
Published: 29 Apr 2019 at 07:43hrs | 3053 | by Patrick Guramatunhu
Former Finance Minister Tendai Biti says the recently introduced RTGS$ currency has failed to maintain a steady exchange rate thereby affecting people's savings. "The RTGS$ is a failed fraud. ...
Published: 26 Mar 2019 at 06:56hrs | 6065 | by Mandla Ndlovu
Load More Stories