Search / The obama foundation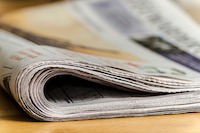 CITIZENS Coalition for Change deputy spokesperson Gift Ostallos Siziba has urged the youth to fight for democracy and to use their voice to find their political power to change the world.Sizib...
Published: 19 Nov 2022 at 06:33hrs | 325 | by Staff reporter
Citizens Coalition for Change (CCC) national deputy spokesperson Gift Siziba has been chosen to attend Obama Foundation's Democracy Forum in the United States.The Obama Leaders programme was l...
Published: 17 Nov 2022 at 05:07hrs | 414 | by Staff reporter
JOHANNESBURG, SOUTH AFRICA – On 18 July the Obama Foundation concluded its Leaders: Africa gathering of 200 rising leaders from 44 countries with a Town Hall with President Obama.During the ...
Published: 20 Jul 2018 at 07:29hrs | 393 | by The Obama Foundation
Load More Stories