Business / Local
Bulawayo Business Network commends Ministry of Industry for inclusive consultations
29 Sep 2023 at 18:01hrs |
Views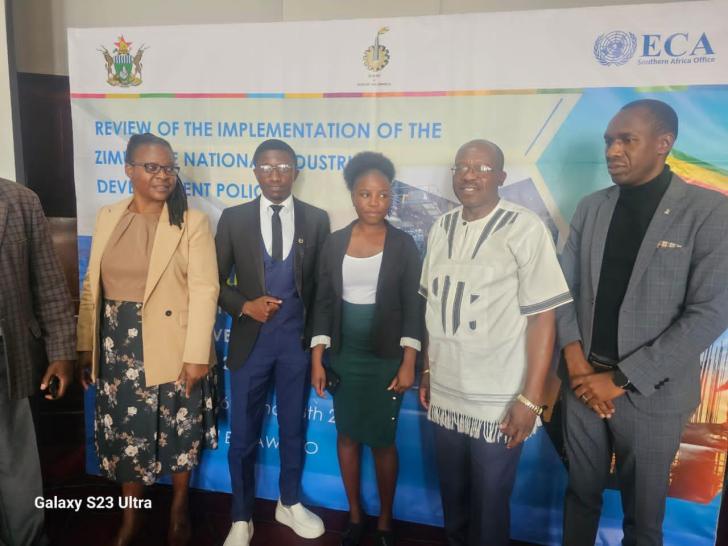 In a concerted effort to elevate Zimbabwe to an upper-middle-income economy by 2030, the new administration led by President Emmerson Mnangagwa has embarked on a journey of economic transformation. This ambitious undertaking hinges on the formulation of policies that foster growth and prosperity among industries, entrepreneurs, and businesses. In pursuit of this objective, the Ministry of Industry and Commerce has conducted a comprehensive policy review and consultation process, actively involving stakeholders from Bulawayo-based businesses.
The Bulawayo Business Network played an integral role in the recent industrial policy review meeting held in Bulawayo. The gathering, which took place yesterday, was marked by a warm welcome address from Mr. Nhema, the Director of Industrial Development. Mr. Nhema underscored the significance of the workshop and its pivotal role in shaping the trajectory of Zimbabwe's future development policies. Dr. L. Ndlovu, a distinguished consultant, conducted a thorough examination of the 2019-2022 policy, shedding light on its shortcomings and intended outcomes during its implementation.
The workshop's focal point revolved around the objectives set for the 2024-2030 timeframe, a period critical to the nation's economic aspirations. These objectives underwent thorough scrutiny, dissection, and analysis by the engaged participants.
Anesu Masocha, a prominent representative of the Bulawayo Business Network, expressed enthusiastic support for the workshop and its pivotal role in shaping Zimbabwe's future development policies. During an interview on the sidelines of the event, Masocha offered an insightful and comprehensive perspective:
"The workshop served as an invaluable platform for stakeholders to actively engage in the critical process of policy review. It was heartening to witness such a diverse array of participants, each bringing their unique insights and experiences to the table. This collective effort holds the promise of contributing significantly to the formulation of a comprehensive and highly effective national development policy.
"What struck me the most was the atmosphere of openness and transparency cultivated by the Ministry of Industry and Commerce. Officials facilitated an environment where candid and rigorous discussions on policy matters thrived. This is an encouraging sign of commitment to the betterment of Zimbabwe's economic landscape.
"In particular, the workshop's focus on the 2024-2030 objectives underscores the seriousness of the government's commitment to achieving upper-middle-income status by 2030. It is evident that the administration, under President ED Mnangagwa's leadership, is taking concrete steps to transform Zimbabwe's economic prospects.
"As a representative of the business community in Bulawayo, I am heartened by the dedication and diligence displayed by the Ministry and its officials. Their earnest engagement with stakeholders signals a shared vision for a more prosperous Zimbabwe. We look forward to continued collaboration and partnership in the development journey ahead."
The Bulawayo Business Network lauded the Ministry's unwavering commitment to this process and commended officials for fostering an environment conducive to honest and robust discussions on policy matters. This collaborative effort marks a significant step towards achieving Zimbabwe's economic aspirations by 2030.
Source - Byo24News