News / Local
Mutambara finishes a third volume of his new enlightening autobiography series
13 May 2023 at 19:03hrs |
Views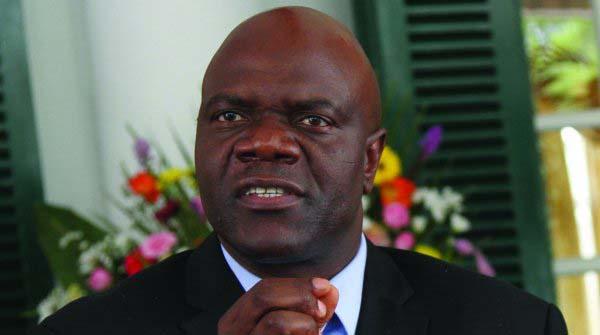 Oxford-trained Zimbabwean academic Professor Arthur Mutambara has finished a third volume of his new enlightening autobiography series, Ideas and Solutions: Deputy Prime Minister and Beyond; In Search of the Elusive Zimbabwean Dream (Autobiography of Thought Leadership), to be launched on 23 May 2023 at the University of Johannesburg (UJ), South Africa.
Mutambara, Zimbabwe's former deputy prime minister and a distinguished academic, says his book will "provide a context to Zimbabwe's challenges - Gold Mafia, Zunaid Moti, the 2017 coup, Mugabe's 21 farms, the retracted corruption statutory instrument rescinded this week, upcoming elections and a collapsed economy".
He says he will also address global challenges in his over 900-page new book.
The book will be launched at the Madibeng Ubuntu Chambers APK Campus, UJ, before an erudite gathering.
The launch programme includes a number of prominent academic heavyweights: Event chairperson Professor Chris Landsberg (UJ International Relations Professor and SARCHi Chair of African Diplomacy and Foreign Policy); opening remarks by Professor Letlhokwa Mpedi (UJ Principal and Vice Chancellor); and an official presentation delivered by Mutambara himself (Director and Professor, Institute for the Future of Knowledge (IFK), UJ.
There will also be brief remarks by Professor Kammila Naidoo (Executive Dean UJ Faculty of Humanities); Dr Trevor Ngwane (Director, UJ Centre for Sociological Research and Practice); Dr Nkosana Moyo (former Zimbabwe Minister of Industry and International Trade, Founder of MINDS); Professor Suzy Graham (UJ Vice-Dean Humanities and Professor of International Relations); Professor David Monyae (Director, UJ Africa-Centre for Africa-China Studies); Dr Jethro Mpofu (Researcher Wits Centre for Diversity, Senior Researcher Good Governance Africa) and Professor Tapiwa Chagonda (Director, UJ Centre for Data Ethics).
The programme also includes a question-and-answer session.
Closing remarks will be delivered by Professor Thea de Wet (Senior Director, UJ Academic Development and Support).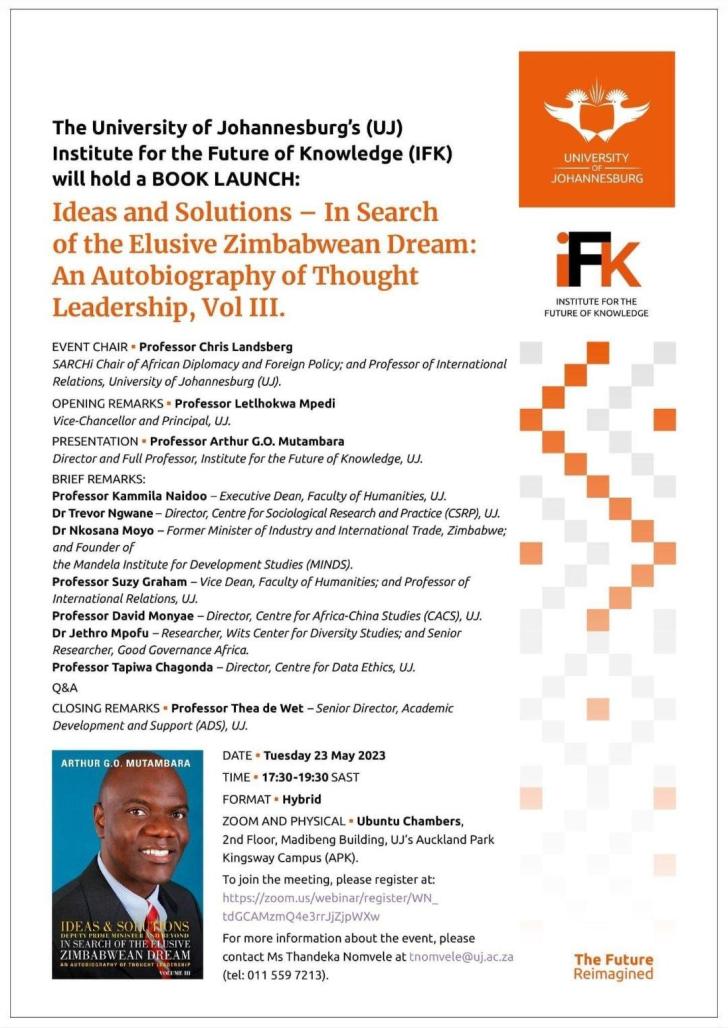 Source - newshawks