News / Local
WATCH: Mthuli Ncube's 'smart city' vision takes shape - Cowdray Park road rehab in full swing
04 Jun 2023 at 08:22hrs |
Views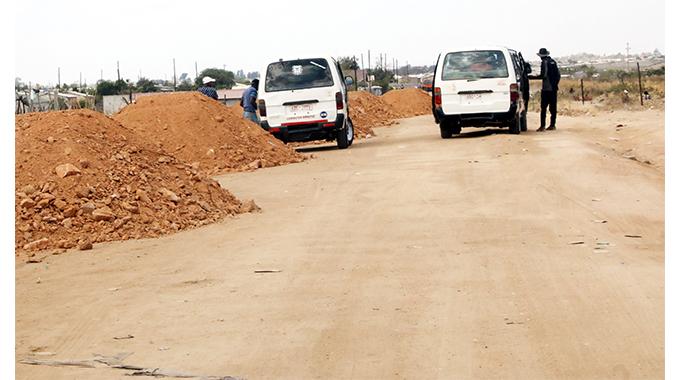 PARTS of Cowdray Park suburb in Bulawayo that had until recently been declared no go areas by kombi and Zupco operators are now once again being graced by vehicular traffic, following the grading of roads in the Cowdray Park-Hlalani Kuhle/Garikai area after the intervention of the Zanu-PF candidate for the area, Professor Mthuli Ncube.
Prof Ncube, who is the country's Minister of Finance and Economic Development, has cited the rehabilitation of Cowdray Park's road network, which had become a butt of jokes in Bulawayo, as a critical cornerstone in his plan of turning around the suburb, the second most populous residential area in the country, into a smart city.
Following the last rainy season, Zupco and kombis discontinued servicing routes such as Cowdray Park-Hlalani Kuhle/Garikai area, with residents being forced to walk up to five kilometres to find transport. However, a visit by the Sunday News to Cowdray Park yesterday revealed that the road between Caravan and Empompini stands had now been graded, with transport operators back in business. The rehabilitation has gone as far as Cowdray Park Health Centre.
Speaking about the recent developments, Prof Ncube said the rehabilitation of roads was crucial to his overall vision of turning Cowdray Park into a smart city. He said, roads in the area would also soon be tarred.
"First of all, our smart city needs to be navigable. We need good and the best roads. So, we have taken the first step of grading these roads and as I speak, some areas that were no longer being serviced by transport operators, are now back in business.
This has also made it easier to move at night because transportation is now bringing you closer to your home. Very soon, you will see some roads being tarred and eventually all the roads around Cowdray Park will be tarred. This is because I believe that navigation is very critical in creating a smart city," he said.
Prof Ncube said the construction of good roads was inextricably linked to the economic fortunes of the people of Cowdray Park, as a good road network always led to increased economic activity.
"In rural areas, when you build a road, there is usually a dramatic change in the lives of the people and that is why as economists we say a road is an income. Roads are critical because no one wants to build their house in a place that is not accessible because how will people visit you? So, roads will be built and we want to accelerate the building process in the next few weeks. One of the roads that will be tarred is the one leading to the clinic. So far, we have built one clinic, a poly clinic which has world class facilities within it. We are going to build another clinic, servicing a certain area of Cowdray Park we are trying to source some ambulances so that we can ferry those that are not feeling well to the clinic. So, I hope in the next few weeks I will be able to present those to the clinic for their use," he said.
Meanwhile, 518 youths from Cowdray Park graduated from the Red Cross First Aid programme, while 150 others were handed their provisional driving licences. Both initiatives were kickstarted by Prof Ncube as part of his skills development programme for the area.
"A very important issue has been to put in place empowerment programmes around self-development. So far, we have chosen to do three programmes and more will be done. We have chosen to train the youths in the emergency response health programme run by the Red Cross. So today we are at a graduation ceremony where some trainees are graduating. The youth also asked us to help them in acquiring driver's licences. We are training thousands of youths how to drive and again some were graduating today. A third area in skills acquisition pertains to the beauty industry. People want to do their hair and all manner of things. It is a big industry and so far, we are training 300 youths that we hope will be able to run beauty salons in future," he said.
Source - Sunday News