News / Local
Mayweather encounter stokes boxing flames in Zimbabwean prodigy
07 Aug 2023 at 06:37hrs |
Views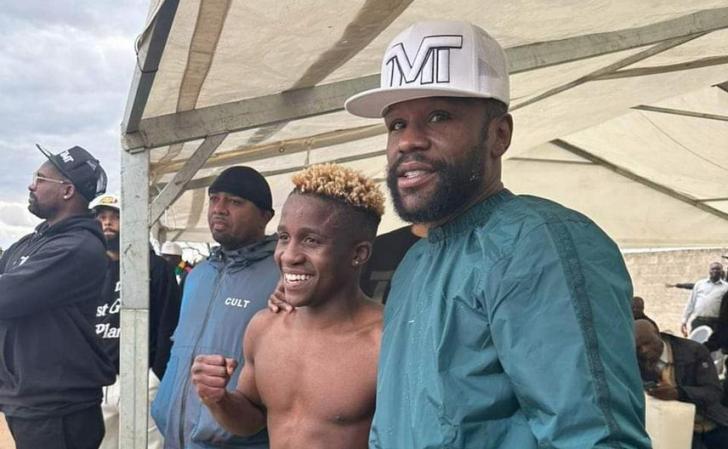 BEAVEN Sibanda shoved and pushed tens of people, including security detail, desperately trying to get an up close for an autograph from his boxing hero, his stature betraying his efforts.
"I could not get to him," Sibanda told NewZimbabwe.com, his face painted with disappointment.
It was a rare once in a lifetime opportunity for Sibanda to set his eyes on his role model, a figure that had stoked boxing flame in his pint sized body.
Floyd Mayweather Jnr, arguably the most decorated boxer to have ever emerged in the sport, had graced Zimbabwe as part of his motherland tour to Africa.
Dust rose in the air as the range cars made their way to Number 1 grounds in a sprawling community of Mabvuku.
It is on these dusty grounds of Mabvuku that gave birth to some of Zimbabwe's sporting legends – Brena Msiska, Cephas Chimedza – now heralding a fruition of a dream for Sibanda.
"I am so happy and inspired. I am fighting on September 2 so it has motivated me to work hard and to inspire other people. He is my role model I look up to Floyd ever since I started boxing," said Sibanda.
Sibanda is one of boxers that had an opportunity of exhibiting their skills in full view of Mayweather Jnr.
Mayweather, who began fighting at a young age before etching his name in the sport's history books could not hide his admiration of the young boxing prodigy.
The retired American boxer boasts of an unmatched record of 50 wins and no losses in his blistering boxing career.
Fully aware of this, Sibanda seized the spotlight in an exhibition match that lasted less than 15 minutes but enough to leave a lasting impression on the American.
"He is the one who made me come into boxing because I was watching him all along. I want to become like Floyd Mayweather to be a rich world champion. It is possible, hard work, dedication and God," he said.
Missed opportunity
Mayweather's visit last month sparked mixed emotions among sporting lovers and Zimbabweans in general.
Upon his arrival in Harare Mayweather wore President Emmerson Mnangagwa's trademark scarf, with questions being raised over his visit in Zimbabwe.
Flamboyance, elegance, extravagance were on display when the former boxing champion descended on Mabvuku for what appeared to be a training session.
For a country desperate to bring sanity into boxing, authorities were caught in slumber, with an opportunity slithering away.
Zimbabwe's boxing is in the doldrums, nothing short of amateurish.
However Zimbabwe National Boxing and Wrestling Control Board (ZNBWCB) Chairperson Vee Chibanda holds a different view.
"As the Zimbabwe National Boxing and Wrestling Control Board (ZNBWCB), we are grateful and we thank Scot Sakupwanya and his team for inviting Floyd Mayweather Jnr to Zimbabwe.
"Mayweather's visit served as a source of inspiration for young athletes in the country. Seeing a successful boxer who has achieved international recognition can motivate and encourage aspiring boxers to pursue their dreams and work hard.
"The visit provided opportunities for youth to receive specialized coaching and training sessions. Mayweather shared his expertise, techniques, and strategies, helping local boxers enhance their skills by the exhibition practice session held in Mabvuku. This knowledge transfer contributes to the development of boxing talent in the country and a lot of the drills showed young and mature would be boxers how its done," said Chibanda.
Zimbabwe has failed to consistently churn out boxers with few being nurtured out of the country.
With Mayweather's visit to Zimbabwe few young pugilists like Sibanda were inspired punch above their weight and make inroads into boxing.
"This gave local promoters a look at what can be achieved if boxing is promoted at international levels.
"Overall, the visit of Mayweather a former international boxer of such respectable repute to Zimbabwe inspired, motivated, provided skills development, and created opportunities for the youth to showcase their talent and be groomed by the Mayweather team.
"His visit also contributed to the growth and recognition of boxing within the country, nurturing local talent and promoting positive values.
"All in all Mayweather's visit gave combat sport athletes a better understanding of what it took Floyd Mayweather to get to that level and will hopefully encourage them to dream big," said Chibanda further.
Source - NewZimbabwe