News / Local
Mnangagwa to contend with Zanu-PF factions jostling for power
03 Sep 2023 at 21:24hrs |
Views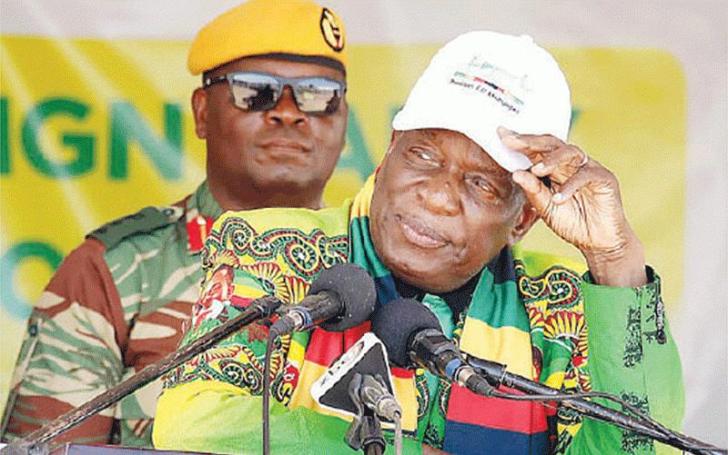 President Emmerson Mnangagwa's final term is likely to be marred by intense jostling for power in Zanu-PF as warring factions jostle to position themselves for the control of the ruling party and the country, analysts have said.
Mnangagwa (80) was declared winner of the controversial August 23 to 24 presidential elections after beating Citizens Coalition for Change (CCC) leader Nelson Chamisa (45), who garnered 44% of the vote.
Chamisa rejected the results, saying the election was rigged to give his rival an advantage.
Foreign observers, including those from the Southern African Development Community (Sadc) and African Union that are often measured in their assessments of elections on the continent, said Zimbabwe's election did not meet regional and international standards.
Chamisa has still up to September 4 to challenge the outcome of the elections at the Constitutional Court, which would at best delay Mnangagwa's inauguration.
The Zanu-PF leader has already signaled that he will not entertain CCC's push for fresh elections and has vowed to crush any protests against his leadership.
On the other hand, CCC has launched a diplomatic offensive to convince the region to lean on Mnangagwa to reform and is fighting to challenge his legitimacy.
As if the legitimacy question is not enough of a burden, the man nicknamed the "Crocodile" will have to contend with party rivals for him to have a smooth final term in office, political analysts said.
Mnangagwa hinted just before the elections that he will not amend the country's constitution to extend his controversial rule thereby throwing the cat among the pigeons for a leadership contest in Zanu-PF.
Mnangagwa, who took over from long-time ruler Robert Mugabe after the 2017 military coup, has been hugely unpopular in his party and resorted to using affiliates as well as other shadowy groups to campaign for him ahead of last month's elections.
His unpopularity in the party has widened over the last five years according to figures from the Zimbabwe Electoral Commission (Zec).
In 2018, Mnangagwa's vote tally of 2,456,010 was 21,698 votes less than the Zanu-PF parliamentary votes – 2,477,708.
Five years later, that gap has widened significantly to 144,680 votes. Mnangagwa won in 127 constituencies while Zanu-PF won in 136 in this election.
According to observers, the trend is likely to continue as Zanu bigwigs 'dump' Mnangagwa for the next successor.
Clionadh Raleigh, a senior professor of political violence and geography at the School of Global Studies at the University of Sussex in the United Kingdom, said Mnangagwa was likely to lose control of the party during his last term.
"The end of this reign is important because the jostling in Zanu-PF elite circles will be fierce and directed towards building loyalty for the presumed successor (whomever that may be)," Raleigh said.
Harare-based political analyst Lazarus Sauti said Mnangagwa's final term was expected to shift power dynamics within the ruling party.
Sauti suggested that Vice-President Constantino Chiwenga would be positioning himself to replace Mnangagwa.
He argued that many party members will align themselves with Chiwenga in order to position themselves for influential positions within the party.
"Mnangagwa is in his last term as the leader of Zimbabwe, and this is going to shift power dynamics in his party," Sauti said.
"Chiwenga is likely to replace him, and this is going to create factionalism.
"Most people in the party will lean towards Chiwenga to position themselves."
However, Sauti said although there will be divisions in Zanu-PF, the ruling party will likely maintain its grip on power.
"Despite the potential for internal divisions within Zanu-PF, the party is expected to present a united front as it strives to maintain its grip on power," he said.
"The survival instincts of party members will likely override any internal conflicts, as they are acutely aware that their political fortunes are intricately tied to the overall success of the party."
Social commentator Pardon Taodzera said Chiwenga should be wary of what happened in 2014 when several bigwigs shifted allegiance to former vice president Joice Mujuru as she appeared likely to succeed the late Mugabe.
"Everyone thought Joice Mujuru was shoe-in for the presidency before a spirited campaign from the Mnangagwa faction," Taodzera said.
"The likes of Didymus Mutasa, Rugare Gumbo, Temba Mliswa and Francis Nhema had shifted their loyalty from Mugabe to Mujuru and they were later sacked with her because Mugabe was not prepared to go."
Alongside dozens of party bigwigs, Mujuru and her allies were forced out of the party when Zanu-PF imploded in 2014.
The leadership feud followed fervent claims by party hawks that Mujuru had put up an elaborate plot to topple Mugabe, claims which were never proven by the former ruler.
Mutasa and Gumbo were to later form Zimbabwe People First political outfit together with Mujuru.
This was later rocked by internal squabbles soon after its formation before Mujuru finally left to form her own National People's Party.
During Mugabe's twilight years, many Zanu-PF leaders shifted their allegiance to Mnangagwa who was leading a faction called Lacoste.
Team Lacoste, which unofficially got its name from the Lacoste clothing label and even used its crocodile symbol, was a group of Zanu-PF politicians who, from 2015, were working with Mnangagwa to succeed Mugabe.
The faction was also working to frustrate the efforts of a rival faction called G40 which was believed to be pushing for the then first lady Grace Mugabe to succeed her husband.
As the question of Mugabe's succession heated in 2016, party members believed to support Mnangagwa in the succession race were seen at events posing for pictures wearing T-shirts labelled "Team Lacoste" in January 2016.
Their T-shirts had a crocodile emblem painted in national colours — a move that analysts said indicated that the faction now had its own symbols outside of the usual party regalia.
"Mnangagwa is faced with the same situation," Taodzera said.
"Every politician wants to associate with the sunrise, not the sunset, so in this scenario Mnangagwa's successor represents the sunrise.
"It is not clear who will replace him but Mnangagwa will soon find himself in the same predicament Mugabe was in 2017."
Faced with fading grip on Zanu-PF, analysts believe Mnangagwa will rely more on Forever Associates Zimbabwe (Faz) which controversially delivered a win for him and wreaked havoc in the past elections.
Faz president Kudakwashe Munsaka said the shadowy group was ready to work with Mnangagwa in his second term.
"We assure the nation of our constant readiness to work with the authorities towards the maintenance and consolidation of our beloved country's socio-economic gains," Munsaka said.
"Mnangagwa has always been a strong and passionate leader and we have no doubt that he will continue to serve our country with distinction and will protect our sovereignty."
Since taking over from Mugabe, Mnangagwa has been heavily involved intelligence and military services in running the affairs of Zanu-PF.
In the 2018 general polls, the military — through Heritage — campaigned for Mnangagwa and rigged the elections in his favour, according to reports.
A recent study by the Zimbabwe Democracy Institute (ZDI) found that the deployment of Faz into Zimbabwe's electoral processes was a key part of Zanu-PF's electoral manipulation strategy.
The study found that Faz agents were linked to intimidation and violence against political opponents and that they were also involved in voter suppression and vote rigging.
ZDI's study focused on the state of the electoral environment in Zimbabwe ahead of the August 23 electoral manipulation activities of Zanu-PF and Faz.
It also explored the weaponization of law (law-fare) to clampdown on the opposition and democracy defenders.
ZDI used convenience sampling to recruit 200 research participants from Nkayi, Umguza, Tsholotsho, Mwenezi, Magunje, Uzumba, Mt Darwin, Chitungwiza, Harare, and Zvimba, where the majority of citizens (65%) believed Faz was associated with intimidation and violence against Zanu-PF's political opponents.
The study revealed that Faz's deployment came to light during the Zanu-PF primary elections held in preparation of the 2023 elections " as a shadowy and quasi-securocratic body composed of the Central Intelligence Organisation (CIO), the Zimbabwe National Army, war veterans, Zanu-PF youth militia and vigilante groups."
Faz's prowess as a Zanu-PF electoral manipulation machine was "pilot tested" in the party's primary elections where it was accused of presiding over massive rigging that saw senior Zanu-PF members losing elections, ZDI noted.
Witwatersrand University political scientist Romeo Chasara said the military's influence within the ruling party should not be underestimated as it has historically played a significant role in shaping leadership transitions.
Chasara argued that the military will continue to exert its influence behind the scenes, ensuring that any leadership changes within Zanu-PF are in line with its interests.
"Regarding the succession within Zanu-PF, it is crucial to acknowledge the significant role that the military has historically played in shaping leadership transitions," Chasara said.
"Their influence behind the scenes cannot be underestimated, as they ensure that any changes in leadership align with their interests.
"The military's involvement in the Zanu-PF succession is a dynamic that cannot be ignored, as it has the potential to shape the future direction of the party and Zimbabwean politics as a whole."
Chiwenga, who was the army commander when the military toppled Mugabe, has denied charges that he is eyeing Mnangagwa's position.
Source - Southern Eye