News / Local
Heath Streak, the Matabele Warrior
09 Sep 2023 at 07:51hrs |
Views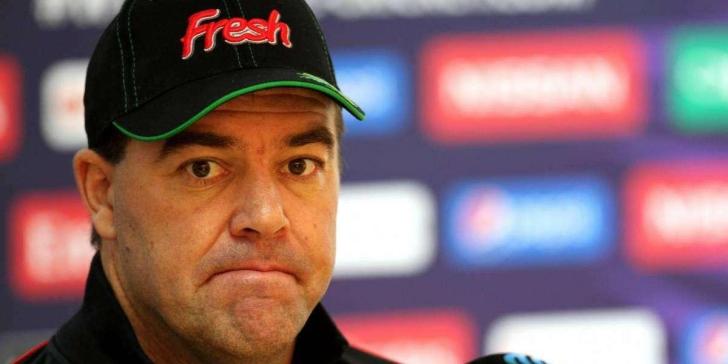 A sheepish, charming young man with a broad smile when he strode in the national cricket team many eons ago the departed Heath Streak was fondly remembered in Zimbabwe cricket circles, and greatly worshipped in much of Matabeleland among the cricket following fanatics.
Whispers in board corridors of match fixing and Hansiegate bookkeeping and expensive gift taking from Indian bookies, were all sheepishly swept away among those that faithfully loved Streak, and only when he admitted that he did receive gifts, did we say" Aah . . . , he's human after all," and the adoration continued.
One couldn't fault those who adored him. Many knew him for cricket; but before that, as a school boy, many knew him as a tornado from his days at Falcon High, playing centre or fullback for the school's First XV where he swept all away in his path. With thighs built like a gelding, he was the stuff of legends from Falcon to CBC, Plumtree, Prince Edward and Churchill High.
At Milton, where this writer attended school and keenly followed the school boy rugby team for six years, he was similarly described with wonder and awe.
But then he burst into Test cricket, at the tender age of 19, taking eight wickets against Pakistan in the second Test at Rawalpindi.
A lion-hearted fast bowler, he was the only Zimbabwean cricketer to take more than 200 Test wickets, 216 in all. In comparison no Zimbabwean peer is yet to reach 80.
He served his country diligently, batted superbly at times, most memorably in Auckland 2001 when he made 79 not out from just 67 balls in the third ODI against New Zealand to win by just one wicket in a nerve wrecking thriller and subsequently claimed their first international series win away. Zimbabwe won the series 2-1.
As a captain he led Zimbabwe during its most successful period in international cricket, winning four Tests out of 21 between 2000 and 2004.
Indeed, this man was many things to many people - for the players that played under him, he was captain fantastic.
Indeed, the players adored the captain, his replacement, the then nuggety Tatenda Taibu, often seen leaping into his massive arms in yet another wicket celebration, included.
I went to his farm to interview him in 2007. His farm had been reduced by the Government land reform programme that he supported. I didn't sense any bitterness, just an acceptance and a quiet humility.
We spoke about Brian Lara, Sachin Tendulkar and other great batsmen such as Matthew Hayden he faced in his career and compared the former two, with little Master Sachin coming of best.
"With Lara you always felt you had a chance because he played many shots, Tendulkar offered you none."
Among the Dave Houghtons, Bill Flowers and Steven Mangongos of Zimbabwe cricket, few worked harder for the Chevrons, and no international captain had so little incentive to stay at the coalface with so little motivation than the Trojan horse.
He would bowl 20 overs in a day, with bowling partner Eddo Brandes frequently injured until he finally found the perfect foil in Henry Olonga and Mpumelelo Mbangwa.
Then Captain Alistair Campbell would scan the field to see who else he could throw in to bowl.
"I hated it when they took the ball away from me," said Streak. "Bowling was my life, something I started at primary school at Reps all the way till Test level."
We were served tea and biscuits, and just outside his veranda, a graceful eland grazed idly by, quite unbothered by our presence. Gently we patted it when we got our turn, I and the Sunday News driver.
He loved his animals and they understood him, they spoke his language, he eloquently spoke our language - isiNdebele.
He was fluent in it and that's why Matabele loved him.
"I didn't speak proper English until I went to school and even then I would always confuse it with Ndebele. It's a shame that more of us don't put more effort in speaking local languages," he reminisced back then.
"I think that, largely, Ndebele and Shona should have been taught to all in primary school. When you know a people's language and their culture, you understand and get along with them better. When I got to Form Two I had to drop Ndebele and do French, a language I had no need for."
It is no wonder he was a local people's darling.
Despite the passions and tempers that followed his acrimonious exit as captain, he was always willing to talk things through. Remember the desperate match in Cape Town in which captain Taibu, was disgracefully sledged by fellow wicketkeeper Mark Boucher and Zimbabwe was butchered in under two days in the first Test?
An SOS was quickly sent through by the ZC board to Heath Streak, who swiftly responded and was flown in for the next match, his presence alone lifting a young team of teenagers to a much improved performance in the second Test at Centurion in Tswane. That was his impact among those that followed his path.
Four years earlier at Lords, in yet another desperate performance by Zimbabwe against the big guns - and they were many in those days - he took innings best figures of 6 for 87, thereby earning an elevated place in the famed Lord's Honours board.
There is an elongated slope at Lord's in England that makes bowling notoriously difficult for visiting fast bowlers, and the atmosphere and tradition is frightfully intimidating. But not to Heath Hilton Streak, the Lion Warrior.
Source - The Chronicle