News / National
ZimFirst express concern over Mnangagwa's arbitrary awarding of pension to Mugabe
08 Jan 2018 at 06:48hrs |
Views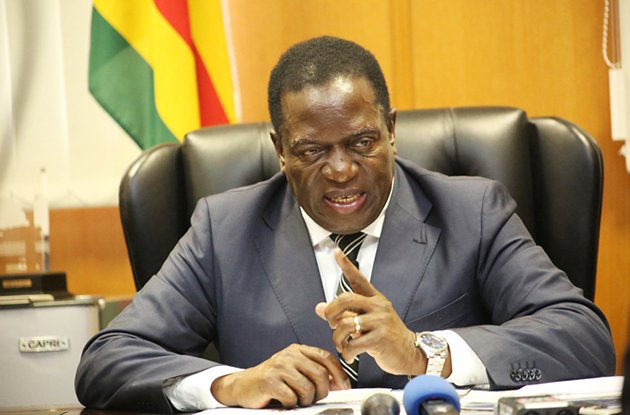 ZimFirst leader Maxwell Shumba has expressed concerns over the manner in which President Emmerson Mnangagwa seem to have unanimously awarded pension to the former President Robert Mugabe without the issue being discussed in parliament before implementation.
"I am very concerned that the size and process of awarding benefits is done outside parliament. That, it is left to the whims of the sitting President is very scary and can easily be abused for political gain or vindictiveness (Phelekezela Mphoko) as in this case, is also an ingredient for brewing an entrenched benefit ( why should a sitting president leave power of their benefits are at the mercy of the next sitting president?)," Shumba said.
"It means these benefits can be taken away at the discretion of the next President. I fully understand and President MT's dire situation and that cash injection is a matter of life and death but we cannot close our eyes to the reality that in being part of a flawed process, he is complicity in subverting a constitutional due process. Constitutional Scholars can educate me on this one but my take is MT should have insisted that the benefits should have come out as an act of parliament or the civil service retirement due process."
He said the quantification of benefits should be done by parliament and applicable to any retired head of state or senior civil servants ( Mugabe gets $10million, Tsvangirai gets $500k house, poor Mphoko gets nothing.
"What we witnessed yesterday was an opportunistic political campaign that unfortunately those in my former party characteristically outmaneuvered and failed to smell the coffee. What should have happened is ED as a leader of the majority party should have caucused with his lieutenant MPs and asked them to look at the pension benefit act and see how it could be made applicable to MT's case and all future retiring senior officials and then table amendments in parliament to get a sure vote," he said.
"THEN the head of the civil service would then notify Mr MT of what is legally (not politically) due to him. There should be zero politics in the determination of pension benefits . Should MT have accepted benefits handed this way? In particular, before the struggle he ended (maybe to him it has ended, I don't know) and whilst there are thousands of MDC members who also gave civil service in the form of fighting against this regime repressive system of governance (Ndira's wife story comes to life) and some even paid with their lives? Should he have accepted benefits given as a vote buying politic gift? The answer is, I honestly don't know, it largely depends on what he and that of the party he continues to lead's role in the current political scenario."
Shum,ba said the optics however are not good.
"A good leader should have insisted on ethics and due process to be respected (I hope I have not brewed a firestorm). Pension benefits are handled by the civil service commission not by the President. The way this was handed is no different from how ZANU selectively dishes out fertilizer and maize seeds to its supporters to buy votes (food for thought)," he said.
"Addressing number 2. I applaud President ED for initiating a journey towards a Zimbabwe we want. A Zimbabwe in which differences in opinion does not mean political enmity. That, despite political differences we can still call upon our ubuntuism in demonstrating compassion towards our neighbors breaking down the adversarial political barriers that may exist . That him and his VP were able to sit down with MT and hear his personal challenges first hand is what makes us Africans and proud Zimbabweans. This goes a long way to remove fear from the masses as election season kicks off. However, the good gesture was spoilt by a badly done a political machination operation which stank ZANU of old. In a nut shell judging by yesterday's events It is still a long walk to freedom."
Source - Byo24News