News / National
Tsvangirai burial was never going to be complete without violence
22 Feb 2018 at 05:55hrs |
Views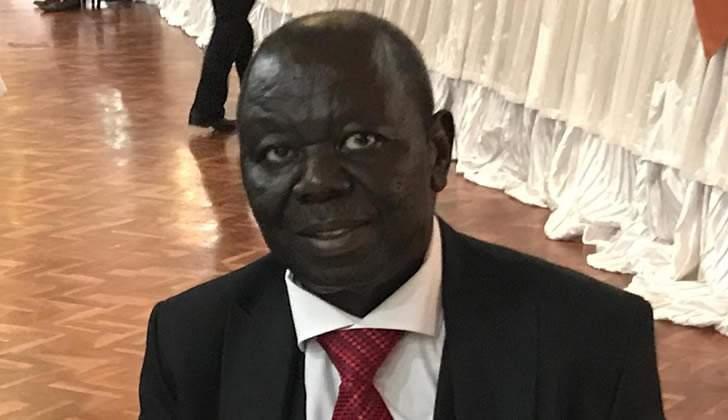 THE burial on Tuesday of the late MDC-T leader Mr Morgan Tsvangirai was never going to be complete without incidents of violence that he often used to crush dissent in the party.

Mr Tsvangirai, who died in South Africa on February 14, was buried at his rural home in Buhera. During his burial, MDC-T party youths gave their leader a befitting send off by engaging in violence, a principle they learnt from him.

Never mind the eulogies given by different speakers at the burial, violence was part of the late Mr Tsvangira's legacy that the youths were not prepared to bury with their departed leader.

On the day, one of the party's vice presidents Dr Thokozani Khupe, secretary general Mr Douglas Mwonzora and Tsholotsho legislator under the proportional representation Ms Lwazi Sibanda were on the receiving end of the violence that was unleashed by the rowdy party youths.

Dr Khupe and Mr Mwonzora had to seek refuge in a hut in one of the nearby homesteads while Ms Sibanda was struck by an object on the face.

Dr Khupe, narrating her ordeal, said when they got to the homestead to greet Tsvangirai's mother, they were accosted by 10 party youths, allegedly acting on behalf of Mr Nelson Chamisa the party's acting president, who were later joined by a mob baying for their blood.

"They started assaulting us accusing me of being a dissident and that I should return to Matabeleland saying we will kill you, you people. This is because there are people who want to wrestle power violently…there are those appointed by the president (Tsvangirai) who want to use violence to take over power.

They are busy beating up people, they are the ones who sent people to assault me.

"They wanted to kill us because as we were walking away, a man offered us his hut as refuge. While we were inside the hut, they started throwing stones at us and took a burning long in a bid to burn the thatched hut," she said.

"Because it was raining the roof did not catch fire but only smoke came in. If it wasn't for the rains we would have been burnt inside that hut.

"As they did that, they were saying 'today we want to kill you Khupe, you are the one disturbing our candidate' . They kept chanting 'Chamisa Chamisa' and we don't agree with that."

Dr Khupe went on to dismiss the meeting of the MDC-T National Council that appointed Mr Chamisa the party's acting president as bogus.

"I want to tell them that this thing of saying a woman and a person from Matabeleland can't be president, I will end it. ..they want to wrestle power, that won't happen.

"I don't recognise Chamisa as acting president, when our president ( Tsvangirai) appointed Chamisa vice president, I told him that I won't recognise Chamisa as there were no constitutional provisions to empower him to appoint additional vice presidents," charged Dr Khupe.

"Now he is sending people to kill me, I won't have that."

Dr Khupe went on to declare herself the party's acting president saying she will soon call for an extra ordinary congress to choose Mr Tsvangirai's successor.

It is the view of this piece that the violence that Dr Khupe and others were subjected to on Tuesday is not new, it has been a prominent feature in the interactions within the MDC-T.

The only new scenario is that the fights are happening in the absence of the late Mr Tsvangirai as his deputies Mr Chamisa, Dr Khupe and Engineer Elias Mudzuri jostle to succeed him.

To those who had hoped that after Mr Tsvangirai, the MDC-T would adopt a new kind of politics, Tuesday showed that the leadership in the party has learnt nothing new and forgotten nothing from their old politics of violence.

While, many would sympathise with Dr Khupe because violence has never been good and can never be justified, it would have been great for Dr Khupe to have spoken against violence when the likes of the late Mr Gibson Sibanda, Professor Welshman Ncube and Ms Trudy Stevenson among others were assaulted by party thugs during the split in 2005.

The behaviour of condemning ills only when one is now the victim is the height of hypocrisy.

The stance against violence should be a principled one and taken at all times when the ill is committed against people other than oneself.

Many other incidents of violence occurred in the MDC-T like the party's Bulawayo congress in 2011 but the MDC-T leadership including Dr Khupe continued to bury their heads in the sand.

In his memoirs, the united MDC's founding secretary for legal affairs Mr David Coltart reveals that the 2005 split was caused by Mr Tsvangirai's love for violence.

Mr Coltart also revealed that Mr Tsvangirai did not only engage in intra-party violence where he used "agents provocateurs" such as one Tonderai Ndira but sought to escalate violence into a nationwide confrontation with the ruling Zanu-PF.

The lawyer further revealed that Mr Tsvangirai in 2006 trained bandits in South Africa in preparation for a violent takeover of power in Zimbabwe.

The burial of Mr Tsvangirai on Tuesday was attended by a cross section of people ranging from diplomats representing different countries, officials of political parties from within and outside Zimbabwe and civil society.

What the MDC-T successfully did in front of all these people was bringing out their true character of violence and total disregard for decency. They couldn't even afford their leader respect and decency by overlooking their differences just for one day but continued to tear each other apart.

This is the same party that has over the years accused the ruling Zanu-PF party of engaging in violence especially towards elections but evidence was laid bare on Tuesday.

Since his inauguration in November last year, President Emmerson Mnangagwa has preached peace, unity, tolerance and love.

He has guaranteed that the country will hold free, fair, credible and non violent elections this year and has extended a welcoming hand to those foreign bodies that want to come and observe the polls.

Most importantly, the President has called on all Zimbabweans to work together towards the restoration of the country to its former glory.

While the President's calls have been heeded by the majority of Zimbabweans, it has fallen on deaf ears on the part of MDC-T. They would rather stick to what they know best which is violence.

As the country draws closer to elections, it has become clear that President Mnangagwa and his ruling Zanu-PF party are the only orderly organisation working towards the interest of its people and the choice on who to rally behind is not a difficult one.


Source - chronicle