News / National
Mnangagwa walks tight Cabinet rope
09 Aug 2018 at 18:08hrs |
Views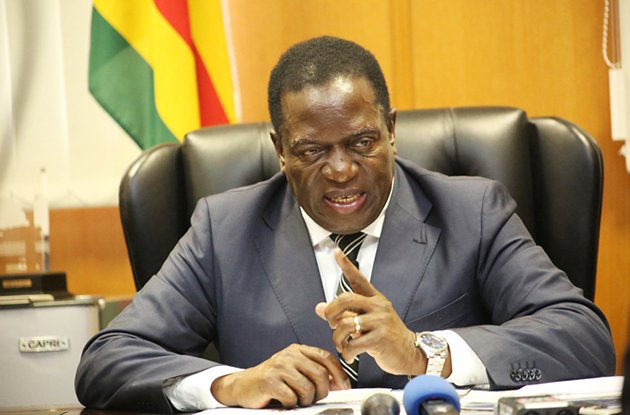 PRESIDENT Emmerson Mnangagwa can fortify his push to implement key reforms in the post-poll period by appointing a mixture of technocrats and deserving politicians from all political parties into Cabinet, analysts said this week.
In last week's plebiscite, which ended with bloodshed and ugly protests in Harare on Wednesday, a number of Cabinet ministers fell by the way side.
They are unlikely to retain their Cabinet seats unless the president-elect reappoints them under a constitutional provision that gives him powers to appoint five non-constituency members of parliament (MPs).
Notable Cabinet ministers who were trounced during the hard fought elections include Finance and Economic Planning Minister, Patrick Chinamasa, whose attempts to bring back global financiers including the International Monetary Fund to help rebuild the country failed.
His counterpart at the Ministry of Industry and Commerce, Mike Bimha, also failed to make it past the ruling Zanu-PF party's primary elections. He is seen by some sections of business as a good candidate for reappointment through the constitutional provision.
They contend Bimha demonstrated his competency by coming up with and implementing policies that kept businesses afloat under difficult circumstances.
Deputy Finance Minister, Terrence Mukupe and Public Service Labour and Social Welfare Minister, Petronella Kagonye, failed to retain their seats and are unlikely to bounce back in the new government.
Leading economist, John Robertson, told The Financial Gazette that Mnangagwa had a range of options from which to choose his new Cabinet. They noted that the incoming Parliament was full of "potential".
He was referring to a number of new faces such as Energy Mutodi and Ozias Bvute, who trounced sitting MPS in their respective constituencies and are likely to leverage on their credentials to land Cabinet appointments.
Robertson said MPs from Nelson Chamisa's MDC Alliance like former Economic Planning and Investment Promotion Minister, Tapiwa Mashakada, still had so much to give Zimbabwe as a result of their experience and academic qualifications.
Other opposition figures whose names were suggested this week include former Finance Minister, Tendai Biti, who won the Harare East constituency on an MDC Alliance ticket.
Barring the need to reward his lieutenants in Zanu-PF, Mnangagwa should give them Cabinet posts, noted Robertson.
"He could retain some of the old ministers," said Robertson.
"However, the incoming parliament is full of so much potential. If he is serious about fighting corruption and Zimbabwe being open for business, he could also incorporate MPs from opposition in his Cabinet. A good example would be Tapiwa Mashakada; he has served before and is equally qualified," said Robertson.
A sea of problems will confront the new Cabinet, and analysts said these required a solid team of experts and experienced politicians to work on agreed reforms and implement them to bolster on-going efforts to rebuild shuttered industries and unlock employment opportunities.
These include lack of foreign currency, cash unavailability and high costs of doing business in Zimbabwe, which has made the country less competitive.
Prices have been on the rampage in the past year, making living conditions extremely difficult.
"One of the key drivers of this challenge is the mismatch between the real time gross settlement balances and nostro balances emanating from money creation of all sorts," said the Confederation of Zimbabwe Industries (CZI).
"We have seen the return of 'burning of money," said CZI.
Zimbabwe National Chamber of Commerce (ZNCC) chief executive, Chris Mugaga, backed Robertson's call to rope in talented and experienced opposition legislators into the new Cabinet.
This will demonstrate that the new president is serious about economic revival, he told The Financial Gazette.
"Given President Mnangagwa won with 50,8 percent, he cannot go at it alone," said Mugaga.
"He needs these (opposition) people in his Cabinet if he is serious about economic reforms. Cabinet should not be a Zanu-PF preserve. There are equally capable people from the opposition who can move his economic agenda forward. Economic ministries… do not need partisan loyalties. Instead they need Mr Mnangagwa to be loyal to Zimbabweans. The opposition has tried and tested Cabinet ministers like Tendai Biti. The president should extend an olive branch to them and if they reject it then we will know they are interested in ruling not serving," the ZNCC chief noted.
He gave the example to Rwanda, where President Paul Kagame's Cabinet has opposition MPs.
Mugaga said Bimha, whose tenure was highlighted by implementation of policies that restricted imports and the opening of a number of businesses, must be reconsidered for a Cabinet post.
"Over relying on Zanu-PF for the entire Cabinet will be asking for too much from them. The last Cabinet had ministers like Bimha, who truly served business. I believe that while he lost the primaries, he deserves to retain his ministry. Then there are bureaucratic ministers like Mr Chinamasa; we cannot afford to have such people in the Cabinet," he said.
Fitch think-tank, BMI warned the president needed to be objective in appointing his new Cabinet as it would have a direct bearing on his reformist economics stance.
"He has been preaching economic growth all along and the cabinet he will select will show us if he is serious about this or if it was just campaign rhetoric," the think-tank said in a recent report.
Sources contend that Chinamasa and Mutsvangwa are two prime picks for the five non constituency appointments.
The ZNCC boss also pointed out that MDC Alliance president, Nelson Chamisa now needed to put the election behind him.
"Contesting results without due evidence may prove to be wastage of time… They should now look at how they can be part of the bigger picture since they were both anchoring their campaigns on economic recovery," said Mugaga.
Source - financial gazzette