News / National
Shun all forms of graft, says Mnangagwa
27 Oct 2018 at 07:30hrs |
Views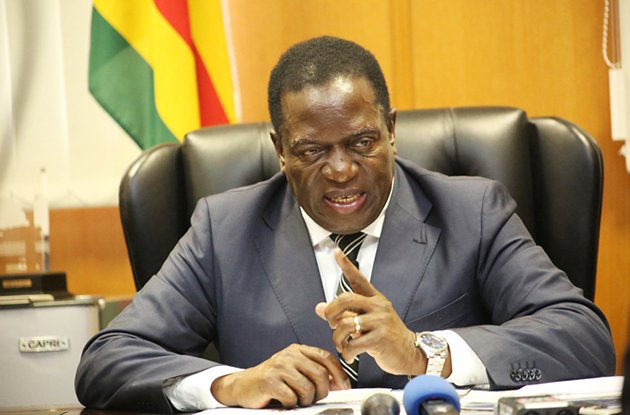 PRESIDENT Emmerson Mnangagwa has urged university graduates to shun all forms of corruption and thrive to spearhead eradication of graft in the building of the Second Republic.
In an acceptance speech soon after his installation as the Chancellor of Lupane State University (LSU) during the university's 9th graduation ceremony yesterday, President Mnangagwa said graduates have an obligation to uphold high integrity as they venture into the world outside university.
"As you enter the world outside the university, you must be patient, determined and hardworking in whatever you choose to do. You here gathered, together with others who are graduating throughout the country, are encouraged to enter your chosen fields and uphold integrity. Shun corruption in all its forms," he said.
"You are untainted, undefiled and bear the burden to constitute the nucleus of a corrupt free generation."
The President urged graduates to be patriotic.
"Love your country, live in harmony and be respectful to your environment and the people around you. Choose to play your positive part in the building of the Second republic," he said.
The President said there is a need for graduates churned out of the country's institutions of higher and tertiary education to be globally competitive. He said universities should produce graduates who are relevant to the country's economic trajectory and global development trends.
"You must therefore design degree programmes, develop curricula, community service and research agenda in line with today's reality," he said.
The President said he was confident that LSU has the potential to be a game changer in the Matabeleland region and country as a whole through continuous dialogue and exploring the limitless possibilities in the current socio-economic-technological and scientific environment. He said the multilingual character, cultural diversity and heritage of LSU are important for the preservation of the country's national identity and character.
"I exhort you to leverage on your location and develop ground breaking community programmes which are responsive to the needs of the people. LSU is fortunate to be located in Matabeleland North which has abundant natural resources such as lithium, coal bed methane, coal, gold, tin and tantalite among other minerals. Equally, tourism, wildlife, fisheries and forestry resources are also extensive in the province," said President Mnangagwa.
He said the university should consider offering programmes that will see the full exploitation of its natural resources thereby contributing to the Provincial Gross Domestic Product (GDP) and national economic growth. He said the Government has put in place mechanisms and incentives meant to stimulate research.
"LSU must thus take up the opportunities availed by these favourable conditions and develop its research capacities to uplift the lives of our people in line with the industrialised and modern economy we seek to create. The university must take advantage of the province's potential in the extractive sector," said Mnangagwa.
He urged LSU authorities to seek strategic partnership from both local and international organisations to fully exploit the vast endowments in the province.
"It is time that citizens get tangible scientific solutions from this institution. We are optimistic that the presence of this university will precipitate development of Lupane district and the entire province," he said.
The President said his administration is in the process of addressing challenges faced by LSU in terms of infrastructure and basic amenities. He also urged LSU to develop and explore mutually beneficial joint ventures and private partnership to address accommodation, teaching and learning facilities.
LSU Vice-Chancellor Professor Pardon Kuipa said the university will continue to work with the Government and business in identifying future growth clusters and contribute to the development of the economic strategies that will position Zimbabwe among the leading economic powerhouses in the Sadc region and internationally.
He said LSU expanded its programmes this year.
"The university will continue to develop a robust range of undergraduate and graduate programmes with a goal of attracting and educating a diverse group of students," said Prof Kuipa.
He said the university, through various initiatives, is actively participating in transforming its education in line with Government's industrialisation and modernisation agenda. "The university continues to formulate and implement strategies that can help accelerate agricultural production and enhance productivity on resettled farms in order to ensure their full contribution to the national economy," said Prof Kuipa.
A total of 872 graduates drawn from the university's three faculties of humanities and social sciences, agricultural sciences and commerce were capped by President Mnangagwa. A total of 627 graduated with undergraduate degrees, 172 with post graduate degrees while 73 attained university diplomas.
Source - chronicle