News / National
Mnangagwa says days numbered for name-droppers
16 Feb 2023 at 04:51hrs |
Views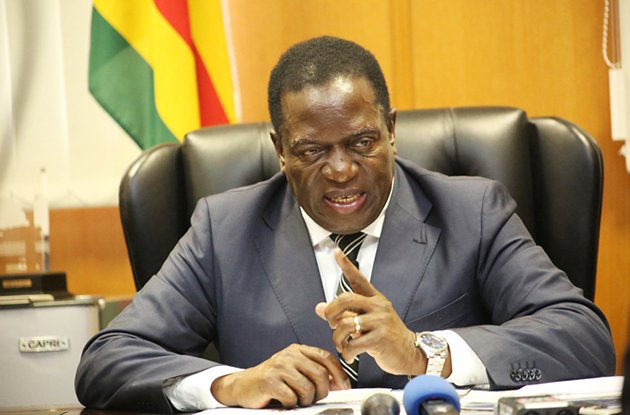 NAME-droppers, the corrupt and malcontents who pursue narrow selfish interests at the expense of broad-based development, will face the full wrath of the law, with Government departments on high alert to flush them out.
While setting the Cabinet agenda on Tuesday, President Mnangagwa was unequivocal in his condemnation of people who use unorthodox avenues to gain access to resources.
This comes as there has been rampant abuse of top Government officials' names, especially the First Family, by criminal-minded elements who seek to grab national resources at the expense of the public.
But that is not how the Second Republic under President Mnangagwa operates since the First Citizen's emphasis has always been hard and honest work.
In his address to the Cabinet, the President implored Government departments to end corruption in all its manifestation and at any level.
"All our institutions are directed to work together to combat the scourge of corruption," he said. "Unorthodox means and name-dropping to gain access to our resources will never be tolerated.
"As such, all patriotic institutions and office-bearers must remain vigilant and always act in the interest of the people of Zimbabwe. The law must take its course to entrench transparency and accountability necessary for building a healthy investment climate."
Since the dawn of the Second Republic, and subsequent horizons opened, some have been riding rough-shod on the name of the First Family, in some cases claiming filial ties, however, Government has always advised victims of such characters to take matters to the police.
On his part, the President has been resolute that while the time is now for young people to make money, it should all be done transparently, without cutting edges.
In October last year, ahead of the ruling party's central committee elections, President Mnangagwa made a similar call as he reinforced the supremacy of principle over self-aggrandizement or pursuance of narrow and parochial interests.
"There is no room for chicanery of whatever nature and form," he said. "Vote-buying, violence, name-dropping, and imposition of candidates are not and will never be part of our political organisational DNA."
Name-dropping has particularly been rife among young people who have been cutting corners to get their targets.
However, it's time up for such rogue elements, according to Zanu-PF Secretary for Youth Affairs Tino Machakaire.
"We are not going to tolerate any of our youths to be involved in such practices, we will not accept anything that is going to tarnish the image of the President," he said. "Whenever people meet such malcontents please report them to the police and or the nearest Zanu-PF offices. We are serious on this matter as we believe the time is now to close that chapter.
"There are also some people who are violent, those are not part of Zanu-PF and if any of our members does not toe the line they shall face the full wrath of the law."
Political analyst Mr Hamadziripi Dube said there was need for the legislature to complement the executive arm through laws that will punish name droppers.
"The first step is for the media to expose such people, let them be known, secondly, the law must then take its course and ensure that those people face the music, I think there is a need for a specific law that punishes such people," he said.
Another analyst Mr Collin Mharadzano said President Mnangagwa was a firm believer in hard honest work and did not believe in any form of chicanery.
"His Excellency President Dr ED Mnangagwa's statement where he condemned and warned those who are bent on name-dropping is indicative of his meticulous stewardship of the Second Republic where he has persistently and consistently emphasised on hard and honest work," he said.
"Those bent on the archaic notion of scavenging on the popular wealth meant for all and sundry have nowhere to hide. They shall be exposed for who they are, that is scoundrels and societal misfits who must be arrested."
Source - The Herald