News / National
Tropical storm Freddy weakens
26 Feb 2023 at 09:11hrs |
Views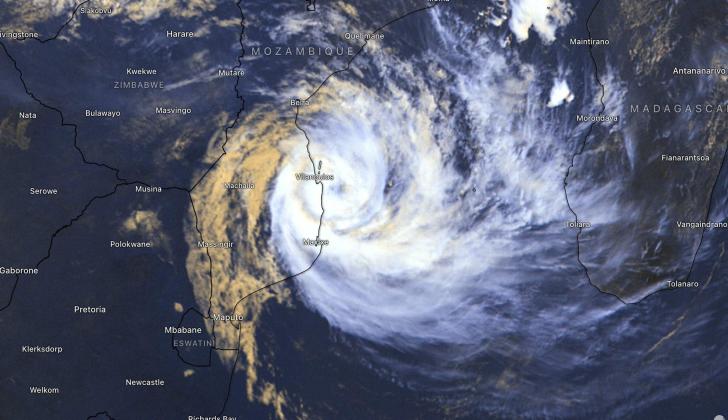 TROPICAL storm Freddy has weakened into low pressure zone in southern parts of Mozambique and only isolated heavy rainfall is expected in the country today, with most parts expected to enjoy mostly sunny and warm weather.
The Meteorological Services Department (MSD), in a statement on social media yesterday, said tropical storm Freddy weakened upon landing in Mozambique.
"By noon today, tropical cyclone Freddy had become a low-pressure zone. Its prolonged stay on land (off the south east coast of Mozambique), depleted its energy, which caused a substantial weakening. Prior to now, Zimbabwe was never touched. Because of its location, the country as a whole has enjoyed mostly sunny conditions," said the MSD.
The weather department said there was a likelihood of isolated heavy rains today, although most parts of the country were expected to enjoy mostly sunny and warm weather.
"It should be rainy, cloudy and mild in Mashonaland East, Manicaland, Masvingo, southern parts of Midlands and Matabeleland provinces. Isolated heavy rains are probable with some rumbling. The rest of the country should be enjoying mostly sunny and warm weather."
However, windy conditions may blow off roof tops and loose debris as well as break tree branches, with lightning also remaining a threat. The department urged citizens to remain on high alert and stay indoors during heavy storms.
"Ensure rooftops are checked and maintained to reduce likelihood of being blown away by strong winds. Avoid parking your car near or under trees as tree branches or entire tree trunks may fall. Avoid crossing flooded rivers or streams on foot or in a vehicle; just 30cm depth of flowing water can sweep away a large vehicle and bridges might have been washed away."
However, as part of the mitigatory measures, the Government had ordered the suspension of school lessons in five provinces expected to be affected by the tropical cyclone. The schools were advised not to conduct face to face learning from Friday until Tuesday, with storms expected to hit the country anytime between last Friday and 3 March. The provinces are Masvingo, Mashonaland East, Manicaland, Mashonaland Central, Matabeleland South and Harare Metropolitan.
In a post-Cabinet briefing last week, Information, Publicity and Broadcasting Services Minister Monica Mutsvangwa said the Government, through its agencies, had put in place a number of measures such as setting up of evacuation establishments, deploying aid and medical supplies in Government offices in potentially vulnerable districts.
Source - The Sunday News