News / National
Local company sets aside US$150m for Old Gwanda road rehabilitation
04 Mar 2023 at 11:20hrs |
Views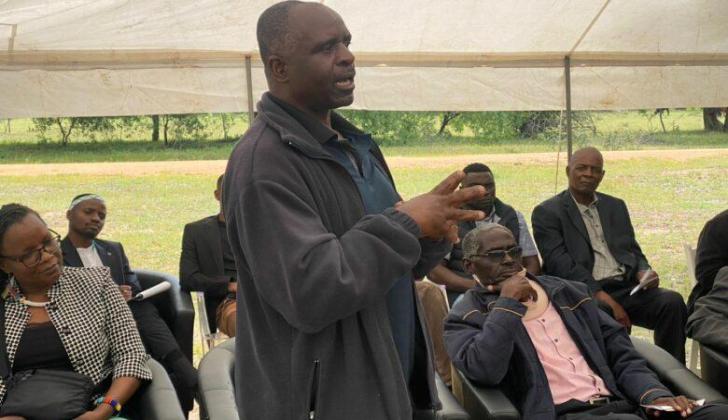 Zwane Enteprises CEO Engineer Bekithemba Mbambo
A local company has pledged to rehabilitate Old Gwanda Road, stretching from Bagcwele to Gwanda, a project set to cost about US$150 million.
The road project is expected to immensely benefit people from Matabeleland South province through employment creation and business opportunities.
The project is being spearheaded by Engineer Bekithemba Mbambo, Chief Executive Officer of Zwane Enterprise, an offspring of Dula Village, Umzingwane.
Traditional leaders of the area, partnering companies and the community held a traditional ceremony at Dula village on Friday to pave way for the start of the project.
The ceremony was attended by community members from Umzingwane, Matobo and Gwanda whom will all benefit from the development project.
In a sideline interview with CITE after the ceremony, Mbambo stated that according to their projections, the road should be completed in a space of eight months.
"We expect to complete the project in a space of eight months because all the necessary resources have already been gathered. What is only left is for the government to give us the go-ahead to start," Mbambo said.
"The money is there, it will cost about US$150-US$200 million. We have all the technical support from various companies that partnered with us on this project. The first two months will be for surveying the land and other related technicalities then the actual construction will follow right after."
Mbambo said there are some villagers who may have to be moved to pave way for the project and the company is going to build new homes for them.
"There are people who are going to be affected by the construction of the road and there is a provision that will allow to build new homes for them. This project will surely benefit everyone," he said.
"Also, people in areas where the road will be constructed will be given first preference for employment. Those with business ideas that align to the project can pitch their ideas so that everyone may benefit. There are more projects that will come beyond the road construction-there will be service stations, food courts and lodges among others."
Addressing the community members, Chief Khulumani Mathema of Gwanda commended the project, citing that such work showed the love that Mbambo has for his community.
"What Mbambo has done is a great sign of love for his community. We need more people like him. What we are holding today is a traditional ceremony so that this project may progress accordingly. We are black people who have certain cultural values. Part of our Constitutional mandate as traditional leaders is to uphold cultural values and that is exactly what we are doing now," Chief Mathema said.
Chief Gwabalanda Mathe, in his remarks said he was elated by the project because as chiefs part of their work is to promote development projects.
"This is our real work, development projects. We do not want to be hearing criminal cases, those are things that draw us back as communities. Instead, such good work is what we commend."
Member of Parliament for Umzingwane, Levi Mayihlome, said the project is the first of its kind since the attainment of independence.
"This is the first time in 43 years that we have had a project of this magnitude. As the representative of the people, I will knock on all relevant doors to ensure that this project is completed. One thing that has really bothered us is the road network. We stagger behind because we have poor road infrastructure," he said.
Source - cite.org.zw