News / National
Mnangagwa's minister forced to reverse his corrupt mansion deal
05 Mar 2023 at 15:20hrs |
Views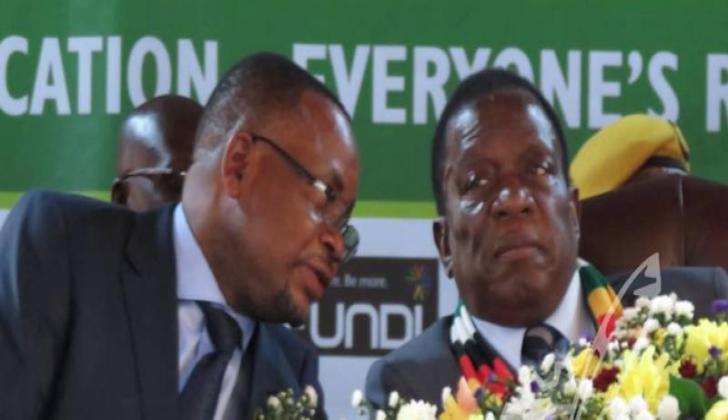 PUBLIC Service minister Paul Mavima could be forced by President Emmerson Mnangagwa or top officials to reverse his corrupt US$400 000 upmarket house purchase deal in Quinnington, Borrowdale, Harare, involving the National Social Security Authority (Nssa), which is under his control, and the ministry of Finance.
Following The NewsHawks' exclusive investigation into Mavima's house deal, Nssa boss Charles Shava, who is acting general manager, was summoned to Mnangagwa and Chiwenga's offices on Monday to explain what was happening. He was asked to write a report on the house issue before he was arrested later in the week — on Thursday — on allegations of fraud, which he says are contrived.
"On Monday, Shava was summoned to high offices (Mnangagwa and Chiwenga's) to explain what is going on at Nssa," a source in the Office of the President and Cabinet said.
"He was asked to write a report on that matter for higher authorities, which he did. The issue is now being handled by Chief Secretary in the Office of the President and Cabinet, Misheck Sibanda. There is mounting pressure for urgent action to be taken. Shava might be brought to book or forced to reverse the deal, which is likely."
These events were before Shava was arrested on allegations of fraud involving US$12.2 million. His arrest for allegedly giving doctors allowances without board approval was seen as a fight back by the minister.
Shava was picked up by the Zimbabwe Anti-Corruption Commission a day before a disciplinary hearing for Nssa director Brian Mrewa. Mrewa, Nssa's suspended director for investments and properties, helped Mavima in his Borrowdale house deal.
He was the one who facilitated everything on that. So the minister and his associates feared that if Shava — who is the complainant in the matter — is free, the disciplinary hearing would go ahead with or without Mrewa, and nail them.
So Shava had to be arrested to stop that. This was known in Nssa's corridors of power. When the hearing was initially scheduled for Tuesday, the plot was to arrest Shava on Monday to prevent it going ahead.
That only stopped when the hearing was postponed to Friday, hence Shava's arrest the day before. Through his legal advisers, Shava has described the allegations as baseless and unfounded. He views this as intimidation and retribution.
However, his accusers say let him clear his name before the courts if he is innocent as he pleads. While he was Acting President in January, Chiwenga stopped Mavima from removing Shava, who is also occupational health and safety director, in a bid to replace him with Agnes Masiiwa, director for contributions, collections and compliance.
Masiiwa is the minister's ally. In an attempt to bring the Nssa situation under control, Chiwenga swiftly moved to clip Mavima's wings and stop him from removing senior executives in the midst of a forensic investigation, saying this violated good corporate governance tenets.
According to a letter from the President's Office dated 3 January, seen by The NewsHawks, Chiwenga ordered a reversal of the appointment of Masiiwa as acting general manager to replace Shava with effect from 1 January 2023.
Masiiwa's appointment was done by Nssa board chairperson Percy Toriro with Mavima's approval.
The letter, signed by the deputy chief secretary for policy analysis, coordination and development planning, Willard Manungo, read: "Correspondence of 30 December 2022 from the Nssa board chairman Percy Toriro with regards to the above refers: "For good order, the Office of the President finds the proposed change of acting general manager by the Nssa board chairman at a time when forensic audit processes are underway as a serious violation of corporate governance rules and ethics.
"Pursuant to good corporate governance, the Hon. Acting President advises that nothing should be done to remove the Nssa acting general manager in the midst of the forensic audit processes currently underway."
Shava has been acting general manager since July 2022 when the substantive boss, Arthur Manase, was suspended over corruption allegations involving a US$750 000 loan.
Manase reportedly got the loan while he also received a US$2 500 monthly housing allowance — which amounted to double-dipping. Nssa, constituted and established in terms of the Nssa Act of 1989, is a statutory corporate body tasked by the government to provide social security.
It has an investment portfolio of US$1.2 billion in various sectors of the economy. As a result, it is also seen as a cash cow by political and corporate vultures, although pensioners get peanuts.
Zanu-PF factions and their leaders always fight to control the fund as it gives them access to cheap finance and business deals for self-aggrandisement, as well as opportunities to build war chests for political battles. Investigations show the Borrowdale property deal was done secretly on behalf of Mavima.
Due process and board approvals to buy the Quinnington house, Stand No. 218 Lot A1, were not followed.
The property was valued at US$350 000, but US$400 000 was paid by Nssa, creating room for US$50 000 to go into private pockets. The transaction was executed on 3 October 2022.
The issue came to light when Nssa deputy director (audit) Andrew Nyakonda was tasked by Shava on 16 February to conduct an investigation into the disposal of the Borrowdale house and the purchase of Kariba Lodge, Stand No. 989 Kariba Township, for US$244 000.
Although Nssa bought the house, it was not transferred to its books before it was sold to Mavima. It was registered under a special purpose vehicle, Angvo Investments (Pvt) Ltd and the deeds were under CABS custodial services, not CBZ Custodial Services who are the custodians of Nssa assets bought through asset management firms.
The minister initiated the deal as he identified the property which belonged to one Seremane and asked Nssa to buy and keep it for him while he awaited the disbursement of his US$500 000 housing allowance given to each cabinet minister by government. In so doing, the minister effectively created and gave himself a loan from Nssa.
He also had a clear conflict of interest in the matter. There was also abuse of office or duty. Deputy ministers got US$350 000, while members of Parliament received US$40 000. Shava, who was supposed to oversee the transaction as the boss, was side-lined on the deal.
He told Mrewa to first seek board authority before initiating the transaction, but he was ignored. The underhand Borrowdale house scandal came as The NewsHawks unearthed another fraudulent transaction by Nssa involving a commercial property in Kariba valued at US$220 000.
The property was bought for US$215 000 after negotiations, but US$244 000 was paid. In fact, US$240 000 was paid after charges. This means US$25 000 was siphoned. At one point, Mrewa said it was valued at US$360 000.
When other costs were added, the price went up to US$252 631.59. Since Nssa usually pays round figures, US$300 000 was paid. The balance was purportedly directed to its investment account held at the asset management firm which facilitated the deal.
The Quinnington house and the Kariba Lodge transactions were driven by Nssa's Mrewa, first reported by The NewsHawks as having been suspended recently over the two deals. Fearing arrest, Mrewa has skipped the border into South Africa.
Source - thenewshawks