News / National
Zanu-PF Politburo meets ahead of primary elections
20 Mar 2023 at 10:48hrs |
Views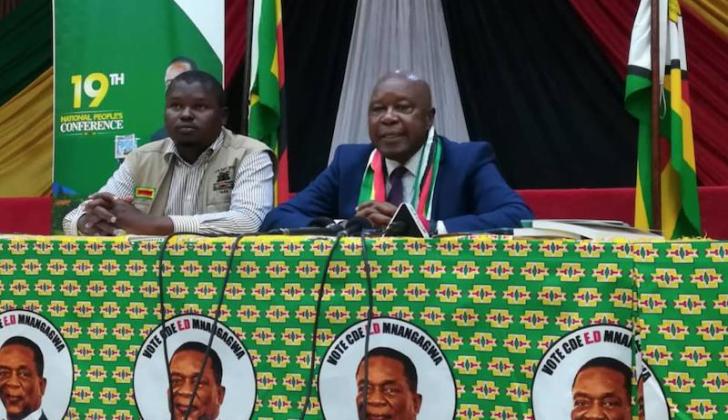 Zanu-PF primary elections are turning into a jamboree of intra-party democracy across the expanse of the land with the Politburo today expected to consider a fit-for-purpose report that will be submitted by the National Elections Directorate, the party's spokesperson, Christopher Mutsvangwa, has said.
In an interview in Harare yesterday, Mutsvangwa dismissed as "unseeingly, contemptible, and ludicrously", false attempts to malign the Zanu-PF internal elections through unfounded claims of friction within the party that are being carried in some sections of the media.
"The deferment is solely premised upon going the extra kilometre to deliver a perfect exercise that satisfies the expressed aspiration and expectant spirit of the eager contestants and expectant party membership.
"Mike Bimha, the National Political Commissar, and his various teams have just completed their task. The Politburo will tomorrow (today) consider a fit-for-purpose report. Thereafter Mnangagwa, the President and First Secretary, will announce the date of the elections.
"The usual detractors are losing steam as Zanu-PF ticks each box in its democratic practice. To all intents and purposes, the primaries are a dress rehearsal of the upcoming national harmonised elections," he said.
Ahead of the primary elections, Zanu-PF will be printing 23,5 million ballot papers across the board covering the Senatorial, MPs, Local Authority, Women's Quota and Youth Quota positions.
Mutsvangwa said Zanu-PF is a modern party that has attracted so many Zimbabweans who are itching to represent it in the harmonised elections.
"Tribute goes to the democratic ethos of Zanu-PF, the modern revolutionary national liberation movement. After all, it has the singular credentials of pioneering the route of 'ballot to office' as opposed to 'bullet to office'.
"Be assured that the national electorate can confidently look forward to a crop of dutiful, competent, and patriotic candidates imbued with the can-do spirit of resurgent Zimbabwe in its Second Republic," he said.
On Friday, Mutsvangwa said the Politburo would be meeting today to deliberate on the findings of the National Elections Directorate in preparation for the primary elections.
Thereafter, new dates for the primaries will be announced. The Politburo will consider submissions from the NED and deliver the final verdict on the candidate list.
"People who are campaigning have been given a few more days. We are going to be fair to all candidates so we are spending a lot of time, we are combing through each name to make sure that nobody is unfairly prejudiced," said Mutsvangwa.
He also took a jibe at opposition parties that he said are practicing pseudo-democracy.
"That doesn't happen in the other party, but ours because we are masters of organisation, we have a history of organisation, we believe that what we say must have resonance with the electorate, that's why we are going through all these steps which I have outlined to you," Mutsvangwa said.
Source - The Herald