News / National
Malema holds 'the most successful shutdown ever in the history of struggle in SA'
20 Mar 2023 at 13:59hrs |
Views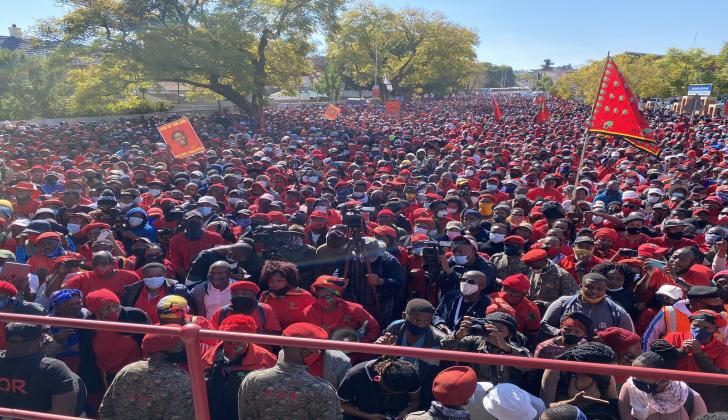 EFF leader Julius Malema has claimed success in his party's bid to shutdown the country to protest against President Cyril Ramaphosa's incumbency and the energy crises in the country.
Speaking to party die-hards in Pretoria on Monday afternoon, Malema described his party's shutdown as "the most successful shutdown ever in the history of struggle in South Africa", despite "intimidation" by law enforcement.
"We have been subjected to apartheid tactics for the last three days because of Bheki Cele, so he must know that all of those tactics have not worked," Malema told a crowd gathered at Church Square in Pretoria.
For most of Monday, the shutdown was characterized by sporadic protests in city centres as police and private security worked to control the protests.
"Today, on my way here, they [Eskom] said they are cancelling load shedding for today because there is no demand for electricity, because the factories are closed," Malema told the crowd.
On Monday morning, Eskom announced that load shedding would be suspended "due to the significantly lower than anticipated demand for electricity today".
While Eskom noted that the suspension of loadshedding was due to a decrease in demand, the EFF leader claimed it has his party's success.
"The consumers of electricity, which is big business, are closed, and that is how you should measure the success of this shutdown," Malema said.
"Today, there is no big mall or small mall, no factory, no school that is open today. All of them are closed. What makes matters worse, in Richards Bay, there is no single train that was seen. Today South Africa is shut down."
Most malls in the country remained open with some stores closing when EFF protestors gathered in their vicinity.
Most schools were closed due due to Tuesday being a public holiday.
While the numbers in Pretoria were sizable, gatherings in the Johannesburg CBD failed to live up to expectations.
Pointing to the closed shops around Church Square, Malema said: "Ramaphosa said to business, 'Open, I will protect you.' Malema says to business, close, and then look at who business listened to between Ramaphosa and Malema."
He lamented those saying shutdown was not successful, saying they were only measuring the success in comparison to the violent July 2021 unrest.
"They say the shutdown is not successful because there is no looting, because there is no burning of property or any leaders who are arrested.
Malema added:
They want to project the EFF as an organization of anarchists; we are an organization of peaceful forces of the left which can shutdown the country without burning the buildings or looting. Looting is not our business.
Malema said the most significant indicator that the EFF had achieved its purpose was that "the biggest centre of the economy in the whole of Africa, Sandton City as we speak today, has been closed down."
"There is no shop at Sandton city that is open; why? Because the EFF has spoken and done so without burning a building or doing anything illegal," said Malema.
Other EFF leaders made similar claims on Twitter that Sandton shops were closed, but people who went to Sandton City to shop refuted these claims.
Malema criticised the police's handling of the protest action, saying they had been heavy-handed in dealing with peaceful demonstrators.
"The police are the ones who are brutal, and the protesters are being peaceful. It can't be the police themselves disturbing the protest that is acting outside the Constitution."
He added that "when they [the government] deployed more than 3 000 military personnel, the aim was to intimidate you, the aim was to have you run away. You went where the soldiers are and did not back down".
EFF national spokesperson Sinawo Tambo, echoing Malema's sentiments, told News24 that they were concerned over the arrest of protesters on Sunday evening in Braamfontein, and their subsequent release without charges being laid against them.
He said this was a "clear demonstration that law enforcement is being weaponised".
"The arrest of peaceful students in Braamfontein on Sunday night is proof that the military and the excessive deployment of law enforcement were not meant to quell any anarchy or disorder last night. There were no open businesses that could have been disrupted, but the police decided to fire rubber bullets and stun grenades at the peaceful, innocent students and young women," said Tambo.
He added that the fact that his party was able to get the protesters released within a few hours was a testament to the fact that the arrests were sinister.
Malema also vowed to pursue legal action against KwaZulu-Natal police commissioner Lieutenant General Nhlanhla Mkhwananzi who, according to the EFF leader, had expressed sentiments that incited violence leading up to his party's planned mass protests.
"That police commissioner from KZN, we must take him to court after this march so that his utterances can be declared invalid and unconstitutional," he said.
"He said in one of the press conferences that they will now abandon the police services and will now use combat. He [Mkwananzi] has got no such option in terms of the Constitution.
"The police services are not his underwear that he can change anyhow. He was, in his utterances, motivated by the desperation of wanting to be something higher in the police force.
"He made nonsensical, stupid utterances that he will regret for the rest of his life. Whether you are happy or frustrated, you do not, as a police commissioner, utter words that will instigate violence against your own citizens."
Source - news24