News / National
EFF shutdown knocks the rand
20 Mar 2023 at 14:25hrs |
Views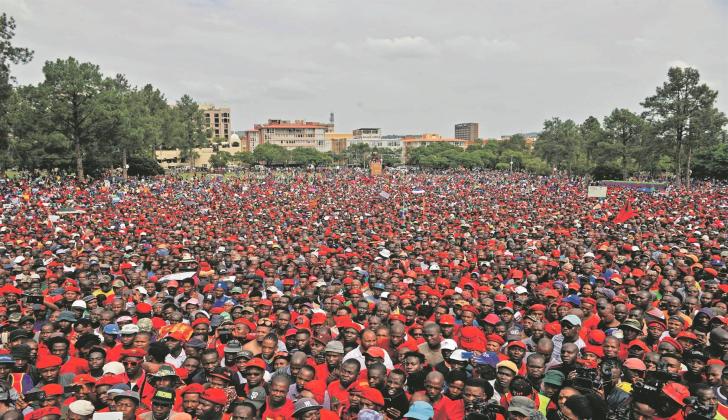 The JSE was lifted by rand hedges and precious metals miners on Monday, amid global jitters over recent banking crises abroad, with the rand showing some pressure. This was as the EFF pressed ahead with its planned shutdown, holding a central event at Church Square in Pretoria
In midday trade the JSE was up 1.27%, with Naspers up about 3.4% and Richemont 2.7%, while FirstRand had fallen 1.9%, and Standard Bank 1.8%. Gold miners were surging, with Harmony Gold up almost 10% and DRDGold up more than 8%, with the precious metal topping $2 000 an ounce for the first time in a year.
The rand was 0.5% weaker at R18.50/$, while at the same time, the Brazilian real and Turkish lira - emerging market peers - were flat, while the Mexican peso had lost 0.6%.
Market attention this week is on the upcoming US Federal Reserve policy announcement on Wednesday, with fears of a banking crisis sparking risk aversion, and raising the appeal of safe-haven assets, such as gold.
"We are seeing risk off trade reflecting in global equity markets which are mostly weaker in early trade today," said IG SA senior market analyst Shaun Murison. "Fear around what's happening in US and European banks appears a primary catalyst," he said."The rand is an underperforming currency today and weakening against what has actually been a softer dollar in general," he said. "This does suggest that today's national shutdown is playing a role in investor sentiment, adding to some of the other domestic catalysts in play."
These included SA's recent grey listing, a ratings outlook downgrade, a weak economic outlook, the drain by state-owned enterprises on the fiscus, an ailing power utility and load shedding, he said.
"Emerging markets had a rough start to the morning due to the banking crisis in other markets, but no measurable weakness in the rand can be attributable to the shutdown," said TreasuryONE currency dealer Andre Botha. "The risk premium in the rand is still there as we have seen the rand stuck around the R18.50 mark despite the US dollar weakening," said Botha.
The heightened risk sentiment is not translating to broader gains in the dollar with an increasing probability - around 47.6% - that the US could pause the hiking of rates at Wednesday's meeting, said Murison.
Market attention is also on a deal by Switzerland's largest bank, UBS, to buy the country's second-largest bank, Credit Suisse, in order to avoid a banking crisis. Shares in Credit Suisse were down almost 60% on Monday, while UBS had lost more than 6%.
"The next few hours of trading will give us a better picture on whether the crisis is contained," said Swissquote Bank senior market analyst Ipek Ozkardeskaya in a note on Monday morning.
"In theory, there is no reason for the Credit Suisse crisis to extend, as what triggered the last quake for Credit Suisse was a confidence crisis – which doesn't concern UBS - a bank outside of the turmoil, with, in addition, ample liquidity and guarantee from the (Swiss National Bank) and the government."
"So, if all goes well, shaky days across banks will soon be left behind and investors could concentrate on the Fed decision," she said.
Source - news24