News / National
Mnangagwa preside over Zimbabwe implosion
20 Mar 2023 at 15:05hrs |
Views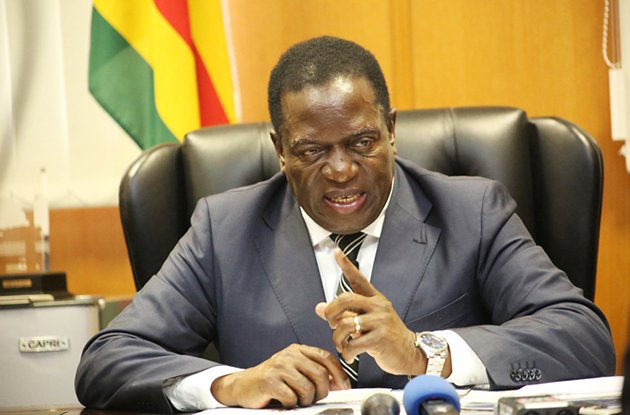 WHILE President Emmerson Mnangagwa claimed that the majority of his ministers were doing well - with three outstanding and two being a dismal failure - the reality on the ground is different: Zimbabwe's economy is plateauing and stagnating in a prolonged crisis that has persisted for over two decades.
Judging by their failure to deliver basic services and revive the economy, ministers are generally perceived as inefficient, corrupt and incompetent. They are failing to deliver on their mandates and performance contracts. They have not delivered the much-needed reforms.
Poor performance by the government — particularly Mnangagwa and his ministers — are evident in the collapse of schools, hospitals, roads, public transport, state enterprises, unemployment, massive exodus of economic refugees, poverty and suffering. Cities like Harare and Bulawayo have decayed. Their roads resemble those in war zones. The problems which the leaders are failing to solve are endless.
On the political front, there are no reforms and authoritarian repression remains entrenched.
Constitutional infractions, corruption and partisanship in the judiciary, lack of constitutionalism among the executive and parliamentarians' disappearance from the electorate are some indicators that ministers, and their bosses too, are not doing well. Some of the ministers are openly corrupt.
Those who have been named in corrupt deals include Local Government minister July Moyo and his Public Service counterpart Paul Mavima.
Poor performance is also evident at the top. A comparison can best explain this. Zimbabwe and Zambia share a lot in common socially, culturally and economically; this dates back from the colonial era.
As if that is not enough, the two countries even share the same main source of power generation, Kariba Dam and the same world wonder Victoria Falls. At some point the two countries were bundled into one, the Federation of Rhodesia and Nyasaland, from 1953 to 1963.
Since Zambian President Hakainde Hichilema assumed power in 2021, he has achieved key performance indicators, for instance on the exchange rate, an indication of strong leadership and that people have faith in his approach.
This is in stark contrast to Mnangagwa, who has presided over the rapid loss of value of the local currency since he grabbed power in a military coup in 2017. The kwacha has rallied against the United States dollar; it was US$1: K22.59 in July 2021 and went to US$1:K16.11. Currently it is US$1: ZW$20.24.
Dr Mahamudu Bawumia, the Vice-President of Ghana, an economist who has worked as a consultant, as well as African Development Bank's representative in Zimbabwe, said: "As the saying goes, when in doubt, observe the exchange rate. The lesson from history is that you cannot manage an economy with propaganda. In fact, you can engage in all the propaganda you want, but if the fundamentals are weak, the exchange rate will expose you."
When Mnangagwa took over through a coup in November 2017, the local quasi-currency bond note (now Zimdollar) was pegged at 1:1 with the US dollar until February 2022. Now the exchange rate is officially US$1:ZW$913.6, although on the parallel it has deteriorated to
US$1:ZW$1 200.
American applied economics professor Steve Hanke says the Zimdollar is now in a death spiral, having lost more than 97% against the US dollar since January 2020, in the process becoming the second worst performing currency in the world after the Venezuelan bolivar.
On the inflation front, Hichilema reduced inflation from 25.6% in August last year when he came in to 9.7% in July last year. Zambia's annual inflation rate rose to 9.6% in February of 2023, from a near-42-month low of 9.4% in the previous month, on the back of a weaker kwacha.
Zimbabwe's inflation eased to 92.3% year-on-year in February 2023, down from the prior month's 229.8%, and moving further away from August's 18-month high of 285%. The annual inflation has been on a downside trend since September 2022, and reached its lowest level since March last year.
Hanke says in reality Zimbabwe has shot back to the top of his inflation dashboard as the country with the highest in the world at 484%. This is compounded by exchange rate volatility.
Yet Mnangagwa on Thursday rated the performance of his ministers, describing their aptitude as "exceptionally good", "satisfactory" and "below par for some", while the economy continues to reel under extended periods of mismanagement, coupled with a cocktail of leadership, governance and policy failures.
Mnangagwa said the indicators of good governance are the provision of quality and timely services, high performance, promotion of economic growth and the realisation of sustainable development.
In addition to this, there are performance contracts which stipulate the terms and conditions relating to a performance and provides certainty and protection to both parties before the performance takes place. These are the official benchmarks of performance.
Performance contracts that cabinet ministers and other senior officials have signed are assisting government departments to be focused on improving the livelihoods of Zimbabweans, according to Mnangagwa.
He was speaking at the signing ceremony of the 2023 performance contracts by cabinet ministers, ministers of state for provincial affairs and devolution, permanent secretaries, chairpersons and chief executive officers of public entities and local authorities as well as vice-chancellors of state universities at State House in Harare.
In his scorecard, which sparked controversy as the ministers' marks did not correspond with the realities on the ground, Mnangagwa said 19 out of 21 ministers had attained the pass mark.
Among those who distinguished themselves are his close allies, Agriculture minister Anxious Masuka, Frederick Shava (Foreign Affairs) and Amon Murwira (Higher and Tertiary Education), while two had performed dismally.
He did not name the two, fuelling speculation about who they are. Sport minister Kirsty Coventry and her Energy counterpart Zhemu Soda are top contenders for worst performer, according to the court of public opinion. The majority of ministers are performing badly, hence the economy not working.
In his remarks at the performance evaluation results and the signing ceremony of the 2023 performance contracts for ministers, permanent secretaries, chairpersons and chief executives of public entities, local authorities and state universities, Mnangagwa showed his disdain for local authorities which are controlled by the opposition.
Moyo, who has been accused of various corruption charges, is also widely regarded as one of the worst ministers in the court of public opinion.
While Mnangagwa reserved special praise for the three ministries of Agriculture; Higher and Tertiary Education and Foreign Affairs, he had no kind words for the Information ministry led by Monica Mutsvangwa.
"In our journey to leapfrog the socio-economic development of our country, the importance of effective, robust and responsive communication cannot be over-emphasised," Mnangagwa said.
"The success milestones of the second republic are many and evident for all to see. However, these are not reaching a broader cross-section of the citizenry due to gross shortcomings in the communication and information dissemination strategy.
"The requisite communication models, together with the personnel with contemporary skills, must be deployed to address shortcomings in this sector, as a matter of urgency. Additionally, the tendency to overlook the critical pronouncements I make as President is most unfortunate.
"It is my expectation that as top public officials, you should follow up my observations and implement directives. I hope to see greater improvements in this regard."
Mnangagwa's spokesperson in the presidency is deputy cabinet secretary George Charamba, while the government's communications are managed by Mutsvangwa as Information minister and Nick Mangwana, permanent secretary in the ministry.
Mnangagwa said opposition-run local authorities are performing badly.
"The performance of local authorities as outlined in the assessment report remains worrisome and huge drawback in our march towards Vision 2030," he said.
"While devolution funds have gone a long way to accelerate infrastructure development, the neglect and failure by the majority of local authorities to focus on their core mandate of service delivery is not acceptable. Equally, the performance of state-owned enterprises is disappointing, more so given the centrality of these organisations in aiding development and delivering public goods and services."
While the government has kept a tight lid on the full contents of the assessment report, there was a strong reaction following the announcements of the snippets.
Speculation is rife that Energy minister Soda Zhemu, who is superintending over one of the worst energy crises in recent times, and Sports minister Kirsty Coventry, who has overseen Zimbabwe football being thrown to the backburner through a Fifa ban, were the worst performers.
Rashweat Mukundu, a local political and media analyst, said: "I guess honourable Soda Zhemu is below target, no room for guessing, the country is in darkness and Madam Kirsty, we have no international football because she is afraid of the Sports Representative Council leaders. But what did the excelling ministers achieve? It will be good to know."
United Kingdom-based policy studies lecturer and former policeman Keith Silika said it was an anomaly for the country's Finance minister Mthuli Ncube to be regarded as a top performer
."So you are telling us a minister of Finance in a country with the highest inflation in the world performed well. Garison shops and gold coins?" Silika responded to a tweet by Mangwana after the announcement that 19 out of 21 cabinet ministers had exceeded targets.
The NewsHawks selected a handful of key ministries to assess their performance since Mnangagwa's election in 2018.
Ministry of Finance: Mthuli Ncube
Ncube, a former Switzerland-based consultant, became Zimbabwe's Finance minister at a time signs of a floundering economy were there to see. Immediately after his appointment, Ncube through his "austerity for prosperity" mantra undertook to balance the books; cut the budget deficit and improve internal systems.
He got a pat on the back from international financial institutions such as the World Bank and International Monetary Fund for his fiscal consolidation agenda and the fight on money laundering which saw Zimbabwe being removed from the grey list.
But as for the proverbial bread-and-butter issues, many were not impressed with his performance. At some stage war veterans threatened to camp at his offices over treasury's failure to address welfare issues. Picketing teachers also had running battles with police for demanding more. Resultantly, his security was beefed up to mitigate any threats arising from growing public anger.
While multilateral lenders like the World Bank praised Ncube's policies, Zimbabwe's inflation shot through ythe roof. By the end of 2022, the southern African nation was ranked by the World Bank as having the highest food price inflation globally.
The World Bank showed that Zimbabwe's monthly food inflation increased by up to 30% in 2022 and other countries which also reported high inflation — although lower than Zimbabwe — included Venezuela, conflict-hit Somalia and Lebanon. The number of people living in extreme poverty now stands at 44%.
Desperate to save the Zimbabwe dollar from imminent collapse triggered by rising inflation, the government, through Ncube's ministry, gazetted a statutory instrument which legalised a dual monetary system. But with 75% of expenditure now in hard currency, use of the local unit, which ought to be a source of national pride, has dramatically reduced.
In 2022, Ncube closed the year on a high note after organising a high-level debt meeting with creditors to tackle the country's long-standing debt crisis. Fully resolving this issue will not only unlock funding for the debt-ridden nation but will also add a few feathers on his cap.
Ministry of Transport: Felix Mhona
The tale of Zimbabwean roads can be summed up as the best of both ways. For Mnangagwa the Harare-Beitbridge highway is good for the optics.
TV and radio jingles are hyping this project and the ongoing expansion works at Robert Gabriel Mugabe International Airport as Mhona's trump card in this assessment. Ironically, while international airlines are increasing their flights to Zimbabwe, the flag carrier remains grounded and is only servicing domestic routes and neighbouring South Africa.
The perennial problems at Air Zimbabwe which Mhona inherited are far from over and the airline's reliability remains a challenge.
Now back to the state of road infrastructure, while the government is happy that it has largely used domestic resources to finance the projects, the war of attrition between central government and local authorities has been projected in the state of roads in towns and cities.
Local authorities argue that the Zimbabwe National Roads Administration is not playing ball in allocating adequate financial resources to patch up roads. The government, through the Local Government ministry, blames local authorities for failing to account for funds allocated to them. It has become a finger-pointing contest.
Zimbabwe's once thriving contribution as the nerve centre of the Sadc region has been broken, lowering regional trade and investments. The once thriving National Railways of Zimbabwe, with a rolling stock of 12.5 million tonnes in the 1990s, now accounts for under 2.5 million tonnes.
Ministry of Agriculture: Anxious Masuka
Masuka, former chief executive of the Zimbabwe Agricultural Society, is over the moon after being recognised as Zimbabwe's super-minister during the assessment. Masuka has every reason to strut like a cockerel when he jumps out of his Mercedes-Benz at Ngungunyana Building.
He took over from Perrance Shiri at a time the country was conducting a land audit which was expected to address contentious issues such as multiple ownership of farms. The report is yet to be made public, but this is not the first time this issue has been swept under the carpet.
In 2020, Masuka's predecessor, Shiri, led the signing of Zimbabwe's US$3.5 billion agreement to compensate white farmers displaced during a land redistribution programme two decades ago.
The matter remains unresolved two years on and is one of Ncube's key result areas in normalising relations with the country's creditors.
One area which Masuka will always brag about is wheat production. Last year Zimbabwe recorded the highest wheat harvest in 56 years. According to the Agricultural and Rural Development Advisory Services, the country has achieved a milestone in wheat production by harvesting 375 000 tonnes of the cereal this year.
The good harvest has been attributed to on government's agricultural transformation anchored on active private and public sector participation. Over the years, the country could not meet national requirements and had to import wheat.
Production of the maize staple also improved last year although it was preceded by two successive years when the government depended on imports and humanitarian aid to feed nearly 50% of population which was facing starvation. Although the authorities attribute growth in maize production to proper planning, some experts say good rainfall patterns have largely resulted in improved yields.
Defence ministry: Oppah Muchinguri-Kashiri
Muchinguri-Kashiri has fared dismally in her portfolio despite having been ranked among cabinet officials who met their targets.
Junior soldiers in particular are now worse off as compared to the last days of late former president Robert Mugabe when their remuneration and working conditions were fairly better.Sources say top military commanders have not been keen to have strategic meetings with her because she is clueless on functions of the army. The sources say on several occasions Muchinguri-Kashiri has complained to Mnangagwa about the issue that the commanders do not show her utmost respect.
In Parliament, legislators have taken Muchinguri-Kashiri to task over her failures during the course of the year.
In August last year, Muchinguri-Kashiri was cornered by Norton MP Temba Mliswa over the opaque investments and business dealings of army-owned company Rusununguko Nkululeko Holdings (Pvt) Ltd. The military company is the brainchild of the late Foreign Affairs minister Sibusiso Moyo and has vast investments in various sectors of the economy, including in the media after getting a television licence to operate its NRTV station.
Mliswa took on Muchinguri-Kashiri over the business entity which symbolises the opaque commercialisation of the military whose beneficial owners have gone unscritinised.
Mliswa said the shadowy firm is not benefitting junior soldiers but a small clique of the top brass. Challenging the Defence minister led to Mliswa's ejection from Parliament by deputy speaker Nomalanga Mzilikazi Khumalo.
To bring the matter into context, Mliswa said although he had no problem with the army investing in the economy through Rusununguko Nkululeko, the company must be audited and held to account for its activities to avoid corruption and benefiting individuals.
Home Affairs ministry: Kazembe Kazembe
Kazembe did well by decentralising the passport application system under the central registry department and moderninising the travel documents through the e-passport initiative. He however failed on the major obligations of his portfolio.
The Zimbabwe Republic Police, which falls under his ministry, presided over the closure of democratic space in the country through unwarranted repression, including cracking down on the opposition CCC.
The party's rallies were banned several times during the year under review in violation of the constitution which dented the performance of Kazembe. Kazembe was again summoned to explain in Parliament why the police were using metal spikes to deflate "errant" drivers' car tyres.
Parliament raised the issue after police threw spikes at a commuter omnibus full of passengers in Manicaland, resulting in the driver losing control and the vehicle overturning. The accident claimed four lives, and left several others injured.
Harare Central legislator Murisi Zwizwai (CCC) said Kazembe should explain why the police were endangering the lives of the travelling public and this incident should have affected the performance scorecard of the minister if rational assessment had been done.
Justice ministry: Ziyambi Ziyambi
Ziyambi's performance fell short, despite the praise he received from Mnangagwa who said he met his targets. His ministry erred when he commandeered constitutional changes that fail the test of democracy.
Ziyambi pushed through the Zimbabwe Constitutional Amendment Bill (Number 1 and 2), giving the President unfettered powers. It also scraped the running mate in the supreme law, giving the President power to appoint judges and extend the retirement age of Chief Justice Luke Malaba.
Obviously in Mnangagwa's eyes, this made him score highly, but the changes were bad for the country.
Again, Ziyambi is in a storm of controversy over the Private Voluntary Organisation (PVO) Bill which will see the government interfering into operations of non-governmental organisations. In another major setback that should have affected Ziyambi's scorecard, he bungled in the delimitation exercise by attempting to push back the Zimbabwe Electoral Commission final report, in violation of the constitution.
However, Ziyambi can be credited for the creation of the Commercial Court and also pushing for virtual sittings in the proposed Judicial Laws Amendment Bill which seeks to amend a number of judicial laws, including the Constitutional Court Act, Supreme Court Act, High Court Act, Labour Court Act, Administrative Court Act, Magistrates Court Act, and Criminal Procedure and Evidence Act.
Local Government ministry: July Moyo
Moyo was adjudged to have done well in the performance report. He has however been involved in several scandals since 2018 which could have affected his performance scorecard in the year under review. He was implicated in the corrupt awarding of a multi-million-dollar deal to his alleged crony, businessman Paul Kruger, to supply water pumps to the City of Harare two years ago.
The lucrative contract was awarded to Petricho Irrigation, which was represented by Kruger in Zimbabwe, without going to tender.
In July this year, Moyo was again implicated in another scandal of diverting more than US$55 million of devolution funds to buying fire trucks from Belarus for 89 councils at an inflated cost.
Mnangagwa's Belarusian crony, Alexander Zingman, who runs Aftrade DMCC, was awarded the multi-million-dollar deal without going to tender.
Moyo is also involved in a staggering US$155 million Chiredzi land deal scandal after unprocedurally giving his crony 750 hectares of land, meant for the construction of a new town. There is also the Victoria Falls land scandal.
Source - thenewshawks