News / National
Zanu-PF claims to have amassed 4,5 million voters
22 Mar 2023 at 07:00hrs |
Views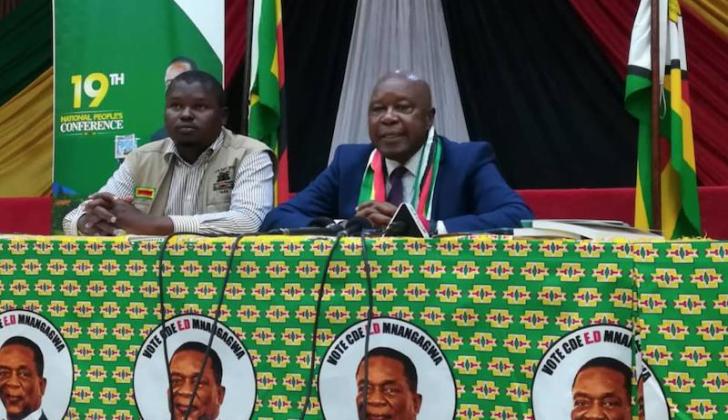 Zanu-PF spokesperson Christopher Mutsvangwa claims the ruling party has already amassed 4,5 million registered voters, 500 less than its target of five million votes in the upcoming elections.
Addressing the media after an extraordinary politburo session on Monday Mutsvangwa said: "Zanu-PF rules by consent not by history. This is the hallmark of the second republic. We are already at 4,5 million voters. We have a total of nearly 87 000 cells that have been verified accounting to 4,5 million voters."
"The numbers from our cells are a true reflection of people on the ground verified by their numbers. They are not from social media like Facebook, Twitter or Instagram where they use algorithms instead of real people."
As at June 10, 2022 the country's registered voters numbered 5 804 975 according to the Zimbabwe Electoral Commission.
The Citizens Coalition for Change (CCC) is, meanwhile, targeting six million votes in the next election.
Zimbabwe Election Advocacy Trust director Ignatius Sadziwa said why did Zanu-PF resort to violence and vote-buying if Mutsvangwa's claims were true.
"We then wonder why vote-buying, violence and other electoral malpractices from Zanu-PF. The party must simply play by the book, observe the rule of law, entrench constitutionalism and lead by example as the ruling party. This false bravado is self-defeating," Sadziwa said.
Political analyst Kudakwashe Munemo added: "Importantly, this also speaks to the need for political parties to complement any social media activities with physical action on the ground when it comes to the actual voting population to be able to forecast their strongholds based on membership databases."
CCC spokesperson Fadzayi Mahere said the opposition party was unnerved by Zanu-PF's claims.
"We are focused on winning Zimbabwe for change," she said.
President Emmerson Mnangagwa is yet to proclaim dates for the elections set for either July or August.
Source - newsday