News / National
Magriza Made me Cook clothing brand launched
02 Apr 2023 at 16:18hrs |
Views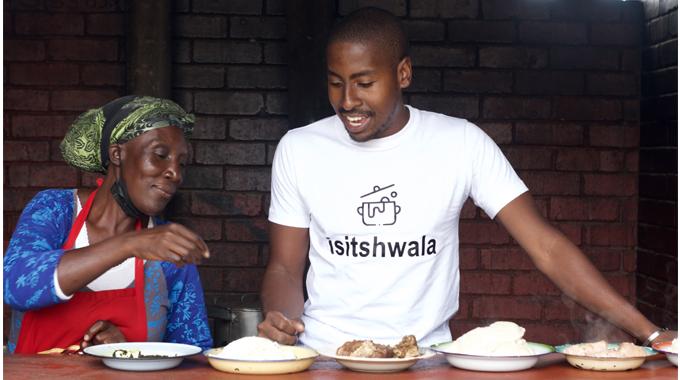 MR PRINCE Mahlangu (33) the producer of the YouTube show Magriza Made Me Cook (MMMC) show and his partner have created a clothing brand with personalized messages of traditional food for people who are passionate about African cuisine.
The inscriptions include popular African traditional food like isitshwala, ibhobola, umxhanxha and amasi.
The self-taught chef became famous in 2020 when he and his friend launched a show teaching people across the world recipes for cooking traditional culinary delights.
He travels across the country talking with the elderly people in communities to tap into their knowledge of preparation of specific traditional foods and how they benefit people.
The clothing range includes hoodies, T-shirts, caps, and shopping bags which have set their social media platforms on fire as people are constantly placing orders.
"We started this show because of the need to share a document about the richness and uniqueness of African food and culture. The main belief encapsulating the show is that Africans need to take a proactive role in documenting their history, heritage, and stories. When we saw how the show was gaining traction we decided to add a clothing line brand as we believe people should be able to walk around wearing names of the cuisine that will best describe where they are coming from," he said.
Mr Mahlangu said the response has been fantastic as both the old and young generations make inquiries on how they can get clothes with personalized names of their foods.
He said most people often shy away from wearing clothing from local brands as they prefer to wear the famous labels from across the globe, however forgetting most local brands define who African people are and how they can best show everyone the beauty of the continent.
Mr Mahlangu said the brand also markets and spreads the African culture as someone outside the culture is quick to look for the name of the dish written on the cloth and google how it can be cooked.
"As Africans, we always underestimate the power we hold because of our culture. A lot of tourists travel from across the globe just to see how we do our things and they end up being the ones who buy these kinds of brands. I would really encourage people to be proud of where they come from, especially of the food that best describes them because that is where religion is best based," he said.
He said Africa's cuisine is something that every African should be proud of as it denotes the home setup everyone grew up in as such wearing brands will be like walking with the recipe on your fingertip because once a client asks for a personalized message they are inclined to learn how it is prepared.
"Because we're working as young people most people find it hard to believe that we are followers of African culture in its truest sense. And at times we get financial constraints to travel to where a person with a recipe will be so we can be able to properly document it and be able to personalize a t-shirt that has been requested because we cannot send a message when we do not know how the dish is prepared," said the young chef.
Source - chronicle