News / National
Bumper crowd expected at BF
02 Apr 2023 at 11:00hrs |
Views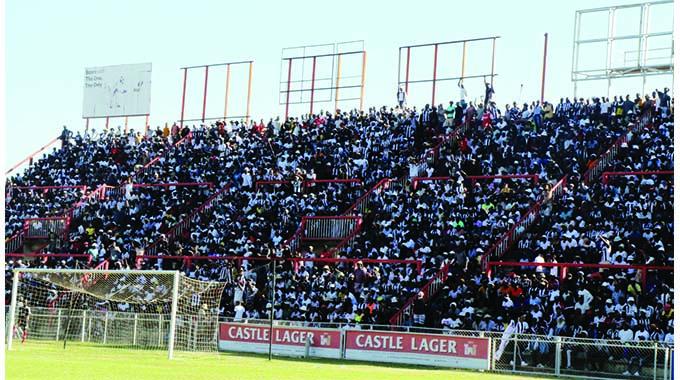 OF course, no alcohol will be sold inside Barbourfields Stadium this afternoon, as teams are yet to comply with requirements set by the Premier Soccer League at their annual meeting.
Nonetheless, a bumper crowd is expected to watch the blockbuster clash between Highlanders and FC Platinum in the City of Kings this afternoon.
The sale of alcohol inside stadiums, albeit under strict conditions, is considered one of the major factors in luring fans back to top-flight matches.
But clubs first need to secure written permission from stadium owners, as well as get "amended lease agreements that allow the sale of alcohol, clearance from the Zimbabwe Republic Police, as well as liquor licences from the Liquor Licensing Board".
Highlanders have been the biggest crowd-puller in the league in the post-Covid-19 era.
They recorded the highest figures in the new season when hosting ZPC Kariba a fortnight ago.
The traditional "Big Three'' clubs — Dynamos, Highlanders, and CAPS United— are expected to play a key role in driving fans back to stadiums, and figures recorded in their opening home matches of the season offer a glimmer of hope.
In Bosso's opening game of the 2023 season against ZPC Kariba on March 18, 6 741 fans paid to watch the 0-0 draw.
Dynamos also had a decent crowd when they hosted newboys Sheasham at the National Sports Stadium, with 5 371 paying to watch the Harare giants' 4-0 demolition of the Gweru outfit.
CAPS United are still slow off the blocks, with 2 077 fans going past the turnstiles for the club's match against Manica Diamonds at the National Sports Stadium.
However, it is Bosso who have been leading the way in creating a carnival atmosphere in the stands.
And a huge crowd could be key for Highlanders, who are aiming to do what they have failed to do in the last seven seasons.
Bosso have never beaten FC Platinum in the league at Barbourfields since October 2, 2013, when the Bulawayo giants secured a 2-1 win.
Njabulo "JB" Ncube fired in a brace for Highlanders, while Michelle Katsvairo scored a late consolation goal.
Zambian Kelvin Kaindu was still in charge of Highlanders.
Since then, Bosso have employed several coaches, who have failed to find a formula to beat FC Platinum at home.
Daniel Veremu, who is now an assistant coach at FC Platinum, was still a player and made the blunder that led to Bosso's first goal.
Lloyd Mutasa was still in charge at the miners before he was replaced by Norman Mapeza in August 2014.
Mapeza has since not lost a league match against Highlanders at Barbourfields.
Bosso coach Brito is, however, not reading much into the past.
After breaking a six-year jinx when Highlanders beat Black Rhinos away in the league at the National Sports Stadium last week, the Brazilian gaffer is now targeting to dismantle another nine-year record.
"It's (losing to FC Platinum at home) all in the past now. We want to break that record," Brito told the media on Thursday.
"Our previous win away to Black Rhinos was a good confidence booster ahead of the clash against FC Platinum."
Unheralded McKinnon Mushore, a product of Highlanders' developmental side Bosso 90, scored the solitary goal that sank Rhinos.
He could also start today.
An estimated 8 000 fans watched this fixture last season and an even bigger crowd is expected this afternoon.
Highlanders have been using their social media pages to exhort fans to throng the stadium as they seek to maintain their unbeaten start to the 2023 Castle Lager Premier Soccer League. "Our mission, as the technical team, is not to look in the past, but the next game, and we want to win every game, so we will try to win it," said Brito.
"These records are just statistics and records can be broken."
Brito is back in charge after returning from Europe, where he attended a UEFA A refresher course. He was on the touchline when Highlanders edged Black Rhinos 1-0 last weekend, their first league win away against the army side since 2017.
Bosso have all their arsenal available.
Strikers Stanley Ngala, Lynoth Chikuhwa and Washington Navaya are up for selection.
Soccer Star of the Year finalist Devine Mhindirira could also play a deciding role in this fixture as he showed no signs of slowing down in last week's win at Rhinos.
Despite enjoying remarkable success in this fixture, Mapeza is guarding against complacency.
Last season, the champions needed a last-minute goal from Walter Musona to post a memorable 3-2 victory in Bulawayo.
Musona, who went on to be crowned the 2022 Soccer Star of the Year, has, however, been used as a substitute in FC Platinum's opening two matches this season.
But, given his experience and big-game mentality, Musona might be started today ahead of new signing Jarrison Selemani.
Veteran forward Perfect Chikwende might also start in this big fixture.
"It's going to be tough; we have to work hard," Mapeza said.
One thing that he enjoys a lot is the depth of his squad.
He has an array of stars who include ex-Bosso midfielder Brian Banda, Juan Mutudza, Innocent Mucheneka, Panashe Mutimbanyoka, Hagiazo Magaya and the rejuvenated Gift Mbweti.
Banda was on target when the champions edged Cranborne Bullets 1-0 at Mandava Stadium last weekend.
Mutudza scored a brace when FC Platinum staged a late 2-1 comeback win over debutants Simba Bhora on Match Day One at the National Sports Stadium two weeks ago.
Fixtures:
CAPS United v ZPC Kariba (National Sports Stadium), Triangle United v Ngezi Platinum Stars (Gibbo), Highlanders v FC Platinum (Barbourfields), Hwange v Green Fuel (Luveve)
Source - The Sunday Mail