News / National
'Mnangagwa contaminating churches,' says Chamisa
25 Apr 2023 at 06:37hrs |
Views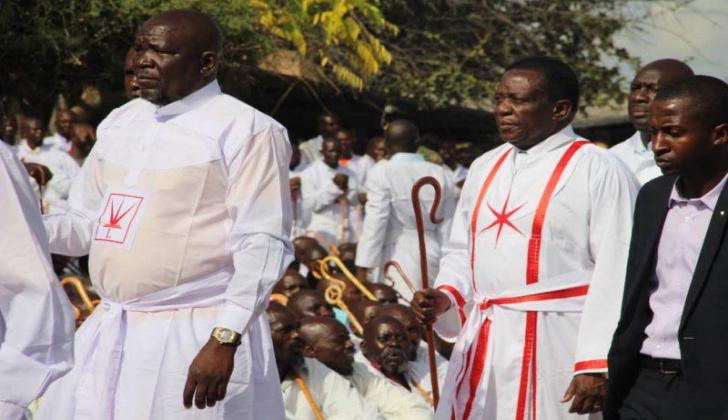 CITIZENS Coalition for Change (CCC) leader Nelson Chamisa has accused President Emmerson Mnangagwa of contaminating churches by turning them into a hunting ground for votes ahead of this year's election.
Mnangagwa has been moving around the country addressing church gatherings, mainly those of the apostolic sects who have promised to overwhelmingly vote for him in the upcoming harmonised elections.
The Zanu-PF leader has officiated at several church gatherings, including those of Emmanuel Makandiwa-led United Family International Church (UFIC), the Zion Christian Church and major indigenous apostolic sects.
In a recent interview with Alpha Media Holdings' Heart & Soul tele-radio, Chamisa said Mnangagwa should respect churches.
"I haven't seen any massive Zanu-PF rallies around the country other than their church attendances," the CCC leader said on Heart & Soul's FreeTalk programme.
"I have seen Mr Mnangagwa at some apostolic churches, and other places of worship.
"Mr Mnangagwa must desist from contaminating places of worship by talking politics and preaching politics.
"I saw him reading one of the verses one of these days and he couldn't even complete that verse.
"He must repent first and then understand that churches are places of worship, not campaign platforms."
He said Mnangagwa was panicking because he knew that he would be defeated in the upcoming watershed elections.
"Mr Mnangagwa is the one who will be going to the courts crying out when election results come out," Chamisa said.
"We are sure of this one. That's why he is panicking; he is so scared of an election.
"That's why he is moving from pillar to post, we see him going around all these churches to try and galvanise and prop up his fortunes."
The CCC leader also claimed that members of his party participated in the Zanu-PF primary elections that were held last month to avoid being victimised.
"Our members took part in that election and Zanu-PF does not have the numbers to defeat us," he said.
"They also try to participate in our own processes, but we usually stop them."
Meanwhile, the leader of Johanne the Fifth of Africa, Andyby Makururu was in the eye of a storm in Murambinda and Masvingo over the weekend after claiming that he had converted some CCC members to the ruling party.
Makururu lined up some congregants who he claimed were from the opposition party.
"I know we have some CCC members and those who support CCC come forward and I want you to support Zanu-PF," he said.
"Zanu-PF is our father. I don't have a child who suffers because of supporting the opposition."
Makururu has told his church members that every member who has been supporting the ruling party will be blessed with 15 more years of life.
He met Mnagwagwa at State House in Harare recently.
Mnangagwa was also recently in Marange at St Noah supporting the Johanne Marange Apostolic Church and like his predecessor, the late Robert Mugabe, the Zanu-PF leader has decided to mine for votes in the apostolic faith denominations.
Source - newsday