News / National
Chamisa says workers are wheels of change
02 May 2023 at 09:01hrs |
Views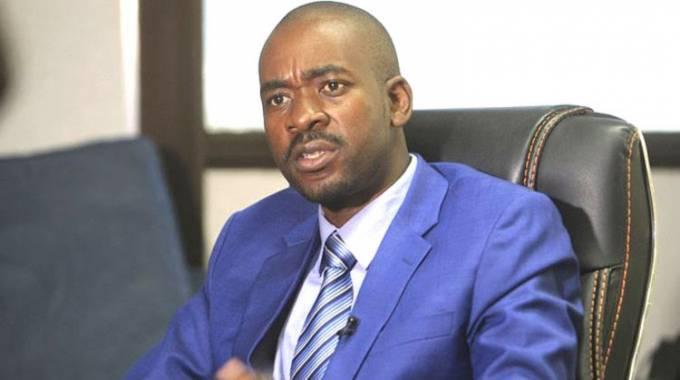 OPPOSITION Citizens Coalition for Change (CCC) leader Nelson Chamisa yesterday pleaded with the country's workforce to join in the fight for the removal of President Emmerson Mnangagwa's government for them to enjoy the fruits of their labour.
Under Mnangagwa's leadership, government workers, mainly, nurses and teachers have been engaging in recurrent strikes demanding better wages following the scrapping of United States dollar salaries in November 2018 in favour of the Zimbabwe dollar.
"Pay workers decent salaries. This day, we salute all workers for keeping the economy and nation's wheels turning and rolling under conditions of decent work deficits," Chamisa said in his International Workers Day commemorative message.
The opposition leader took time to address Workers Day commemorations organised by the Zimbabwe Congress of Trade Unions in Dzivarasekwa, Harare.
"Workers are the wheels of change. Workers deserve a new and great Zimbabwe free from poverty, corruption and oppression. We believe in the decent work agenda, employment opportunities and sustainable enterprises. Labour standards and workers' rights, inclusive social protection, inclusive social dialogue, collective bargaining, non-discrimination by gender, age or any other form. Workers get ready for this change. Workers stand up and participate in the change that you so deserve.
#Anew
Great Zimbabwe."
He added: "We need to uphold labour standards and workers' rights. Workers are being ill-treated, especially in mines. Workers are being turned into slaves. There is no employment, but exploitation. Workers being creators of wealth must be taken care of. Their sweat must be honoured. God gave us everything, but what we lack is good stewardship and leadership of natural resources."
Chamisa's call for action echoed those of several workers' representatives, who urged employees to challenge abuse of their rights and demand decent salaries. Chamisa's party is an offshoot of the MDC, which owes its origins from the country's labour and student movement.
Salary negotiations between government and its workers under the National Joint Negotiating Council (NJNC) are currently deadlocked after the latter refused to endorse an increment offered by their employer.
In his Workers' Day speech, Mnangagwa said government was reviving the Tripartite Negotiating Forum (TNF) "to improve efficiency" in salary negotiations.
"Given that social dialogue plays a pivotal role in advancing social justice in the world of work, efforts are currently underway to ensure that the Tripartite Negotiating Forum finds its utility within the context of our shared national vision," Mnangagwa said.
"My government is accordingly supportive of the establishment of an independent TNF secretariat to strengthen and improve efficiency in negotiation among government business and labour.
"This will ensure that there in industrial harmony which is necessary for the sustainable growth trajectory currently experienced by our economy. Therefore, the parties to the TNF must urgently finalise the conclusion of a social contract."
Meanwhile, workers from both the public and private sectors bemoaned harsh working conditions and poor remuneration.
A 2022 report by the United States (US) Department of State on Zimbabwe's human rights practices shows that the country failed to enforce labour laws, resulting in workers being subjected to unfair labour practices.
In a solidarity message, Zimbabwe Lawyers for Human Rights (ZLHR) blamed high levels of corruption for the workers' poverty.
"While ordinary workers and citizens grapple with the debilitating economic and political crisis in Zimbabwe, which is punctuated by astronomic prices of goods and services and the levying of the same in scarce foreign currency, it is perturbing to note widespread media reports of endemic corruption in both the public and private sector and the unprecedented looting of the country's resources including grand-scale asset stripping," ZLHR said.
"It is saddening that Zimbabwean workers remain wallowing in extreme levels of poverty even though the country is endowed with natural resources such as precious minerals, which are being exploited by the elite and are also grappling with shortages of basic amenities."
Progressive Teachers Union of Zimbabwe secretary-general Raymond Majongwe weighed in saying there was virtually nothing for workers to celebrate this year.
"Conditions of workers, particularly teachers, have fallen to unprecedented levels. On this day (May 1) we have nothing to celebrate because of perpetual poverty and misery.
"We would like to remind the Zimbabwean government that workers are hungry and angry and government is responsible for this perpetual penury. Surprisingly, this poverty is deliberately sponsored by the government because this country is endowed with mineral resources that tend to benefit a few individuals."
Zimbabwe Diamond and Allied Minerals Workers Union general-secretary Justice Chinhema also bemoaned the continued loss of lives among mine workers owing to poor working and living conditions.
He said: "Workers Day is a reminder of the situation veterans of our industry find themselves in: Those retired mine workers living in poverty, former workers of all closed mines being harassed, evicted and dumped by the road side in areas like Mashava, Hwange and other areas including Mbada Diamonds workers who lost employment in Chiadzwa and are still to be paid their terminal benefits or absorbed by the current diamond company, the Zimbabwe Consolidated Diamond Company."
Source - newsday