News / National
Zimbabwean artist Keith Zenda taking the world by storm
14 May 2023 at 12:47hrs |
Views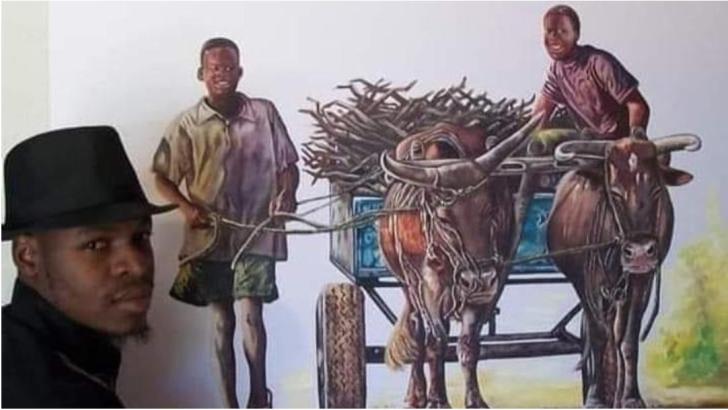 The work of Zimbabwean artist Keith Zenda
If you were to try locating Chirumanzu on a map of Zimbabwe, chances are you'd throw your hands up in the air, in frustration. It is a village in Gweru, the remote district that lies close to 270 km south west of the capital, Harare.
This is the birthplace of one Keith Zenda.
It is true what they say about your background not being your destiny.
Who'd have thought that one day, a child of Chirumanzu would do well enough to force people to wonder where on earth these rural sticks were located on the map?
Zenda put Chirumanzu on the map, so to speak!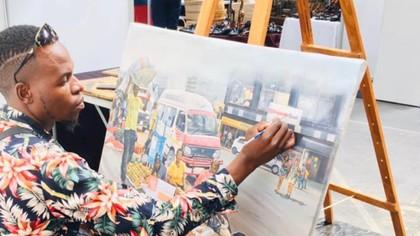 The work of Zimbabwean artist Keith Zenda. Supplied image.
Today, people all over the world are falling over themselves queuing to buy his artwork and moving heaven and earth to locate him.
When you read the classics, like W Somerset Maugham's 'Of Human Bondage', you find that the protagonist, more often than not a genius, is taking lessons in foreign languages from a private tutor; French, German or some such and then art or singing lessons, or lessons in an instrument like a cello or piano.
Zenda is like such a lead character in a novel.
He says he took art lessons from his mentor Berthold Moyo, a former art lecturer at Mkoba Teacher's College in Gweru.
"I used to visit his studio on weekends and holidays for art lessons. He was mentoring me for free after he realised my natural talent. I was just a poor young boy with so much passion for art."
It is only because of the poverty of human language that his art can only be described as exquisite, eye-catching, remarkable, magnificent.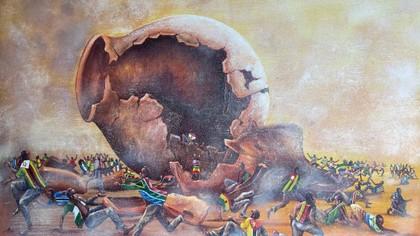 The work of Zimbabwean artist Keith Zenda. Supplied image.
"My art subject is more inspired by my rural lifestyle and background and the situations happening in my lifetime as I believe art is another way of recording our history for the next generation."
When asked, he describes one of his pieces: "The painting of the boy carrying a basket of bananas was inspired by my childhood memories. It is my real reflection of when I grew up as a vendor, moving around town, bus terminus, and taxi ranks trying to get some sales. This taught me the concept of hard work and perseverance."
Of another riveting painting, he says: "People falling out of the pot signifies how people are desperate, searching for freedom, success and happiness in life and to achieve these we need to be brave and resilient. The pot also signifies the womb escape and the breakthrough at family level and community level; also, the pot is known for cooking to feed the family, so we all came out from the pot to become what we are today – flourishing, but the pot became old and rusty."
Does he have a favourite subject to paint?
"My favourite subject to paint is my rural background, the lifestyle and my surroundings."
His individual pieces are certainly must-haves for those with an eye for art.
"I have individuals, companies and art collectors who buy my art. I sell more of my art to Europe through my Facebook and Instagram pages."
Is he living his dream?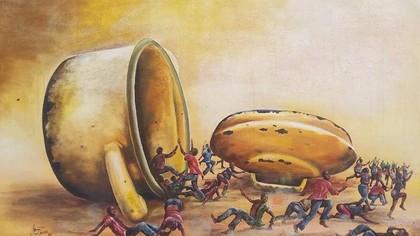 The work of Zimbabwean artist Keith Zenda. Supplied image.
"This is the life I have always wanted … working as an artist full time. My art is my business and from the profits I feed myself, my family and I have managed to start an Art Centre in my home community as a way of giving back to the community. This is how I have been able to discover and nurture upcoming artists and introduce them to the art market."
Zenda has won multiple awards in Zimbabwe and one in South Africa.
"The art world in Zimbabwe is quite big but not very helpful in terms of access to the market. I don't have competition. I just compete with myself to become better than I was before and challenge myself to become different. I have some colleagues whose work I also admire. My inspiration is God on how He created the world and made everything beautiful. I believe God the Almighty is a great master artist. I also got inspired by the 18th Century artists like Renoir and Picasso.
From humble beginnings moulding art "while herding cattle in the village and drawing charts for my classroom when I was 10 years old", this has been a pleasant artistic journey for Keith Zenda, now 37.
He has come full circle.
This article was first used in
The Sentinel
.
Source - The Sentinel