News / National
Zimbabwe citizens less willing to embrace new street names
28 May 2023 at 17:57hrs |
Views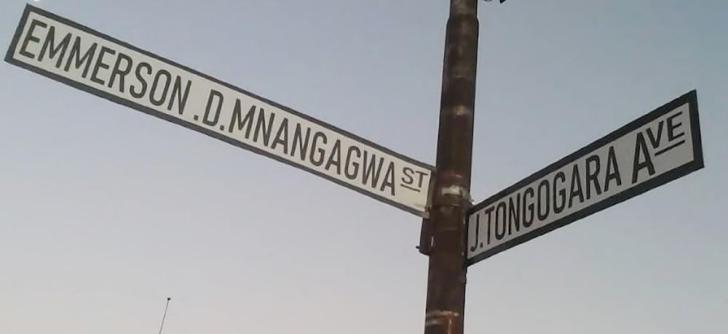 FOR the one-year period he has been selling wooden utensils in Harare's central business district, Blessing Magocha (35) has been using popular buildings and landmarks as a meeting point with his clients.
He has also been using popular streets to meet his clients, including old figures, which have remained embedded in the hearts and minds of Zimbabweans despite being renamed three years ago.
A survey by The NewsHawks this week has revealed that new street names, named along political lines, have failed to resonate with the people, with many people either ignorant of the changes, or resisting the imposed names.
"I have been working here for almost a year. I know some names have been changed but it's of little consequence to me. I don't know the new names," Magocha said.
"I use names such as 4th Street (now Simon Muzenda Street) and others. Even people I meet have been using the same old names as well. Some of the times, we make use of building names. For example, Charge Office, Mohamed Musa and others. The new names, I have not been aware," said Blessing Magocha.
Nyasha Maradze (22), a student at a local college, said she was also unaware of new names.
"I never knew there were any changes to road names," she told The NewsHawks. "I only know the old names. This has a large effect. Let's say I would like to direct someone to Charter Road, I cannot use new names which the person does not know.
"I do not see people coming to grasp the new names. If they were really changed, we would have heard about it a long time ago. Young people like us spend time in town, but I have never heard of changes to street names. Considering that, will it be possible for the elderly to do so? Others will grasp, but it is difficult to do so."
In 2020, the government promulgated Statutory Instrument 167/20 - Names (Alteration) (Amendment of Schedule) Notice - whose purpose was to alter the names of some streets.
The notice amended 43 roads in Harare alone, sparking public outrage as the process was done without consultation.
Enterprise Road was renamed Emmerson Dambudzo Mnangagwa Road, but ordinary citizens are still using the old name.
Some of the roads have been renamed after African and international luminaries.
The name changes have also reflected Zimbabwe's foreign relations.
African leaders such as Congo's Patrice Lumumba, Jomo Kenyatta and Abdel Gamal Nasser had roads named after them, along with international leaders such as Cuba's Fidel Castro, Leonid Brezhnev of the former Soviet Union and China's Mao Zedong.
Through the notice, Speke Avenue, formerly named after a British explorer, has become Agostinho Neto Avenue after Angola's first president.
Third Street was renamed after Patrice Lumumba, the first Prime Minister of the Democratic Republic of Congo.
Charter Road has been renamed Fidel Castro Road, after the late Cuban leader, Castro.
Fidel Castro ruled Cuba for 47 years, from 1959 to 2006. To some people, Castro was a ruthless dictator and a communist tyrant, while to others he was a liberator and a stalwart advocate of egalitarianism.
Other renamed roads include Innez Terrace, which was renamed to Mayor Urimbo Terrace. Fife Avenue, which houses the Russian Embassy has been renamed Leonid Brezhnev Street.
While many other roads have been renamed since 2020, people have not bothered to call use the new names.
To show resentment to the new names, the Bulawayo Progressive Residents' Association (BPRA) on 23 July 2020 filed an application at the High Court seeking an order to set aside the government's decision to rename some streets in the country's second largest city as this was illegal after SI 167/20.
In an urgent chamber application filed by BPRA represented by Job Sibanda of Zimbabwe Lawyers for Human Rights, BPRA argued that Moyo's actions in passing Statutory Instrument 167/20 run counter to the clear provisions of the Alteration of Names Act, are illegal and go against the grain of what is accepted in a normal society.
BPRA argued section 4(2) of the Alteration of Names Act states that Moyo should not alter any names in terms of sub-section (1) unless he has consulted the owner of the land where the alteration is to take place of which, considering that Bulawayo City Council C owns the land that forms the basis of the alteration.
The organisation protested that Moyo had ignored some proposals made by Bulawayo City Council on street name changes and came up with a list of names that are totally different from the ones the local authority had suggested to the Minister.
While it has been three years since the street names were changed, people have remained adamant in continuing to use the old names.
Political analyst Rashweat Mukundu says grasping of names is synonymous with the people's political and social beliefs.
"Change does take time and the question is: Do the names resonate with citizens' socio-political aspirations and are such people seen as models?" Mukundu says.
Despite that, participants in the interview believe their penchant for old names is unlikely to change soon.
"When someone asks me, I just use the use the names I know. It is easy to call someone and ask them to come to Joina City, Charge Office, OK First Street and other names than the new ones. It is even difficult to grasp them," Magocha says.
Source - NewsHawks