News / National
Chamisa voter inspection visit morphs into rally
30 May 2023 at 15:11hrs |
Views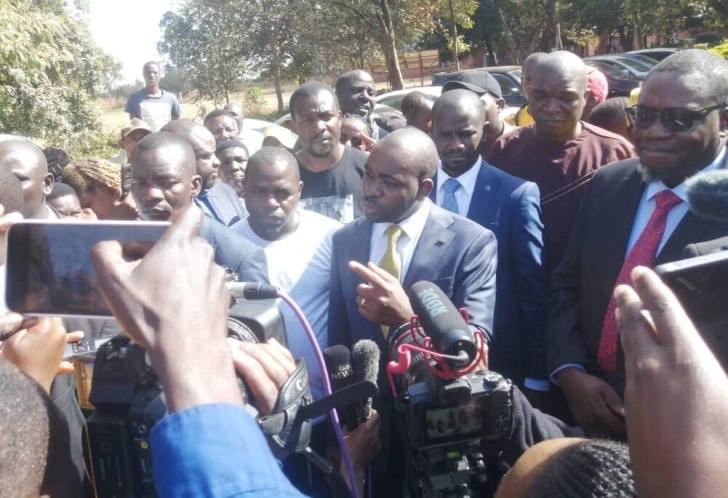 Citizens Coalition for Change (CCC) leader Nelson Chamisa Tuesday visited a voters' roll inspection centre in Harare's Kuwadzana 2 suburb, but what was intended to be a brief call morphed into a mini-rally after scores of cheering followers mobbed the opposition leader.
Elated supporters scrambled for handshakes and selfies with the presidential contender, but many were prevented from stampeding him by his security.
Chamisa, a former Kambuzuma legislator, is a voter in the Harare constituency.
CCC leader Nelson Chamisa inspects his name at a voter inspection centre in Kuwadzana
After confirming his name to be there, the opposition leader emerged from the centre to reassure his followers he was winning this year's presidential election despite the numerous irregularities to the poll process being cited by his party.
"We are excited, Zimbabwe is excited, 2023 is a big moment for this country, it is a big moment for change, it is a big moment for an opportunity for Zimbabweans to realize change. And to begin to see happiness, to begin to see restoration," Chamisa said.
"I have no doubt in my mind that 2023 is the year we are going to see the end of misery, the end of anger, the end of hunger, the end of challenges that are affecting Zimbabweans.
"Everyone is hungry, everyone is complaining, everyone feels that the situation in the country is not going on okay and we are going to win change for everyone.
"This is not about parties, CCC or Zanu-PF. It's about the people of Zimbabwe, and the people of Zimbabwe want to see change in this country.
"We must put a full stop to darkness, we must put a full stop to the challenges we have been seeing."
Chamisa also castigated what his party says is the unconstitutional involvement of a Zanu-PF linked organisation called Forever Associate Zimbabwe (FAZ), which was also heavily involved in Zanu-PF primaries.
"I have also heard that in the rural areas people are being tormented, persecuted, by Zanu-PF structures, and also by a shadowy and spooky organization called FAZ," he said.
"That is worrisome, we want government to come out in the open, what is this organisation called FAZ.
"What is its role, what are its legal and constitutional rights that this organisation has?
"We have the CIO, we know it; we have the army, we know the police and they have constitutional roles to make sure there is law and order in this country, but this FAZ is an animal and that is a big problem.
"We also have a problem with the voters' roll itself.
"Our perennial challenge is that our voters' roll must be a voters' roll that people agree on and agree to."
Chamisa was not pleased either with President Emmerson Mnangagwa for unnecessarily withholding the date for the country's election.
State media reported weekend the Zimbabwe incumbent was set to proclaim a date for the poll this past Monday.
"The only concern is Mr Mnangagwa who continues to duck and dive on the days of election," he said.
"People have to plan, some have to ask for leave days, some in the Diaspora have to come back, international investors have to plan around the date of the election.
"We also have to plan. We are not as disorganised as Mr Mnangagwa; so, we want these dates to be known ahead of time and in advance."
He added, "It's an issue we continue to raise, but we are ready. ZEC must be ready, but it seems they are not ready especially looking at the voters' rolls and the way it seems to be shambolic.
"That issue must be resolved and resolved urgently."
Chamisa spent almost 30 minutes addressing his supporters.
Surprisingly, anti-riot police who have maintained a tight rein on opposition meetings were nowhere in sight as the opposition chief conducted his mini rally.
Source - zimlive