News / National
Chamisa's name on voters roll
30 May 2023 at 21:37hrs |
Views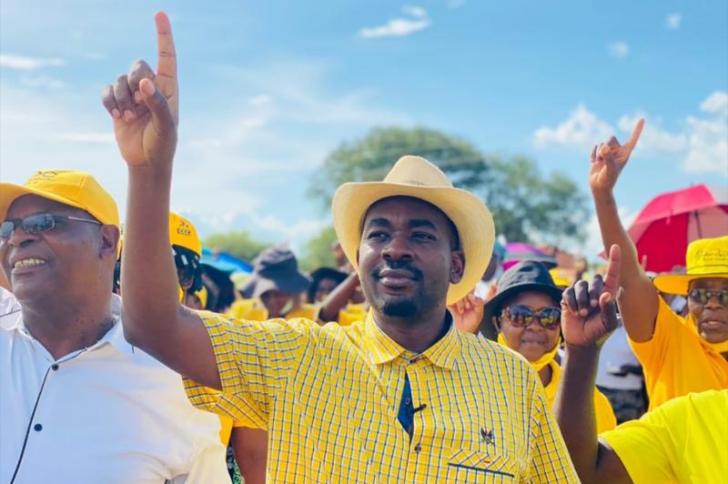 HUNDREDS of Citizens Coalition for Change (CCC) supporters took to the streets in Kuwadzana 4 high-density suburb marching and singing for party leader Nelson Chamisa who was confirming his name on Zimbabwe Electoral Commission's (ZEC) Voters Roll.
More of his supporters joined the growing crowd as Chamisa walked from Kuwadzana 2 Primary School where he is registered, to Kuwadzana 2 turn-off. He took time to greet some of them, chat with vendors and youths following him.
Traffic came to a standstill as public transport drivers battled to glimpse Chamisa and his entourage, including legislators Charlton Hwende and Shakespeare Hamauswa.
ZEC recently opened the voters' roll for inspection. A number of CCC members including former Education Minister David Coltart, former Industry Minister Welshman Ncube and party Deputy Spokesperson Ostallos Siziba have revealed their names are missing from the roll.
A campaign to have citizens confirm their names is now gathering speed as a result of the anomalies. The process ends on June 1, 2023, with elections set for August.
"I have checked my name; I have found that my name is still registered. I know that some people are complaining that their names are not being found in the roll because they have been allocated to different polling stations to those they used last time," Chamisa told journalists.
"It is a worrisome development; we are very concerned, and we are doing everything within our power to make sure that citizens are not disenfranchised."
Chamisa revealed they will not be boycotting the elections despite raising a number of queries about how ZEC has handled its mandate and involvement of shadowy Forever Associates of Zimbabwe (FAZ) which has reportedly been tasked with handling all election-related matters by Zanu-PF.
He added: "I know there are some of you who have questioned whether we will boycott these elections, we will not boycott ourselves, we are the election.
"We are excited, Zimbabwe is excited, 2023 is a big moment for this country, for change, for an opportunity for Zimbabweans to realise change and begin to see happiness, restoration.
"I have no doubt in my mind that 2023 is the year we are going to see the end of misery, anger, hunger, challenges Zimbabweans are facing."
Chamisa will face off with President Emmerson Mnangagwa in what is widely expected to be a two-horse race as was the case in 2018's contested elections.
Source - NewZimbabwe