News / National
Hailstorm ravages Beitbridge
28 Sep 2023 at 06:14hrs |
Views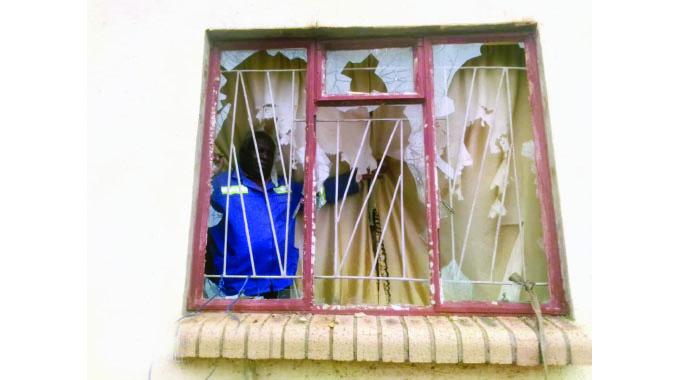 On Tuesday evening, heavy rainfall accompanied by thunderstorms caused extensive property damage valued at thousands of dollars in the Lesanth resettlement area, located in Ward 13 of Beitbridge district.
The Chairperson of the Beitbridge District Civil Protection Unit, Mrs. Sikhangezile Mafu-Moyo-Mbedzi, stated that they have initiated the assessment of the overall extent of the damage.
A hailstorm, accompanied by strong winds, left a path of devastation at Lesanth Primary School and numerous villages within Ward 13, situated approximately 60 kilometers north of the Beitbridge Border Post.
The powerful winds, which persisted for two hours, impacted a section of the school's roof, as well as teachers' cottages and several other structures in the vicinity. Mrs. Mafu-Moyo mentioned that a team is currently on-site, evaluating the extent of the damage.
"We have not received any reports of loss of life, and we are awaiting more information from our team on the ground, which is currently assessing the damage," she explained. "Subsequently, they will compile a detailed assessment for each damaged structure and make recommendations for repairs to be carried out. We are also urging people to exercise caution as we enter the rainy season and follow the usual safety precautions to protect lives."
A resident of Lesanth, Mr. Tupeyo Mapololo, reported that the local school had to turn away students due to the deteriorating conditions. He also noted that the teachers' residences were affected and appealed for immediate assistance to address the structural damage at the school.
Mr. Mapololo shared that several homes, including his own, sustained damage to roofs, doors, and windows. He described the situation as dire, with the two-hour hailstorm on Tuesday evening causing significant hardship.
"Many households were impacted, and our primary concern is the damage incurred by the primary school, which led to the suspension of classes due to safety concerns in partially damaged buildings," he stated. "Community members are willing to collaborate with any development agency to repair the school's damages."
Another resident, known only as Mia Jossy, mentioned that a vehicle parked near her house also suffered extensive damage from debris resulting from the roof damage.
While the Meteorological Service Department had issued a thunderstorm warning earlier in the week due to prevailing humid and hot conditions across the country, specific areas such as Plumtree, Kezi, and West Nicholson in Matabeleland South experienced lower temperatures ranging from 20°C to 22°C, leading to light rainfall.
The department attributed these conditions to a cloud band approaching from the southwest, resulting in intermittent cloudy periods and occasional showers in Matabeleland South and Matabeleland North Provinces.
Source - The Herald