News / National
Ward 28 Councilor Ntando Ndlovu rallies residents for Big Spring Cleaning Day
04 Oct 2023 at 13:41hrs |
Views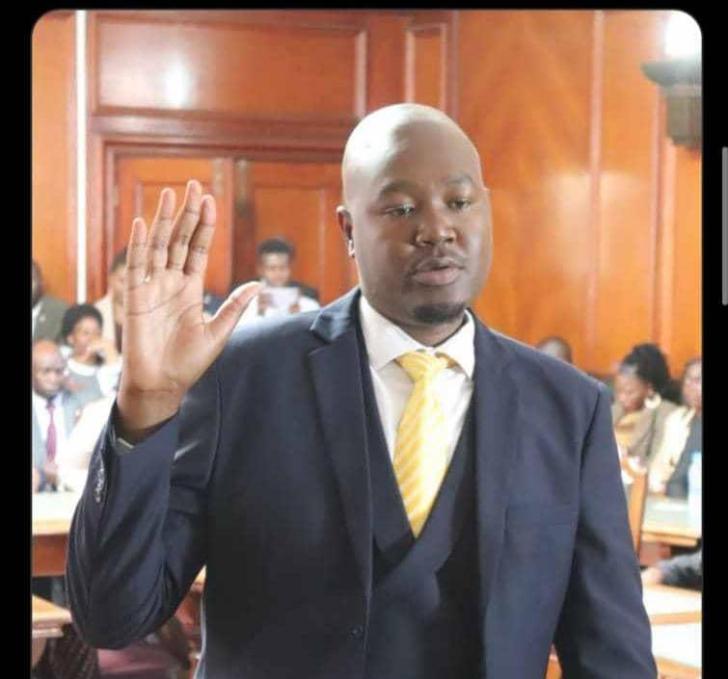 In an effort to rejuvenate the Cowdray Park suburb and contribute to the restoration of the city's charm, Ward 28 Councilor Ntandoyenkosi Ndlovu has called upon the community to come together for a monumental clean-up initiative. The event, aptly named the "Ward 28 Big Spring Cleaning Day," is scheduled for Friday, October 6, 2023, from 8:00 AM to 10:00 AM.
Councilor Ndlovu's invitation extends to all Cowdray Park Ward 28 residents, churches, schools, NGOs, resident associations, vendors, businesspersons, and persons with disabilities (PWDs) to join hands in this collective effort to beautify their community.
"The aim of this program is to clean up the suburb and help restore our city to its former glory," Councilor Ndlovu stated. "Our collective efforts can make a significant impact in enhancing the overall appearance and cleanliness of Cowdray Park."
The comprehensive clean-up campaign will address several key areas of concern:
1. Clearance of Dumps: One of the primary objectives of the initiative is the removal of unsightly dumpsites within the community. Cleaning up these areas not only enhances the aesthetic appeal but also contributes to improved health and safety for residents.
2. Litter Collection: Participants will be actively involved in picking up litter throughout Ward 28. Litter is not only an eyesore but also poses environmental hazards. By eliminating litter, the community can create a cleaner and healthier living environment.
3. Removal of Posters: The campaign also includes the removal of posters from public buildings and street furniture.
This action aims to restore the visual appeal of the community and promote a more organized and attractive neighborhood.
The Ward 28 Big Spring Cleaning Day will launch from two key locations within Cowdray Park: TM Shopping Centre and Cowdray Park Terminus. Both starting points will kick off the clean-up activities at 8:00 AM.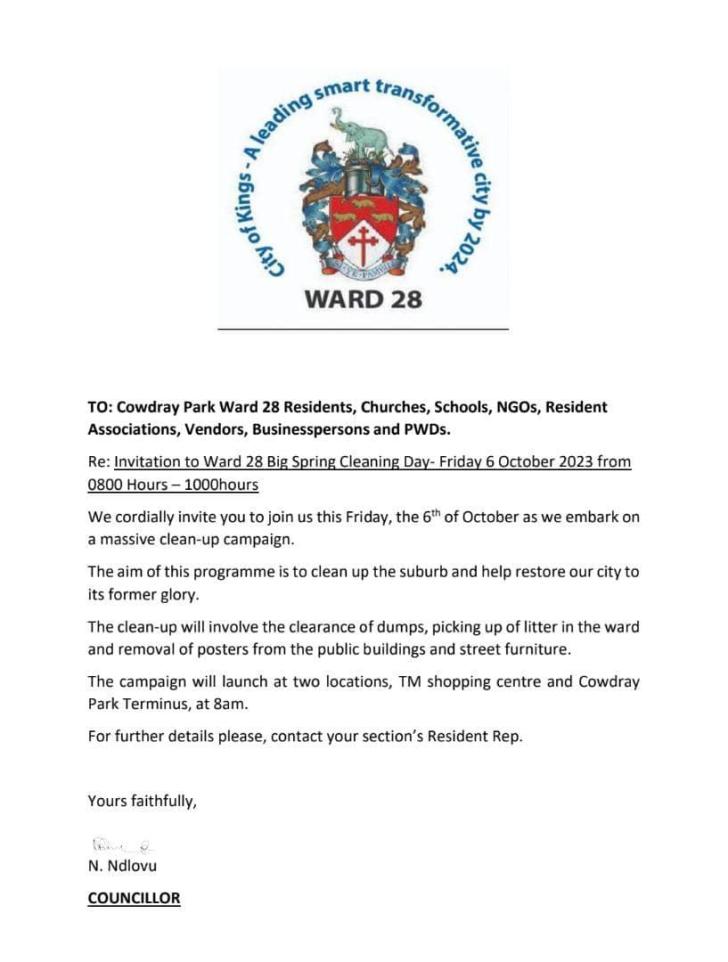 Councilor Ndlovu has encouraged community members to reach out to their respective section's Resident Representative for further details and coordination.
"By coming together for this clean-up event, we demonstrate our commitment to the well-being of our community and our city," Councilor Ndlovu emphasized. "It's an opportunity for residents of all backgrounds to work hand in hand, fostering a sense of unity and pride in Cowdray Park."
This ambitious community-driven effort is expected to make a significant impact on the overall cleanliness and appeal of Ward 28. It serves as a shining example of what can be achieved when residents and local authorities collaborate for the betterment of their neighborhood.
Residents and stakeholders are urged to mark their calendars for the Ward 28 Big Spring Cleaning Day on Friday, October 6th, 2023. Together, they can take a giant step towards revitalizing Cowdray Park and making it a cleaner, more attractive place to live.
Source - Byo24News