News / National
Togarepi disowns anti-Mugabe statement
08 Aug 2016 at 07:10hrs |
Views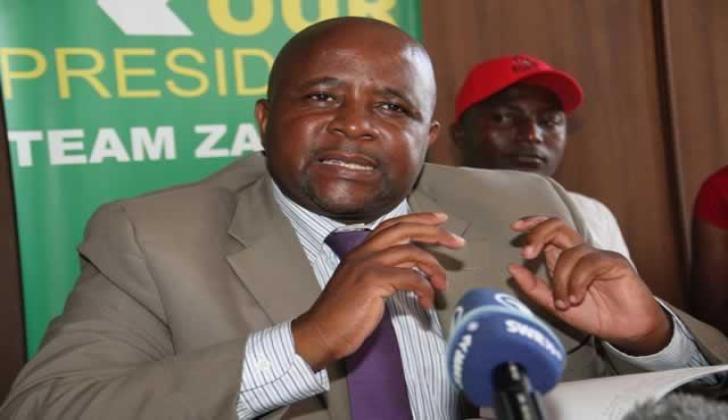 ZANU-PF Secretary for Youth Affairs Pupurai Togarepi and party activist Energy Mutodi say there are people within the revolutionary party bent on destroying it from within by implementing various strategies including fabricating statements aimed at attacking President Mugabe.
Responding to a statement that made rounds on social media yesterday allegedly written by Cdes Togarepi, Mutodi, another party activist Fidelis Fengu and one Archiford Guvuriro calling on President Mugabe to step down, Cdes Togarepi and Mutodi said they had nothing to do with the statement.
They said there were high chances it was authored by people within the revolutionary party who wanted to present President Mugabe as losing support. Togarepi, who is the chairperson of the Zimbabwe Liberation War Collaborators Association, said while he could not determine the author of the document yet, he could not rule out it was done by some people within the party.
He reported the case to the police yesterday under case number IR 080306. "Whoever authored that statement is either trying to destroy my person politically or socially," said Togarepi.
"I don't know for what reason. But I am not associated with anything that insults the leadership of my party. I respect my President; I love my President. I love RG Mugabe not because he says 'support me', but (because) I am a revolutionary. I believe in what he stands for and I will always support him.
"I really feel there are people within my party or counter-revolutionaries somewhere who have a feeling that it is necessary to fight me, to soil or to bring my name into disrepute."
Togarepi said he supported President Mugabe and Zanu-PF as a matter of principle, and as such, he could not question the Head of State and Government and Commander-in-Chief of the Zimbabwe Defence Forces' leadership.
He said he was ready to find those behind the statement with the intention of politically fighting them in defending President Mugabe and the revolution. "I know very well within the revolution there are counter-revolutionaries. There are charlatans who would want to see the President and those who follow him at loggerheads.
"Maybe I am their target this time, they want to see my downfall.
"They want to see my name soiled. I am not only a supporter but a disciple of Robert Mugabe. And as his appointee, I am his apostle, if you want. So why would I author something that has no direction like that?" queried Togarepi.
Given the challenges that have been happening in the party of late, Togarepi said he was convinced that there were people who wanted to destroy Zanu-PF from within. "I believe they are sponsored by people who have unfinished business with the revolutionary party. Some accept to be used to try and destroy Zanu-PF.
"We keep quiet not because we don't know but we know that within us there are those who are mercenaries, who would want to see Zanu-PF destroyed. "We know that, we hear that, we know those who survive on lies, who lie about the revolutionary party, who lie about the President. They are there, we know them. Those trying to destroy Zanu-PF will not succeed. It's all desperation from counter-revolutionaries.
"But the Rubicon line has not been crossed. When it has been crossed, we will stand up and defend the party. We will stand up and defend the revolution. We will stand up and defend the President," said Togarepi.
On the other hand, Mutodi said the statement was meant to create bad blood between them and President Mugabe. "I am not involved in that statement. That is a nefarious and mischievous statement meant to tarnish my image.
"It is originating from enemies of the party from within who want to portray a picture where it appears as if President Mugabe is losing support. But that is far from the truth. Zanu-PF is bigger than individuals," he said. Efforts to get comments from Fengu and Guvuriro were fruitless.
Source - newsday