Opinion / Columnist
Mnangagwa: The morning after
16 Mar 2018 at 06:36hrs |
Views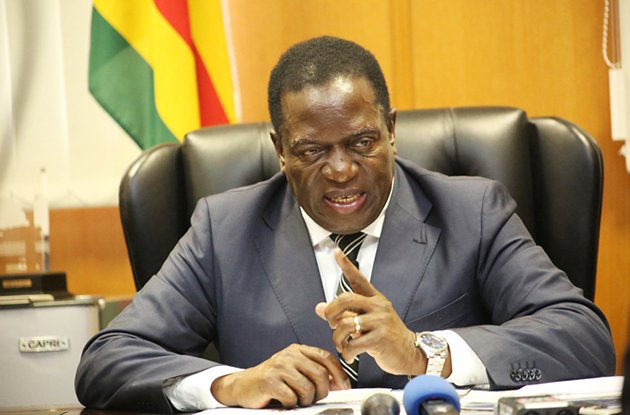 The unprecedented military intervention brought euphoria to the masses they gave their future to the crocodile, I had believed in since childhood. Questions are still asked does the alligator have the power to work out of water and steer the fortunes of the landlocked Zimbabwe into prosperity.The type of ecstasy that descended on the streets were of orgasmic proportions one can not stop to wonder about the morning after, whose pregnancy carries twins Namely Cash Crisis and bitter Mugabe
1.CASH CRISIS
The hope that came with the larger than life comeback of ED was unparalleled.People were certain Joshua has come to take us to Canaan.Mr Mnangagwa had one problem to solve and win the hearts of urban Zimbabweans forever, that was making hard earned cash available to the hardworking masses and it remains a vote lure for him and time is running out.But running a country is not subject to duende. ED has done a great job as a president he is paying his constitutional dues and branding the country in positive light , increasing people's freedom to say what they wish and many other positive contributions but is that what ordinary Zimbabweans want " an eloquent No!" says late Cde Zvobgo.
Mnangagwa orated how he wants to solve the cash crisis this is bye increasing our exports through manufacturing , increasing mineral production and attracting FDI. As an international economics and trade undergraduate student I definitely know this will just ease the cash shortage after a long time but won't really deal with it Why?, simple reason being money attracted by exports will never match the value of goods produced for internal consumption since we use foreign currency as our legal tender. Primary reason for storing foreign currency is to finance imports not to transact domestically. How can the Cash Crisis be dealt with. There are a couple of reasons and returning Zim dollar isn't one it's catastrophic. The best reason is seeking a formal mandate to dollarize our economy our economy since the current is informal and wasn't legalized by the US. We can seek to use the rand or Chinese yuan through formal transparent procedures which those governments will print cash enough for our society.
The excruciating pain of cash crisis really caught up with me when I wanted to pay my university school fees. I am a student overseas I went to the FBC bank as usual with my $3000 hard earned yearly fees in USD little did I know the charges of sending it where $600. I was disappointed in the government I gunned for, four years supporting the ascendancy of a president who is doing a good job but not dealing with this pressing issue.
Like any active supporter I got phone number of a minister who I shall not name but who is well placed to deal with cash issues. I asked him how and where can I send this money with a lesser cost. He completely ignored with a blue tick. Only to surface next day at a rally claiming he has helped me so ironic.
2. Bitter Mugabe
Mugabe is acting like that Ex husband who doesn't want to see you move on without them. Claiming he was betrayed by Mnangagwa shouldn't even be on the cards he betrayed ED, being the crocodile he is he had to snap back. Mugabe is creating fire which he might not be able kindle when the system he created descends on him. One won't deny he is looking as fit as a fiddle as media inclined to him used to say but one can't deny he is delusional and mentally unstable. Grace Mugabe and her newly formed party the NPF are plotting mugabes final downfall and he might get it before elections are due.
Niccolo Machiavelli the Italian writer of Florentine said " If you crush a man crush him completely or to an extent that he cant imagine revengine fearing what might come", Mnangagwa has one choice to finish the mentor-he gave so much mercy after humiliating him.
Bonus
Mr Mnangagwa made some good choices on ministers but some of them needed some rest I bet anyone would agree with the ongoing strike DR Parirenyatwa deserves a rest, governor Mangudya promised us resignation if bond notes failed he hasn't as yet all he know is printing more RTGS money. The hardest working minister so far as I see are only 3 general SB moyo, tourism minister and partly the one responsible for mining deals, Air Marshal Perence Shiri is doing a great job as well.
Source - Simplisio Muvunde
All articles and letters published on Bulawayo24 have been independently written by members of Bulawayo24's community. The views of users published on Bulawayo24 are therefore their own and do not necessarily represent the views of Bulawayo24. Bulawayo24 editors also reserve the right to edit or delete any and all comments received.