Opinion / Columnist
Cde Chiukira drops Mnangagwa's name to swindle Zimfep schools
24 Feb 2023 at 09:35hrs |
Views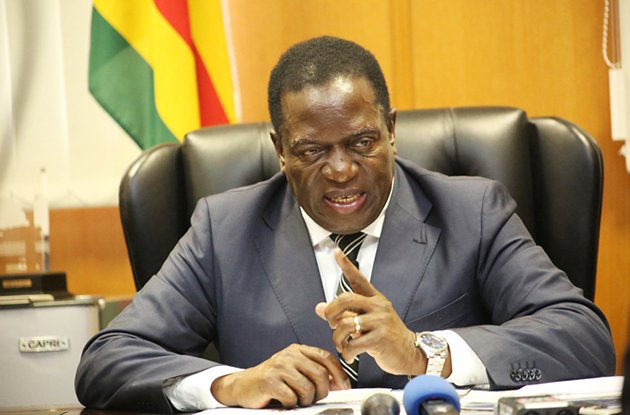 Open letter
To whom it may concern
Challenges faced by Zimfep Schools because of Gideon Chiukira (Director of Coordination)
Zimfep stands for Zimbabwe Foundation for Education with Production. It's an organization that was formed in the early 80s to cater for those that had gone to the liberation struggle but had no opportunity to go to school.
Zimfep has schools like Mavudzi, Chindunduma 1 and Chindunduma 2, Mupfure College, Rusununguko, Nkululeko, JZ, Fatima and George Silundika of which some of these institutions have primary schools. They are the Responsible Authority (RA)
After the early 80s along the way Zimfep let the schools run themselves and they were made government schools.
After years in oblivion, Zimfep came back in 2020 to take over the schools through one Gideon Chiukira affectionately known as Cde Chiukira who is understood to be the director of coordination at Zimfep. He also claims he was appointed by HE to run the schools. Zimfep took over everything including livestock since all the schools are located in farms in different parts of the country. He also claims to be connected to the highest offices and claims some decisions come from the top.
He changed everything in schools without even following proper procedure and fired some headmasters and teachers. Demoted some and promoted and employed those he wanted of which some are believed to be his relatives and girlfriends. He had also put Administrators in these schools who have taken over the running of these schools from the headmaster, these were just ordinary teachers in these schools. He has identified teachers, especially women who he gave positions that he created and these report directly to him and the headmaster have been rendered powerless when it comes to controlling these teachers.
Headmasters where turned into ceremonial CEOs. Everyone one from teachers to the ground staff is forced to address each member as Comrade including members of the School Development Committees. Everyone is forced to do a political slogan at school when he is addressing them. He shouts and undresses the headmasters in front of subordinates and even teachers in front of the ancillary staff and learners. In short, he doesn't have a professional but militant approach.
He also claims that the schools belong to a political party and everyone was supposed to join the political party and those not politically aligned to his party should leave.
He addresses parents meetings in these schools clearly telling them that the schools belonged to a political party and most of the time he will be in political regalia.
His behaviour and conduct have made some of the teachers leave the schools and some parents to transfer the learners. He has literally instilled fear in teachers.
The form one enrolment this year is pathetic, these schools usually enrol about 120 learners for form one and most of these schools are just above half of their usual because of negative publicity the schools are getting because of Gideon Chiukira.
The schools have also been forced to buy uniforms from his suppliers who just supply uniforms without going to tender as per procurement procedure. He had also been forcing schools to pay between $5 and $10 per learner for a non-existent medical aid. All these monies are not accounted for and no one knows where those monies go to. He has also forced schools to buy very expensive sub-standard solar systems from his supplier as a way of milking money from already economically strained institutions.
Zimfep is milking monies from schools though 10% of total fees per learner, they also take money from form one enrolment close to $100 per learner over and above the 10%. Just last term schools remitted between US $10000 and US$20000 each to Zimfep, that was money meant for development. These are public funds that seek accountability, transparency, audit and must be clearly explained to the stakeholders that paid who in this case are parents. He also milks schools money through many impromptu workshops which schools fund. It's unfortunate these monies are now benefitting individuals.
The so-called Zimfep director coordination Gideon Chiukira has wreaked havoc in these schools through women who do carpet interviews for promotion especially teachers. He has an average of two women per school and in some has up to four. He uses his position to abuse these weakened, desperate or rather fear-instilled teachers and members of staff.
He has also forcefully given schools an average of 25 each, learners purported to be from the Presidential Scholarship who the other parents fund, all schools have never received anything towards fees payment of these learners. It literally means the parents are funding the learners and it strains these institutions. The learners come with nothing not even a pen and boarding school life demands a lot. We are starting to doubt that these learners are under the Presidential Scholarship because we have War Vets and Beam students , their monies delay but they pay.
So many things have been wrongly done and are still wrongly done by G Chiukira and we wish we can be helped to weed out the cancer that has affected our schools. Zimfep accounts must also be audited and people must be accountable. Zimfep must sieze taking money from schools, as Responsible Authority they should actually help schools in terms of development. We also don't want politics in schools and wearing of political regalia in schools. We also wish schools to run independently lest these schools will go down. We also want the headmasters to be respected and be given their mandate to run and administer the schools until then can their work and capabilities be judged.
Enough is in enough we are tired of Gideon Chiukira. Help us clip his wings so that schools are professionally run and there is no misuse and siphoning of school funds meant for school development. The first port of call will be accountability of funds taken from schools through forensic audit of Zimfep accounts and of course his and replace him with a professional someone.
His digits are 0772995724 / 0719995724
Yours Concerned
Zimfep Schools Stakeholders: Teachers, Ancillary staff and Parents
Source - Concerned parents
All articles and letters published on Bulawayo24 have been independently written by members of Bulawayo24's community. The views of users published on Bulawayo24 are therefore their own and do not necessarily represent the views of Bulawayo24. Bulawayo24 editors also reserve the right to edit or delete any and all comments received.