Opinion / Columnist
Mnangagwa should be tried under the Patriotic Bill
04 Mar 2023 at 21:07hrs |
Views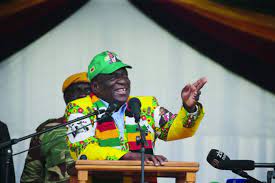 That Patriotic Bill looks interesting now.
In light of Aljazeera revelations, The President & his ministers should be tried under that Bill for treacherous & unpatriotic conduct.
The Bill was maliciously designed to persecute those who speak truth to power under a dodgy law.
The government often accuse critics of working with foreign governments for regime change agenda. But the government is under the control of people from the Rhodesian government and the Chinese.
It transpires that the Zanu government gave them control of the country's minerals. That is a clear violation of the government's own Patriotic Bill.
For a government that came to power through a coup, it's hard to comprehend their obsession with weaponizing legislation against those who hold them to account.
They are not capable of operating within the law even on their finest day. The corruption is frightening. The minerals smuggled out of the country could transform the country into first world status.
The country looks like it has been through a war. Nothing works. The infrastructure is dead. State institutions are captured. Government departments are not fit for purpose.
In light of all this wealth, no leader has felt the need to invest in the country or the people. All the wealth is taken outside the country.
There is no doubt in people's minds that the Zanu government is working against the people of Zimbabwe. It's a serious threat to the idea of Zimbabwe.
They forfeited the right to be the custodian of the liberation legacy. They betrayed the liberation war ethos and now exhibit colonial principles that they fought against in the war.
In the natural course of things, the Zanu government should never be anywhere close to power. The constitution should take precedence but Zanu does not believe in the government of the people. It believes in the government of the corrupt elite.
They don't have the moral right to govern Zim and they certainly do not have the constitutional right to govern Zim.
Zim needs new leaders and a new political culture.
All articles and letters published on Bulawayo24 have been independently written by members of Bulawayo24's community. The views of users published on Bulawayo24 are therefore their own and do not necessarily represent the views of Bulawayo24. Bulawayo24 editors also reserve the right to edit or delete any and all comments received.