Opinion / Columnist
DUZ president Driven Chapman a media creation
13 Mar 2023 at 06:49hrs |
Views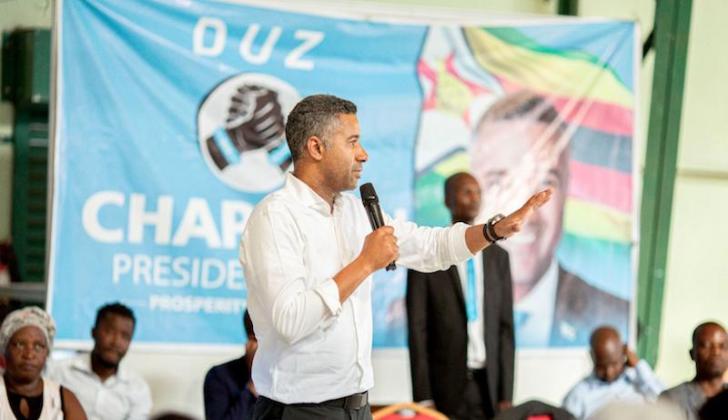 The hype and excitement about the new kid on the block Mr Driven Chapman is just nothing but hot air and a media creation.
After failing to decimate the people's movement the revolutionary party is now at its sixes and sevens. It is running out of ideas and now trying through hook , line and sinker to devide prospective voters to its own advantage by clandestinely supporting Mr Chapman.
The regime has now changed its goal posts and now focusing on Mr Driven Chapman to play the dirty game. The truth remains that the people's movement Citizens Coalition for Change is the only alternative movement which is ready to usher a new government and heal this dysfunctional country.
The regime tried hard to use Mr Douglas Mwonzora of MDC-T and the captured courts to destroy the people's struggle through bogus court rulings but dismally failed. Nelson Chamisa remained resolute under such a very big political volatile.
Interestingly the people have not given up on the political gladiator of Nelson Chamisa. He remains the only Presidential candidate able to unseat the dictator in making Emmerson Mnangagwa.
The situation on the ground points to overwhelming hope. People are now very much determined to change the Zimbabwean political discourse and wrestle power from a regime which has presided over state issues and destroyed the once vibrant economy.
However Nelson Chamisa still have the challenge of encouraging the youths who have never tasted change in their lives to register to vote.
Those who have lived in the early 1980s will concur with me that Zimbabwe was a gem and a great promising nation. Most Zimbabweans know that we still have the chance to change the political situation of the country for the better.
The accolades and heroisim being given Mr Chapman by Zanu PF die hard supporters after their protracted project of Mr Douglas Mwonzora hit a brick hall is a true reflection that the man is just there to derail the struggle and must be taken with a pinch of salt.
Just like how the regime failed on Mwonzora's project to decimate tthe people's struggle which ended up being in flames and having a still birth. This is what is going to happen to Mr Chapman.
If you see Zanu PF praising another opposition party like what it is doing to Mr Chapman just know that the party is so weak and a stoogie of the ruling party.
Such pseudo political entities are fly by nights parties who just want to appear and confuse the voters when it is an elective period. We used to have such leaders like Nkosana Moyo, Mai Madangure. Violet Mariyacha, Devine Hove just to mention a few. Politics is not a stroll in the park and Mr Chapman is yet to be tested.
He must take notes from Chamisa and his team. Mwonzora was thrown under the bus by the same voters and ended up getting zeros in the previously held by elections.
Notably Zimbabwean politics is a two tier system. Its either you vote for Chamisa or Mnangagwa. The country is not yet ripe for a multi-party faceted democracy, where people can entertain a third force. I am not undermining Mr Chapman but he still have a long rope to pull. This 2023 election is so brutal and will humble him. Let the game begin.
There is no need to split some votes at this moment but Chapman looks to be on that mission.
Email - konileonard606@gmail.com
Twitter- @Leokoni
Source - Leonard Koni
All articles and letters published on Bulawayo24 have been independently written by members of Bulawayo24's community. The views of users published on Bulawayo24 are therefore their own and do not necessarily represent the views of Bulawayo24. Bulawayo24 editors also reserve the right to edit or delete any and all comments received.