Opinion / Columnist
Even if Mnangagwa gave me a house today, I will never vote for him as long as Zimbabweans suffering!
23 Apr 2023 at 08:08hrs |
Views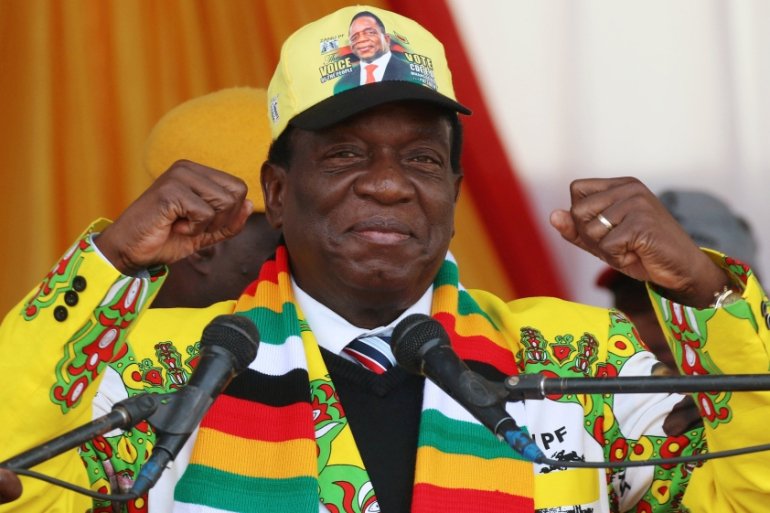 Already in 1980, at the dawn of Zimbabwe's independence, we experienced major transformations in our lives.
Our parents managed to purchase houses, including in previously racially segregated areas.
We were able to attend schools that had been a preserve of white children.
On top of that, there was an opening up of the economy to all citizens, irrespective of skin colour, with the sky appearing as the limit.
However, as the years went by - in spite of all these 'blessings' attained via the new post-independence government - it was clear that life was steadily becoming unbearable and untenable at the hands of these same leaders, due to their rampant corruption and gross mismanagement.
In as much as we were all grateful for the massive 'gains' witnessed just after 1980, Zimbabweans were not going to continue supporting a regime that was turning our livelihoods into a harrowing nightmare.
As such, it did not make any sense voting for a political party that had ruined our lives - just because they had previously enabled us to buy houses in low density suburbs, or attend formerly white schools, or made it easier to attend universities.
What point was there in staying in a beautiful home, or boasting of university education when we were struggling to make ends meet, and going hungry?
This is the same dilemma faced today, with those who are given all manner of trinkets and 'gifts' by the same ZANU PF administration.
As I was watching President Emmerson Dambudzo Mnangagwa doling out title deeds to Epworth residents today, my mind could not help going back to our post-independence scenario.
Of course, those who received these titles to their homes have every right and justification to be elated and overjoyed by this development.
Nevertheless, this excitement starts and ends there.
As soon as they return to their now legally-owned properties, they will still be greeted by a gruesome reality.
Their fridges will still be empty.
Their families will still be lacking the bare basics - lacking nutritional food, unable to send their children to good schools, who will not have any real prospects of a bright future.
The local clinic - which was officially opened by Mnangagwa only a few months ago - may already be facing dire shortages of essential medications and treatment.
There may not even be electricity for hours.
Potable water will still be a luxury they can not access readily - thereby, forced to walk for distances to the nearest borehole, where they have to queue for hours.
All I could say to myself, as I watched these events unfolding in Epworth was, "There's nothing new here, since we actually 'benefitted' much more at independence, but we still suffered immeasurably, until we rejected ZANU PF".
Giving away little 'gifts' here and there can never buy or sway someone with an iota of intelligence - especially, when they are still surrounded by indescribable poverty, authored by the same people pretending to be saviors.
That is why I always say, "Even if Mnangagwa were to give me a brand new fully-furnished house - not that I would ever want anything from him - I would still not vote for him, as long as there is suffering in Zimbabwe".
What would there be to celebrate when these 'benefits' are drowned in a sea of poverty?
Actually, the fact that an individual would need to be 'given' something - which he should be able to afford to buy on his own - is an undeniable sign of unmitigated failure on the part of those in power.
Even soon after independence, all what the new government did was to remove segregatory and discriminatory laws.
Nonetheless, our parents bought their properties (with title deeds included), sent us to good schools, and bought all that we required from their own hard-earned moneys.
They did not need to be 'given' anything.
So, why would anyone need to be 'given' anything today?
Is this not clear testimony of how much the ruling elite have destroyed the nation - turning the citizenry into beggars?
That is why it bleeds my heart when I see people (including the elderly) who are made to queue for handouts, 'free' agricultural inputs, and food aid.
There is nothing more painful than watching people flocking to receive 'free' medical treatment - through so-called 'outreach programs', which they usually only see once in a blue moon.
The same applied today, as hundreds were made to feel beholden to Mnangagwa for the sake of receiving title deeds.
Surely, why - after 43 years of independence - should Zimbabweans still be so economically disenfranchised and marginalized to the point of being dependent on the government and NGOs for their survival, or health needs, or housing?
In fact, I observe a similar pattern with our 'new' farmers - who were not even given title deeds to 'their' farms - which remain the possession of the government.
As a result, they are now hostages of the political powers - such that, anyone who fails to tow the line soon finds himself landless.
Is this not something to be ashamed of as a government?
Of course, we all know that holding a nation at hostage is a favored tool by incompetent failed oppressors - whose only hope of remaining in power rests on making an impoverished people beholden to the ruling establishment.
Those in power live in persistent fear of a citizenry that is economically self-sufficient - since that gives them (citizens) a level of independence to even ditch the political elite.
So, if we have a population that is entirely reliant on the government - even for the bare basics, as food, agricultural inputs, and even residential stands and title deeds - then they are effectively made captives, who can not be expected to bite the hand that feeds them.
I am hoping that all these people forced into this state of desperation and destitution wake up to the fact that the only way to be truly economically-independent and empowered is to vote out this regime!
Zimbabweans need their freedom to prosper, live a successful life, and make their own choices freely - without the fear of losing 'benefits' from a failed government.
Imagine if I were to accept a house from Mnangagwa - as given in an earlier example - that would effectively render me a pathetic slave to him.
In turn, I would cease speaking out for the oppressed and impoverished in the country - thereby, becoming an accomplice in the people's suffering - all in terror of losing the house.
I will never accept that!
That is why we, as the people of Zimbabwe, should not only value our freedom and independence, but also our self-respect - by rejecting all those who seek to rescue their waning political fortunes via taking the entire nation hostage.
Let us strive for that self-respectability by electing a leadership that puts in place a political, economic and social environment that allows us to soar to the skies, succeed on our own, and acquire whatever we need and want out of our own resources.
Yes, suffering Zimbabweans can receive these 'gifts' for now, but they should know better when it comes to election time.
My prayer is that Zimbabweans are wise enough to see through all this nonsense, and reject it.
- Tendai Ruben Mbofana is a social justice advocate, writer, researcher, and social commentator. Please feel free to WhatsApp or Call: +26371577700 | +263782283975, or email: mbofana.tendairuben73@gmail.com
Source - Tendai Ruben Mbofana
All articles and letters published on Bulawayo24 have been independently written by members of Bulawayo24's community. The views of users published on Bulawayo24 are therefore their own and do not necessarily represent the views of Bulawayo24. Bulawayo24 editors also reserve the right to edit or delete any and all comments received.