Opinion / Columnist
Marvo Stationery saga rages on...10 years later
25 Apr 2023 at 13:14hrs |
Views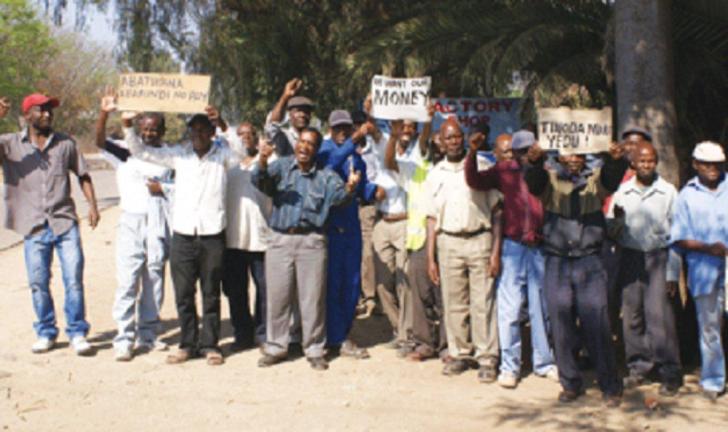 The Marvo Stationary case continue to drag on and on, with new twists and turns. Since the company was sold to Mahlongonono Valela and his partners, following the death of Mr. Kates the original owner of the company, a lot of corruption have been happening at the company and the poor workers have been on the receiving end.
The intention of the Valelas and their partners have always been to get rid of the permanent workers whom they inherited from the Mr. Kates. The Valelas have been intimidating the poor workers, at some point they unlawfully dismissed half of the work force, simple because they refused to work for unpaid over-time, the workers went to court and won the case and were reinstated but the Valelas appealed against the ruling, against the advice of their own company Lawyers from Calderwood, Bryce, Hendrie and partners, using another law firm and they still lost the case and the workers were finally reinstated with their full benefits, Marvo board and directors never paid those benefits the workers were entitled to.
It is now more than 8 years now, since the company was handed over to the Judicial Manager Mr. Crispen Mwete to look for new investors, after the Valelas had looted the company dry. The Judicial Manager was tasked to find an investor willing to clear all the creditors, the bulk of the debt is owed to the workers, but the Valelas have been throwing spanners to the work of the Judicial Manager.
The Marvo workers are still holding on to the letters that they were given on the 20th of August 2015, stating that they were going on indefinite forced unpaid leave.
Since the dollarisation was adopted in Zimbabwe in 2009, Marvo stationery employees stopped getting their full salaries with the promise that they were going to be paid later, yet the company was operating at full capacity with a day and night shift, including overtime. The same company even got almost a million dollars from the government, under the DIMAF Scheme.
As soon as the Valelas and their partners received the government loan which they got despite them having been making profits, they started stealing even more and completely stopped paying workers' salaries. They created a couple of shelf companies meant to specifically to syphon money from Marvo Stationary.
These multiple shelf companies were used to loot money from Marvo accounts using different methods, some of which include procurement of Raw materials, where by Marvo stationery would be forced to buy through the third parties who happens to be their own shelf companies, these companies would invoice Marvo two to three times high than the original prices or worse, making sure that all the money that enters into Marvo accounts leaves as soon as possible.
For the Marvo workers, the most painful thing to them, is that Marvo was busy making production day and night with two shifts making all sorts of stationery and the products being sold through Browns Stationery who was originally a sister company to Marvo, before the Valelas separated the two and now claiming that Browns is separate from Marvo, but continued to use Browns to loot money from Marvo.
The Valelas are accused by their workers for being corrupt, they looted the company funds and then when the workers took them to court, they decided to shield themselves from possible prosecution by handing over the broke down company to Soul Mashamba and Patience Mutara both of which were Managing Director and Accountant respectively though they were originally four the other two are not active in the whole Marvo saga. While the Valelas claimed that they were no longer part of Marvo Tswelelo Valela continued as the signatory to Marvo accounts and was busy transferring funds from Marvo.
We spoke to several employees of the company, who preferred to respond on condition of anonymity, for one of the employees there, the issue is personally with the Valelas, at this point one could tell by the looks when this subject was brought to his attention, he became very emotional and vowed to fight for justice.
According to the records in our possession, the majority shareholder of Marvo Stationery is Matt Valela who is also one of the directors at Delta Beverages, and his representative at Marvo is his sister Tswelelo Valela. It is Tswelelo who is described by most of the employees as ruthless, heartless and evil.
"I worked in that company in sales where they did stock take every month and I never had a shortage and I never stole money or any products, even when they had Browns Wholesalers shop, I never stole, Tswelelo would sometimes send me with Zimbabwean dollars to convert it into US dollars and Rand on the streets and I would bring all the money as it is. When my wife got sick and was diagnosed with a heart problem, I went to T Valela to ask for part of my unpaid salaries which the company owed me, and she asked me to write a letter instead, of which I did.
"She never bothered to reply and I asked her again after some time almost two months later and she told me that she had forgotten and, in any case, there was no money. She wasn't even remorseful by that time I had explained to her that my wife wasn't getting any help from Mpilo Hospital because the Doctors were on strike and the nurses were on go slow and there was no medication at all whatever medication the junior doctors prescribed it needed to be bought elsewhere and the tests were supposed to be done at private laboratories which demanded money upfront and I needed to take my wife to South Africa where there are better medical health facilities, still she never bothered until my wife passed away and I realized that I am employed by heartless people and resolved that I will not relent but will fight for justice and the Valelas must pay back." Said one of the employees on condition of anonymity."
Another employee said that those of us who are alive must fight for our money including for those who have since passed away their families must receive their money on their behalf. The employee went on to explain that some of their fellow employees committed suicide because of Marvo Stationery, while others couldn't afford medication despite them being owed thousands of the American dollars at Marvo, others have become destitute and others relocated to rural areas. We demand that all these people be paid back their monies.
"We are aware that there is a new investor coming in to invest at Marvo but again the Valelas are frustrating the new investor. They are trying to stop the new investors from taking over, because they are claiming that the building that house Marvo Stationary is no longer Marvo property but now belong to the Valelas, despite the fact that there is no evidence of that building belonging to anyone else other than Marvo."
The employees who spoke to this reporter are clear that Marvo assets including the building must not be tampered with until we are paid and any investor who wishes to take over the debt and pay them should not be disturbed by the Valelas or better still of they still want to keep the company they should pay back the money with immediate and we won't bother anymore about their boardroom arrangements but for as long as they owe us there is no reverse until justice is saved.
The Valelas must pay back the money without fail or allow those who wants to pay to do so, said one of the employees.
The workers though are worried about their Marvo case which has been at the High Court for over a decade now and still inconclusive, and are wondering if corruption is not involved there. According to the workers it is strange to have a case as straight forward as the Marvo case taking over a decade without any meaningful progress.
"We are reliable informed that the Valelas Lawyers Calderwood, Bryce, Hendrie and Partners Law firm, advised the Valelas not to proceed with the court case but instead pay back the money but they refused to listen and have since brought in another Lawyer Mr. Nkomo to defend them.
"Calderwood had previously advised them not to oppose the ruling against them which reinstated the Marvo workers but they went against the advice and lost. And they are expected to lose once more because the Marvo issue is straight forward unless they pay bribes." Said another employee
Another employee speaking to this reporter on condition of anonymity said and I quote; " The Valela's business of selling finished products is going down since the government raised duty for finished goods and the influx of such finished products being brought in by small business players has caused a lot of competition for Browns and even our cries cause them bad lucky. Now they want to frustrate the new prospective investors because they don't want Marvo to reopen. They fear that they will lose out pan business if Marvo reopens without their control hence they have been bringing in their own counter offers through their stooges but the Judicial Manager rejected them on the basis that their offers do not include paying workers outstanding salaries. Efforts to get a comment from the Valelas were fruitless.
Source - Nkululeko Nkomo
All articles and letters published on Bulawayo24 have been independently written by members of Bulawayo24's community. The views of users published on Bulawayo24 are therefore their own and do not necessarily represent the views of Bulawayo24. Bulawayo24 editors also reserve the right to edit or delete any and all comments received.