Opinion / Columnist
Bona Mugabe divorce, yet another Damascene moment for the republic
07 May 2023 at 07:22hrs |
Views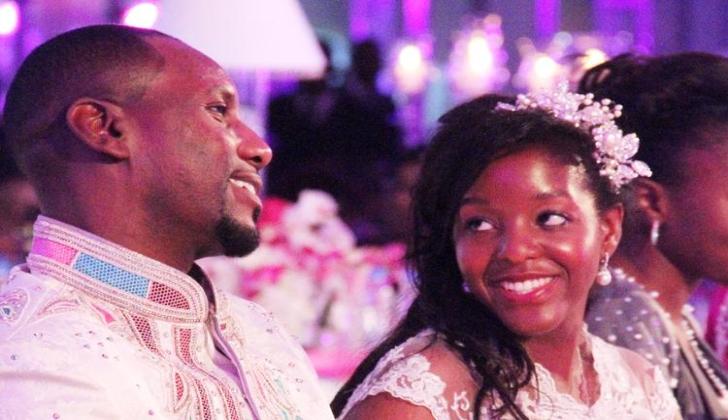 The world is not for honest people. I am convinced.
Those who toil, break a sweat in various endeavours to make an honest living are often poor and at the bottom rung of the social ladder.
Bona Mugabe' s divorce proceedings playing out in the courts are unraveling much about the secret lives of Zimbabwe' s powerful elites.
Sociologists say people have three lives in their day to day engagements, ie the public, private and the secret.
The public life is what we encounter on the streets, workplaces and church. The private is what we are allowed to see when people are not in public. It's what people let us see and know of themselves when we are in their homes or in their company.
However it is the third and last bit that most people are unrelenting and ungiving.
Most people take their secret lives to the grave ie, what we do when nobody is looking. What happens in the dead of the night, what we undertake nicodemously.
For the late RG Mugabe, we knew his public persona and bits of his private life, He gave fiery speeches. He was well read and a hands-on leader in his early years. He did not have many friends in his adult life. We also know he loved his daughter and was sober as a monk much of his life.
It is the secret life we never got to know about and Bona 's sprawling empire says much about Mugabe, the man.
Bona would never have been able to achieve this feat alone.
21 farms, 25 houses, a mansion in Dubai and a colourful coterie of prestigious cars and farm implements are some of the things she owns together with her estranged husband Simba Chokore.
There is even mention of hundreds of thousands of large sums of money this young couple from the former first family owns.
And from the look of things , this is just the beginning of the mother of all storms coming.
Simba looks set not to back down a single inch in claiming what he believes rightfully should be shared between them including joint custody of their three children.
It is an Aha! moment for Zimbabweans who for long have been battling tooth and nail to bring food on the table. Zimbabwe is reeling in economic doldrums so much so that even civil servants, the bulk of whom are teachers, nurses , police, soldiers hardly afford the luxury of savings for rainy days in the future.
Zimbabwe is a land where majority are surviving from hand to mouth with parents finding it a Herculean task to afford school fees for their children let alone three decent meals a day for their families.
Bona Mugabe, literally owns half of Harare, such incredible wealth literally in a sea of poverty. Of course, Simba, the scorned former husband hints the properties were acquired during the course of the marriage with some having been inherited from the former statesman Mugabe.
Nonetheless, this is not at all a strange turn of events in Harare. We have been here before.
Like the old adage that says the true length of a frog is known on the day it dies. We are now coming to grips of who the real Mugabe was. What we know of the late leader was just cosmetic. He was deeper than that- adept at putting a public persona devoid of mischief, flamboyancy and conspicuous consumption which is a shadow accompanying most politicians across Africa.
Thus far, the late Mugabe's record has largely remained unmottled.
Mugabe stood for the landless black majority. He stood against white imperial hegemony. He spoke against white supremacists taking the bull by the horns at international fora where his speeches were fire and brimstone to the world order.
On another front he was a former liberator who turned tyrant. He did not like dissenting views on governance heavily dealing with opposition politics and media.
But all that was a Trojan horse to to deceive the public to his wily ways. He put stuff in his back pockets for his family. He set them up for life as seen here with Bona. She has never had a full-time job or known business interests to warrant such an mischievous accumulation of wealth.
It's said Mugabe himself had nothing to his name save for 10 Million British Pounds he received from the State as pension.
But can we truly believe the strongman was that upright and so modest?
His story cannot be that of Thomas Sankara. Mugabe loved snapy suits. He loved taking his then young wife shopping at the famous Harrods in London before the travel bans, he loved junketing around the world commandeering a remaining Air Zimbabwe plane for self use.
For not sounding begrudged by Bona's sheer worldly belongings, what has been paraded before our eyes is reminiscent of yesteryear political elites.
The longtime serving former Minister of Housing Ignatius Chombo's dirty linen was hanged out to dry when she seperated with Miriam Chombo.
In her affidavits, we literally picked our jaws from the floors when it was revealed the erstwhile minister hoarded pockets of land in all corners of Zimbabwe. He had houses and commercial stands in almost all urban areas in the country.
Chombo owned multiple farms of all manner, cattle and trucks and business groupings that nobody ever imagined a mere minister could have.
Miriam came along singing like a canary revealing a life of greed, hoarding and obviously underhand dealings leveraging on his position as a top governed hawk.
Enter flamboyant businessman Phillip Chiyangwa on the scene. His divorce case was all intrigue. The wife wanted lofty spousal maintenance claiming Chiyangwa was a man of means and she had grown accustomed to the high life he accorded her.
We saw Chiyangwa's vast business empire from housing properties, fancy cars that included a customised Hammer Limousine. We saw his house with a helipad. We were exposed to his expensive apparel. Chiyangwa had it all.
Then there was Perrence' Gudo Guru' Shiri whose demise came along with covid -19 supposedly. He was unmarried, had sired kids and had bequeathed his vast estate to kids and family members.
In the furore that followed to divide his estate, we heard of his farms, trucking business and intended hospitality business in which he had planned to built hotels and chalets. The late former defence supremo was well heeled.
Not forgotten was the late Chief Justice Godfrey Chidyausiku. He had considerable accumulations owing to his proximity to the top office and upon his demise, we got to know he had bequeathed much of his worldly possessions to his first wife and kids.
The latter-day concubine was left sulking in the corner having had little in inheritance let alone acknowledgement as a partner. May peace be with her wherever she is having endured public scorn for cosying up to the lawman in his twilight years. She was viewed as opportunistic.
Then came the demise of the much loved Morgan Tsvangirayi. His demise was a political spectacle. His estate with over dozen cars became a tussle for his kids, mother and young wife. His story broke family ties with his mother on one side and the surviving spouse on the other with his kids caught up in the middle. We got to see the Tsvangirayi family unit displayed under the microscope, the house he was given by the state as a Prime Minister and the farm.
Not to be outdone was former VP Kembo Mohadi. It is alleged he personally wielded an axe in a fit of blinding rage breaking down his door to gain entrance to his ex wife all in the presence of senior police officers in Beitbridge.
During the divorce case, we got to see the beloved younger woman he was eyeing as a second wife. We realised his immense influence in his province, his trucking business and the vast amounts of cattle and farmland he owns in Matebeleland.
VP Chiwenga is no stranger to controversy. He had his fair share in the news at first divorcing his wife, the firebrand Jocyline who had a no-nonsense approach to junior army officers on the former Army General's ambit. She reportedly slapped them around like toy soldiers barking orders like an army commander ordering his troop back into battle.
Jocyline gave us tidbits concerning the life of a five-star General. He loves vintage watches. He is part of the Rolex gang. He loves expensive whiskey and he is a military man before anything else. We got to see the big house in Borrowdale emblazoned the initials C & J in reference to the former couple' s names. They later changed to C& M when he remarried Marry Mubaiwa with whom he is embroiled in a protracted divorce battle denying her to see her kids, carrying her belongings unilaterally to her offices without her consent.
All these affairs gave us a peek into the lives of a powerful man in government. It is like a cult where much of the day to day life is under the radar but at some point, it all comes crashing down like an avalanche. Suddenly we see the monied lifestyles we are meant never to know about , the insatiable and expensive tastes for all things beautiful.
Those in power are in it for themselves. The electioneering slogans and pleas for votes are a ruse to the main meal which is self enrichment through corruption.
Shameless accumulation of wealth is the goal.
But for Simba Chikore , I would dare say it is too early to smile like the cat that got the milk. History is replete with divorce cases that went awry.
Simba is reportedly a trained pilot, but at one time a regional association of pilots denied knowledge of him or his work background. That says a lot on how he could have helped in gathering such a massive range of wealth if it was not for his spousal connection. He is notorious for buying second hand planes from Malaysia when he was the Chief Operating Officer(CCO) of the then Air Zimbabwe, a post he was delegated to obviously by his then powerful inlaws.
His story only cements how the ruling elites enjoy obscenely lavish lifestyles most likely acquired from plunder of state resources.
Josiah Mucharowana is a media graduate and writes in his personal capacity. Feedback: joemasvokisi@gmail.com. Whattsapp +27 84 587 4121
Source - Josiah Mucharowana
All articles and letters published on Bulawayo24 have been independently written by members of Bulawayo24's community. The views of users published on Bulawayo24 are therefore their own and do not necessarily represent the views of Bulawayo24. Bulawayo24 editors also reserve the right to edit or delete any and all comments received.