Opinion / Columnist
Even Mnangagwa wants 'whites' to develop Zimbabwe!
25 Jul 2023 at 21:50hrs |
Views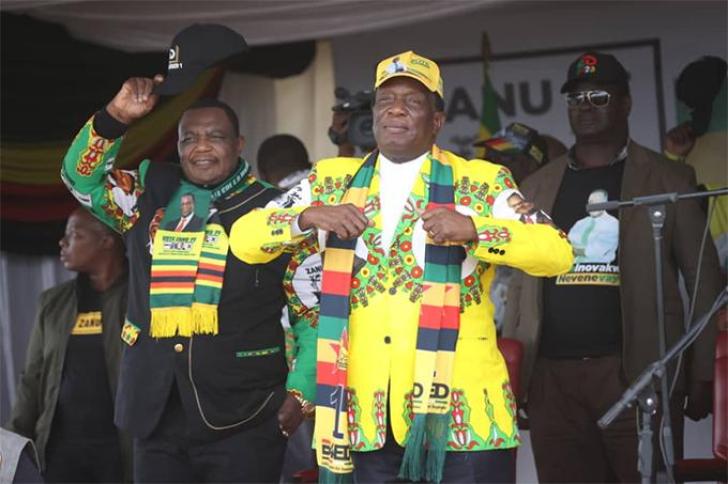 A few days ago, I had a very interesting debate with a ZANU PF sympathizer - who was adamant that Zimbabwe was going in the right direction under President Emmerson Dambudzo Mnangagwa.
He based his argument predominantly on the 'nyika inovakwa nevene vayo' mantra - which has become the hallmark of Mnangagwa's so-called 'Second Republic'.
According to this motto, Zimbabwe can only be developed, or literally built, by its own local people.
This is meant to counter the supposed stance by the main opposition CCC party (led by Nelson Chamisa) of premising their economic revival policy on making Zimbabwe attractive to massive FDI (foreign direct investment).
The Mnangagwa administration wants the nation to believe that this policy is fundamentally flawed and misguided - bordering on 'selling out' the country to foreign interests.
In ZANU PF terms, the only way to both develop the country and, at the same time, safeguarding its sovereignty, is by Zimbabweans themselves being at the forefront of all major economic pillars.
That is all well and good - which is something I would personally also endorse.
However, there is a huge problem.
Who would not want a country's economic thrust to be firmly in the hands of its own people?
Nevertheless, as it turns out, this is not what Mnangagwa is actually doing.
Just a quick glance at the incessant campaign videos aired by the state-controlled broadcaster, ZBC, will show just how the ruling party is so proud of their leader's closeness to 'whites'.
Never do they miss an opportunity to show Mnangagwa meeting foreign leaders as Russia's Vladimir Putin, Belarusian Aleksandr Lukashenko, and Chinese Xi Jinping.
Please excuse the recklessness, but for the discourse, I will class Xi as 'white', for lack of a more apt categorization.
Is this not a sign that deep down, Mnangagwa, actually desires for 'white' company, acceptance and endorsement?
This is the same man who was exceedingly excited, and bragged about it endlessly - after being invited to the UK, for the UN Climate Change Conference, and King Charles' coronation.
Besides, has he not been courting foreign investors from 'white' nations - with his most recent appearance at the US-Africa Business Summit in Botswana - as well as boasting of 'mega deals', when he attended the UN General Assembly in the US last year?
In so doing, all this ridiculing of Chamisa as a 'white lover', and portrayal of Mnangagwa as some 'super patriotic', flies out of the window!
In fact, Zimbabwe 'yaivakwa nevene vayo' (was being developed by its own) well before both ZANU PF and Mnangagwa came onto the scene.
I recall, before Zimbabwe attained its independence, when we were growing up in the high density township of Torwood (Redcliff) in the 1970s.
Most of our supermarkets - which we fondly referred to as 'groceries' - were owned by local people.
As I write this, I can even picture in my mind being sent by my parents to buy meat 'kwaJohnson' - a butchery owned by Johnson Moyo, who was also father to a childhood friend, Edmore.
We can move on to the town of Redcliff itself.
It was built and administered by the then iron and steel making giant, ZiscoSteel - a government-owned entity - which, at the time, was the largest iron smelter in the Southern Hemisphere.
Needless to say, after independence in 1980, and the emergence of ZANU PF, the company was run into the ground - primarily through widespread corruption, nepotism and mismanagement.
Now that we have Mnangagwa at the helm - not only is ZiscoSteel no more, but its place has been taken by the foreign Dinson Iron and Steel Company - which is owned by the Chinese.
So much about 'nyika inovakwa nevene vayo'!
In actual fact, this has been the trend nationwide.
Most of the gold mines in this country - such as Globe & Phoenix, Gaika in Kwekwe, Cam and Motor in Kadoma - were locally-owned.
So were companies as Lonrho (London and Rhodesia Mining and Land Company), Amalgamated Properties of Rhodesia, and General Asbestos, amongst many others.
There were also major mining companies in asbestos, tin, copper, coal, nickel, to name just a few - leading to the construction of towns as, Shurugwi (Selukwe), Zvishavane (Shabane), Alaska, Antelope, and the list goes on.
Shabane-Mashaba Mines (SMM) Holdings, the country's largest asbestos producer at the time, was owned by Mutumwa Mawere - until it was seized by the ZANU PF government, under the controversial Reconstruction of State-Indebted Insolvent Companies Act.
These, as numerous others affected by the near-collapse of the Zimbabwe economy under ZANU PF misrule, now lie in ruin - leaving millions of ordinary Zimbabweans without a source of income and livelihood.
Yet today, under Mnangagwa, most the companies exploiting our minerals - especially in gold, diamonds, lithium and platinum - are foreign, mostly from China and Russia.
Acadia Lithium Mine, Prospect Lithium Zimbabwe, Bikita Minerals, Ajin Investments, to name but a few, are Chinese owned.
Alrosa is owned by Russians.
In fact, instead of providing a dignified life and uplifting the livelihoods of local communities - these Chinese companies have been at the forefront of not only damaging our environment, through their reckless operations - but have forcibly displaced countless families from their ancestral lands.
Who can forget what became of those from Marange - where Anjin Investments was accused of dispossessing local communities of their land - who have not benefited much from the resultant diamond mining?
In Mutoko, Uzumba, Mudzi and Domboshava they have similar harrowing stories - with such companies as Jinding, Heijin, and Zim Win Mining - all from China.
Are these the 'vene' that Mnangagwa wants us to believe are building Zimbabwe, 'brick upon brick'?
In a richly-endowed nation as ours - with abundant deposits of some of the world's most sought-after minerals - should we, the locals, not be at the forefront of exploiting these for our own benefit?
However, as it turns out, foreigners are the biggest winners, under the Mnangagwa administration - whilst, the real 'vene' are forced to accept crumbs, and even displaced from their own land.
It is clear that Mnangagwa's mantra of 'nyika inovakwa nevene vayo' is just empty talk.
He has already proven that he wants 'foreigners' - possibly even more than Chamisa, whom he is so fond of accusing of 'loving whites'.
In Mnangagwa's Zimbabwe, the real 'vene' are the half the population who are living in extreme poverty, and the three quarters earning below the poverty datum line.
These are the impoverished suffering people, of whom Mnangagwa does not appear concerned.
© Tendai Ruben Mbofana is a social justice advocate and writer. Please feel free to WhatsApp or Call: +263715667700 | +263782283975, or email: mbofana.tendairuben73@gmail.com, or visit website: http://mbofanatendairuben.news.blog/
Source - Tendai Ruben Mbofana
All articles and letters published on Bulawayo24 have been independently written by members of Bulawayo24's community. The views of users published on Bulawayo24 are therefore their own and do not necessarily represent the views of Bulawayo24. Bulawayo24 editors also reserve the right to edit or delete any and all comments received.