Opinion / Columnist
'Chamisa on an unstoppable mission'
07 Aug 2023 at 06:43hrs |
Views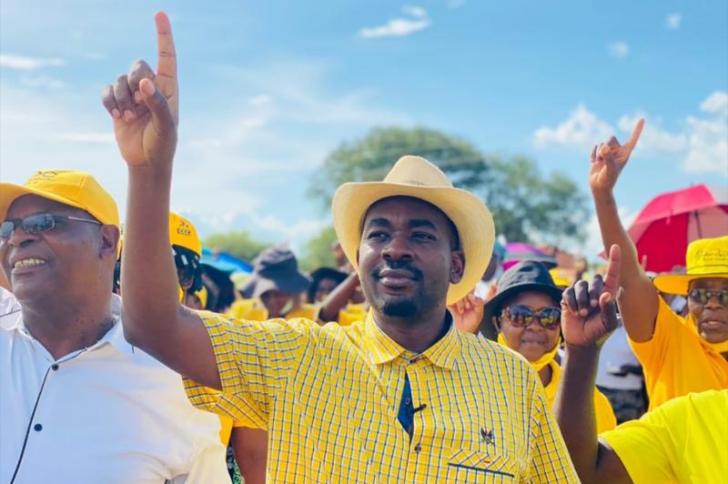 TWO weeks before Zimbabwe holds its general elections on August 23, political parties are in full swing campaigning despite increasing cases of political violence dampening spirits.
Last week, a Citizens Coalition for Change (CCC) member lost his life fleeing from a Zanu-PF mob in Glen View, while party leader Nelson Chamisa's convoy was stoned by suspected Zanu-PF activists in Manicaland province, among other cases of violence. NewsDay senior reporter Miriam Mangwaya (ND) caught up with Chamisa (NC) to get his views on the escalating political violence.
Below are excerpts from the interview.
ND: You have been on a campaign trail in rural areas over the past couple of weeks. Can you briefly describe the political environment?
NC: There has been an escalation of violence. There has been an unfortunate development of intimidation and bad fear. They deployed FAZ (Forever Associates Zimbabwe) across the country, moving around with motorbikes threatening people and in some cases beating up people.
It tells you of a very unpopular party and an outgoing party. But we are telling people to be vigilant and remain alert because it is just a few days before the change comes.
The mask has fallen. They do counter meetings and in some cases ferry people with buses and lorries, away to places they would be holding their rallies.
In some cases, they are threatening village heads and chiefs to stay away from CCC as well as forcing people to attend their rallies.
ND: You talk of intimidation and victimisation in the rural areas, how has been the reception of your rallies?
NC: The support was awesome in the countryside. People are desperate for change and Zimbabweans are determined. They have had enough. Forty-three years of darkness is not a joke. People want light, they want sunrise, and they want daybreak.
It has been night and dark for far too long, we want peace. We want unity. We want to be normal again. We can't have elections equated to violence. People must exchange ideas. What is shocking is that none in government moves with swiftness and traction to deal with such things, even lip service, they don't even play that.
ND: Can you briefly tell us your experiences with your supporters during your rural campaigns?
NC: People have sad stories to tell. I meet opinion leaders everytime. I meet people in the villages before I address rallies. I meet stakeholders and community leaders.
There is a scar on people's hearts, not just in Matabeleland or Bulilima-Mangwe, but in the whole country. People have worries and concerns. Zimbabwe is a wounded nation. We need proper healing. We are sick as a nation.
None is without a grievance against the government, women, young people, pensioners, the elderly, teachers, pupils, war veterans — everyone, every sector, farmers, miners. It's tonnes of grievances.
ND: You said your convoy was stoned by some Zanu-PF activists and several of your cars were damaged in Manicaland. What happened?
NC: We had a torrid time trying to navigate the Watsomba and Birchenough Bridge areas in Manicaland province over the past two days. Zanu-PF is doing all sorts of things to stop us and they have resorted to blocking us.
They barricaded roads and attacked us by throwing stones at our cars. They mounted illegal roadblocks. They searched every car (and) did this with impunity. They destroyed a vehicle at Watsomba, a Volvo X. They thought it was my car, but I wasn't in that car. We filed a police report in Mutare. The attack went on until almost midnight. The same applied to Birchenough.
They blocked the Birchenough Bridge. They blocked roads and stopped private cars, buses, lorries and even ordinary people who were on their businesses. But we tricked them and I used a different car and they were shocked when they heard that I was already at the growth point."
ND: Are you not afraid?
NC: Zimbabwe's life is at risk. My life can't be more important than Zimbabweans' lives. Ultimately, as a leader you have to be on the line of fire to fulfil the mandate and mission. I am on a mission. The mission is to change the heart of this country in its politics.
Zimbabwe needs fresh politics and new politics. That is what we represent and we are determined no matter what. Zimbabwe must be fixed and be back on its feet. Zimbabwe must be normal again. Zimbabwe must be great.
That can only be possible through a change of leadership, politics and governance. There is nothing that does not come to an end. All this shall come to an end. People are suffering. They are being subjected to terror in the villages. There is no peace. Village heads and chiefs, have no peace. They have not known independence.
ND: Apart from reporting to the police, what other remedies are you taking as a party to protect your supporters from victimisation?
NC: The issue of violence is like a demon in Zanu-PF. This information is known by all embassies. The Sadc (Southern African Development Community) have documented information of our problems. Zimbabwe is a broken, divided country.
The brokenness and division are sponsored by one party, Zanu-PF and the government. What kind of a leader who doesn't talk about unity or talk about the people's right to vote?
I will do things differently. I will encourage people to be tolerant. It is like violence is being mobilised and fertilised by the government. In this day and age picking up stones, and throwing stones at a fellow human being. That is barbaric, even monkeys and baboons don't behave like that.
ND: Do you think the violence against your members is a stumbling block to your victory?
NC: The behaviour of Zanu-PF tells you that the writing is on the wall. It's time up for Zanu-PF, on darkness and violence. Change is nigh.
Zimbabwe cannot afford five more years of pain and five more years of this division or five more years of this oppression, violence, intimidation and terror. It's hell on earth. I think Zimbabwe as a country is a mimicry of gehenna on earth.
I do not think gehenna is an earthly phenomenon, but in Zimbabwe it is. We are suffering. I survived an assassination attempt last year, but nothing has been done by the law.
Mnangagwa has never said anything about it to this day. In a lawful jurisdiction, you have a human being whose car is attacked by guns and nothing is done, it tells you something about the leader of that country. Why call for an election if you don't want opposition? Just tell the people I am the one who is there.
Source - newsday
All articles and letters published on Bulawayo24 have been independently written by members of Bulawayo24's community. The views of users published on Bulawayo24 are therefore their own and do not necessarily represent the views of Bulawayo24. Bulawayo24 editors also reserve the right to edit or delete any and all comments received.