Search / Zukbc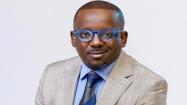 Global remittance giant WorldRemit has been confirmed as Plantimun partner for the forthcoming Zimbabwe Achievers Awards UK Edition set for 22 April in London. The renewal of pleasantries betw...
Published: 20 Mar 2023 at 20:18hrs | 488 | by Agencies
A group of leading entrepreneurs have come together to create a business platform to support UK based Zimbabwean business people. The Zimbabwe UK Business Chamber (ZUKBC), launching this Satur...
Published: 23 Feb 2021 at 14:51hrs | 27 | by Agencies
Load More Stories