Search / Zimbabwe7
There was jubilation in the Zimbabwe Lawyers for Human Rights ranks after a Harare court ended the prosecution of 7 activists who were accused of plotting to remove President Emmerson Mnangagwa. ...
Published: 12 Aug 2020 at 11:31hrs | 14872 | by Mandla Ndlovu
PRESIDENT Emmerson Mnangagwa has been accused of following the autocratic rule of the now late former President Robert Mugabe.The accusations were made by an international human rights organis...
Published: 03 Feb 2020 at 06:21hrs | 2441 | by newzimbabwe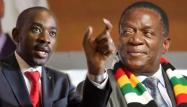 MDC leader Nelson Chamisa has told President Emmerson Mnangagwa to stop using Robert Mugabe's tactics to crush dissenting voices and activists who are showing displeasure at how the government is runn...
Published: 05 Jun 2019 at 17:47hrs | 10404 | by Mandla Ndlovu
Load More Stories