Search / Divided!
I always find statements by Zimbabwe's ruling establishment, urging us to be united, quite mind-boggling - since, as far as I can tell, Zimbabweans are so...
Published: 21 May 2022 at 18:33hrs | 328 | by Tendai Ruben Mbofana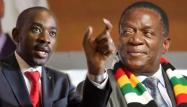 Divide and rule, it is a tried and tested tactic as old as human history that has worked, particularly in conquering those easily divided!Talk of easily divided, it really does not take much t...
Published: 07 Jan 2022 at 06:58hrs | 4784 | by Patrick Guramatunhu
Since there are so many impious hands on Zimbabwe's internal affairs, so many hands challenging its sovereignty, I thought my opening paragraphs should address those meddlesome, self-righteous foreign...
Published: 18 Aug 2018 at 07:53hrs | | by Igomombe
Load More Stories