Search / Thetimes
Nicolas Sarkozy, the former French president, has been arrested over allegations that Colonel Muammar Gaddafi, the late Libyan despot, illegally funded his 2007 election campaign.Mr Sarkozy wa...
Published: 20 Mar 2018 at 15:44hrs | 3102 | by thetimes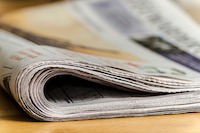 "That's one small step for man, one giant leap for mankind." These are the famous words of Neil Alden Armstrong, an American astronaut on July 21 1969 as he became the first man to set foot on the moo...
Published: 13 Jan 2016 at 12:33hrs | 1243 | by Wilbert Mukori
"We have to navigate the middle ground between the victims of injustice and perpetrators of injustice for the greater good of the country" – Morgan Richard T...
Published: 21 Mar 2012 at 08:25hrs | 165 | by Mathula Lusinga
Load More Stories