Sports / Local
Maradona vs. Messi: Who Is Better?
30 Jun 2023 at 10:31hrs |
Views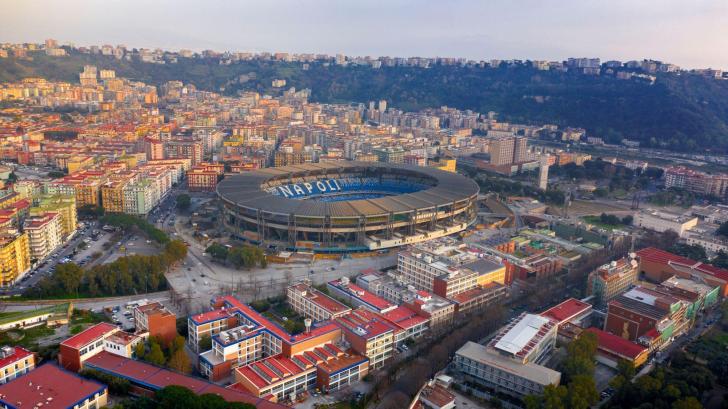 Debate rages over who's better between Maradona or Messi, both famed for their skills, number 10 jerseys, and left-footed play. Read our blog to find the answer.
In the world of soccer, two names often ignite a heated debate: Diego Maradona and Lionel Messi. Both have dazzled fans worldwide with their incredible skills. They both hail from Argentina and shined brightly in Barcelona. They both sported the number 10 jersey and were known for their masterful left-footed play. Undoubtedly, they've earned their place in discussions about the top soccer players ever.

But who is the better player? This question may be as old as time and is never without controversies and varied feelings. For instance, Sergio Aguero, a former Manchester City player, spoke about comparing Maradona to Messi.

Aguero shares a deep bond with Messi, who's also his child's godfather. Their friendship extends to the football field, with 17 collaborations for Argentina. Moreover, Aguero was married to Maradona's daughter, Giannina, from 2008 to 2012.

Aguero said on Stake that he disliked such comparisons. He believes each player holds a special place in Argentine hearts. Aguero emphasized the luck of Argentinians in having both Diego and Leo, considering them the best in their respective eras.

Nevertheless, it helps to compare the two legends in various aspects. This article will explore their styles, achievements, impact on soccer, personal lives, and legacies. Buckle up! It's going to be an exciting ride.

1. Contrasting styles, comparable talent

The first stop is unpacking their playing styles. Maradona, a magician on the pitch, combined artistry with grit. He had a mesmerizing dribbling ability, quick feet, and exceptional vision. His signature move? The "Maradona turn," where he would leave his opponents spinning.

Then comes Messi. With a wand-like left foot and a low center of gravity, Messi's style has a certain poetic rhythm to it. His agility, balance, and close ball control often make defenders look foolish. He is a prolific goal scorer and a creator, proving lethal in one-on-one situations.

Messi and Maradona show off their skills differently. Messi moves swiftly, with the ball seeming to stick to him. Maradona, however, excels at running down loose balls, carrying them with great momentum. He was also a master of tricks, holding the ball for a teammate or finding space for a quick shot. On the other hand, Messi needs to keep the ball moving to perform his magic.

Regarding dribbling, Maradona had many tricks, while Messi often repeats the same move but with the same impressive results.

2. Accolades that speak volumes

Now, let's dive into their accolades. Maradona led Argentina to a World Cup win in 1986, carrying Napoli to its first-ever Serie A title. Despite fewer personal awards, Maradona's contributions to team success are monumental.

On the flip side, Messi's trophy cabinet is overflowing. With Barcelona, he clinched numerous domestic and European titles. Plus, he boasts multiple Ballon d'Or wins. However, his international success wasn't on par with Maradona's until Argentina's Copa America victory in 2021.

3. Impacting the beautiful game

Maradona and Messi have undoubtedly left a significant impact on soccer. Maradona's extraordinary performances in the 1986 World Cup and with Napoli have become legends in the sport. His off-field persona, charismatic yet controversial, added a unique flavor to his legacy.

Messi, on the other hand, has shaped the game with his consistency and scoring prowess. His humble personality and professionalism starkly contrast Maradona's flamboyance, making his impact on the game equally significant but different.

4. Comparing physiques

Lionel Messi and Diego Maradona share similar body types. They're short, sturdy, and quick. Their low stance gives them better ball control. Yet, they're different too.

Maradona had muscular legs from years of rough play with bigger opponents. This strength allowed him to push through formidable defenses. Messi, though, has less powerful legs. Opponents often foul him, but this works in his favor. He's skilled at scoring free kicks from these fouls. And his feet work magic, making him a standout player.

5. Speed on the field

Lionel Messi and Diego Maradona are both quicker than many other players of their time. However, Maradona may have a slight edge here. Despite his stocky build, he was extremely swift.

Maradona could outrun most players of his time. When cornered, he would kick the ball ahead and beat his opponents to it. His go-to move was sprinting toward the line before cutting back or crossing the ball.

Messi, in his early days, showed a similar ability. But he chose to work more on technical skills as he matured. Even though Messi is fast, he may not match the speed of players like Cristiano Ronaldo or Neymar.

6. Different roles

Lionel Messi and Diego Maradona played different roles in their teams. Maradona was a versatile striker and playmaker, while Messi's role defies standard positions.

Maradona usually played at center forward, often dropping back to get the ball. He would frequently dart wide and then rush toward the goal. Undoubtedly, he was a force that couldn't be stopped, scoring from anywhere on the field. He was the team's heart and soul, a characteristic he shares with Messi.

Messi, on the other hand, has a free role. He roams the field, creating confusion among defenders. He typically starts on the right and moves toward the center as the game progresses. If his team needs a goal, he positions himself to score. Otherwise, he's content with setting up goals, proving he's more than just a scorer.

7. Looking at the numbers

When comparing trophies, Messi leads the race. He's won 10 league titles compared to Maradona's three, and 24 domestic trophies to Maradona's eight. Messi also has 10 international club titles, while Maradona has one.

For the national team, Messi hasn't won a senior title, but Maradona won the World Cup. Counting all youth tournaments recognized by FIFA, Messi has 36 team titles, while Maradona has 10.

Comparing individual honors is trickier. Messi has a record six Ballons d'Or, but Maradona couldn't compete for this award until he was 35. The FIFA World Player of the Year award wasn't introduced until Maradona was 31. Messi has won this award twice.

Messi also earned the title of Best Player in La Liga eight times. A similar award in Serie A wasn't created until after Maradona's time.

Both players have received the FIFA World Cup Golden Ball. Additionally, Maradona was named FIFA Player of the Century in 2000, alongside Pele.

8. Counting the goals

Messi has scored more goals overall than Maradona. He's netted over 700 goals for his club and country, making him one of the top scorers in history. He's also earned six European Golden Shoes and holds various scoring records, including the most goals for Barcelona, Argentina, and La Liga. He has the European record for most goals in a single season (73) and in a calendar year (91).

Maradona, on the other hand, scored a total of 357 goals in his career—about half of Messi's count. He held the record for most goals at Napoli for nearly 30 years. He was the top scorer in his league six times, just like Messi with the Pichichi Trophy. Maradona scored 34 goals in 91 games for Argentina, while Messi has scored 70 in 138 games.

However, note that Maradona played over 200 fewer games than Messi. He also often played a deeper role, especially at Napoli, where he frequently fell back to start attacks. Also, Maradona played in a defensive Italian league, which had fewer teams than La Liga and fewer European games before the Champions League started in the 1990s.

9. Teenage Wonders

Maradona and Messi both shone as teens, with Maradona standing out at a younger age. He started playing in the Argentina Primera Division at 15 and joined the national team at 16. By 20, he had over 100 senior club goals. At 21, he broke records with his move to Barcelona.

Messi started at Barcelona when he was 17 and joined Argentina's team at 18. He didn't become a key player until he was 19. By 20, he had scored 26 goals for Barcelona, so his full scoring potential wasn't yet evident.

Both players were consistently excellent in their twenties, but Messi has outdone Maradona in his thirties. Since turning 30, Messi has scored over 100 goals, won his sixth Ballon d'Or, and clinched two La Liga titles. After 30, Maradona faced struggles, including two lengthy drug bans and a lackluster season at Sevilla, before injuries ended his career in Argentina.

10. Off-field lives and personalities

Away from the pitch, Maradona's life was a roller-coaster. His personal battles and controversies often overshadowed his genius on the field. He was a complex character, admired and criticized in equal measure.

Maradona was crafty and aimed for perfection, sometimes leading to questionable choices. One of the most infamous instances was his 'Hand of God' goal that helped secure a World Cup win. Even though he scored another spectacular goal in that same match, his behavior raised eyebrows. In his later career, he struggled with addiction issues.

Messi leads a low-key life off the field, avoiding controversies. He's known for his quiet, humble nature. He carries himself with a calm composure and a sense of modest brilliance. His focus has always been his craft, reflecting a more straightforward personality. In terms of sportsmanship, he stands out for rarely faking fouls, a practice unfortunately common in today's soccer. It starkly contrasts Maradona's turbulent life, demonstrating that great players can have vastly different personal lives.

11. Evaluating legacies

When discussing legacies, both players stand tall. Maradona, despite a shorter peak, inspired a generation. His performances are part of football folklore, etched in fans' memories.

Maradona's impact on Naples and the entire country was enormous. Naples was once the poorest city in Europe. It struggled under the prosperous, influential northern cities. When Maradona joined Napoli, the team was nearly relegated. Yet, he helped them achieve tremendous success, including winning the Scudetto. This made him a symbol of hope for the underprivileged South against the prosperous North. He became a beloved figure in Naples, surpassing the city's patron saint, San Gennaro, in popularity.

Messi's legacy, still in the making, is built on consistency, excellence, and humility. His numerous records and unique style of play have revolutionized the sport and influenced budding footballers worldwide.

12. The World Cup's impact

In this debate, the World Cup often plays a pivotal role. Maradona's crowning glory in 1986 is unforgettable. His two goals against England, the infamous "Hand of God" and the "Goal of the Century," embody his genius and audacity.

Messi has had impressive World Cup runs, but without lifting the trophy. However, it's worth noting that individual brilliance doesn't always translate to team success in this tournament.

Maradona is remembered for winning the World Cup, unlike Messi. Even though Messi scored more goals for Argentina, his performance in major tournaments has been disappointing.

Messi scored no goals in the knockout stages of four World Cups. He was named the best player at the 2014 World Cup, but the decision to give him the FIFA Golden Ball faced criticism. His performance in the Copa America also fell short, with him scoring in the knockout stages only twice and missing a penalty in the 2016 shootout.

Some Messi fans argue that if Gonzalo Higuain hadn't missed opportunities in three finals, Messi would have won a World Cup or Copa America. They also say Messi's teammates weren't strong enough to succeed internationally.

However, except for the 2018 World Cup and 2019 Copa, Argentina's team was filled with top talents like Sergio Aguero, Carlos Tevez, and others.

The Argentina teams of 1986 and 1990, who made it to the World Cup finals, weren't as strong. Jorge Valdano was the only other 1986 starter who excelled in a European club.

Maradona played a crucial role in Argentina's success. His memorable performances in the World Cup, like his incredible goals against England and Belgium, are legendary. He also played a crucial part in Argentina reaching the final four years later.

13. Different eras, different challenges

Both players shone in different eras, facing unique challenges. Maradona played at a time when defensive tactics were brutal. There was less protection from referees, and football was more physical. His ability to thrive in this era enhances his greatness.

Messi, however, has excelled in an era characterized by tactical evolution and high professionalism. He has faced teams equipped with advanced strategies designed to neutralize him, yet he has consistently found ways to triumph.

14. Fan perception: A matter of perspective

Fan perception plays a vital role in this debate. For his audacious style and unapologetic personality, Maradona was a hero for the commoner. He was an emblem of rebellion and triumph against the odds.

With his quiet demeanor and extraordinary consistency, Messi is often seen as the perfect role model. He embodies dedication, hard work, and humility. The divergent paths these two greats have taken resonate differently with fans, making their comparison all the more intriguing.

Conclusion

So, who is better: Maradona or Messi? In truth, the answer is subjective, often influenced by personal preference, age, and how one views the sport. Some might argue Maradona's World Cup heroics give him an edge. Others may lean towards Messi's consistency and prolific career record.

But perhaps the key takeaway isn't about who's better. Instead, it's about appreciating the different ways these two giants have enriched the beautiful game. Their unique styles, achievements, and personalities have created indelible memories for fans worldwide.

In the end, the debate isn't just about Maradona or Messi. It's about the beauty of football and how it sparks passionate discussions, brings people together, and creates legends that transcend generations. And in that, both Maradona and Messi are undisputed winners. While Maradona is now deceased, Messi remains on the field and has a chance to scale even higher heights.

Source - Byo24News