Sports / Soccer
Mutare invests US$200k to meet ZIFA standards
26 Jul 2023 at 08:30hrs |
Views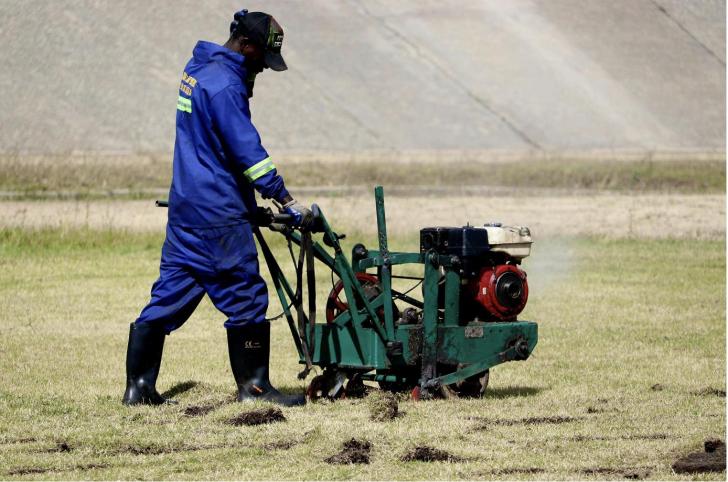 MUTARE - City of Mutare, the industrial and administrative capital of the province of Manicaland in Zimbabwe has from its internal coffers invested 200 thousand United States Dollars into the massive and long-awaited revamp of Sakubva Stadium and Chisamba Grounds.
"We're quite confident that the contractor who won the tender will do us a splendid job and for that we are looking at an investment of $200k, which will see Sakubva Stadium and Chisamba grounds receive all round infrastructure overhaul including a massive new outlook for the playgrounds as they're going to be carpeted with new turf and an integrated soak away drainage system," said Mr Spren Mtiwi the Public Relations Officer for City of Mutare during an interview with this reporter.
Despite City of Mutare having met all PRAZ - the Procurement Regulatory Authority tender flighting procedures, the authority said they unfortunately we're not able to find a contractor in Mutare with the minimum requirements and the financial agility to carry out the renovations for Sakubva Stadium and Chisamba grounds.
Apparently, Mtiwi further revealed, "As Council we had through PRAZ direct procurement provision to out-source a competent service provider from outside our city because after carrying out all the tendering procedure requirements of PRAZ, Council found no eligible investor to carry out the project and to that effect we feel it's up to the contractor to subcontract employees of their choice without our interference and as Council, we therefore cannot guarantee direct beneficiation for residents through employment".
The last time massive sports and recreational facilities were renovated was between 2018 - 2019. "The last time when we agressively renovated Sakubva Stadium was in 2018/2019 when we had to, among several other renovations, put-up a new perimeter wall which included a razor wire, and we had also to construct new and modern changing rooms, a new secure entrance and exit tunnel for players and put up an electronic score board in line with what the soccer governing board - ZIFA - had requested us to do and to that note, we were able to host top flight National Premier Super League fixtures," reminisced Mtiwi, nostalgically.
LACEP - the Local Authorities Capacity Enhancement Project, implemented by VNG International (The Netherlands) in consortium with the Municipal Development Partnership for Eastern and Southern Africa (Zimbabwe), which was funded by EU - the European Union, noted that the ushering in of a new Constitution for Zimbabwe, which came into effect on 22 May 2013, has been commended for two major achievements that include the elevation of the status of local authorities who gained constitutional recognition as the third tier of government with devolved functions under Chapter 14, and the encampassing of an expansive bill of rights under Chapter 4.
Consequently, the introduction of Devolution by the Government of Zimbabwe continues to suffer fatigue as implementation has not taken much of the anticipated tractio and in contradistinction to the above, the core objectives of Devolution to Provincial Metropolitan Councils and Local Authorities for Zimbabwe are yet to yield the desired results but the same should however be applaudable as it has ushered-in self-governance through public participation, democratisation, transparency and accountability in governance, whilst preserving unity and equitable sharing of resources and development.
The facilities are anticipated to be ready for use after 5 to 7 months with work on the ground having started earnest of the 1st of July, 2023.
Meanwhile, Design Land Trading Works is the name of the company doing the renovations.
Source - Maxwell Teedzai for Table Salt News